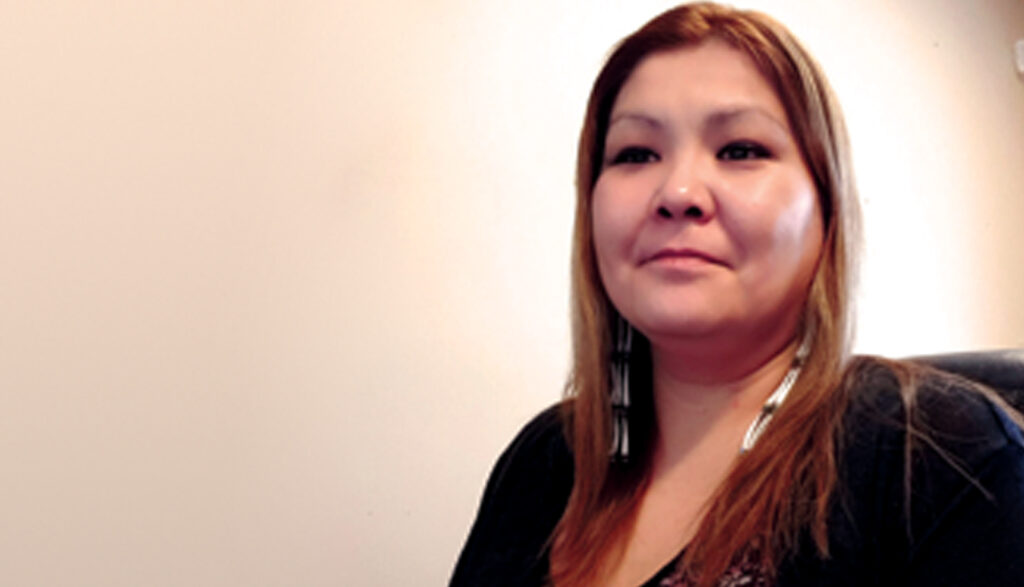 a real people person
Lesley Ann Evans is a One-Woman Capacity Builder
"Some of the members come in when they already have jobs but they want better jobs"
By Beverly Cramp
As the Human Resources Manager of Det'on Cho Corporation, the economic arm of the Yellowknives Dene First Nation (YKDFN), a big part of Lesley Ann Evans' job is relationship-building. It's her job to liaise with members looking for jobs and also to liaise with employers looking to hire band members. The two groups go hand-in-hand, each needing the other.
"I do a lot of 'meet and greets'," says Evans, herself a member of the YKDFN. "I frequently meet with employers, our membership, and also organizations that provide training. To get our members in good jobs, often they require more training and education."

Evans' day frequently begins with a phone call or visit from a YKDFN member looking for work or training opportunities. This often involves delving into the bigger picture. "A big part of what I do is career outreach," says Evans. "There's a lot of back and forth communication."
To begin with, Evans determines what kind of work a member is looking for. Perhaps they don't know themselves; they just know they need a job. To gently investigate, Evans has developed a list of 10 quick questions to ask.
"I often start with finding out what they like to do. Or, what kind of jobs that member usually does," she says. A slight variation is, "what would you like to learn? Then we can begin looking for specific training for them. If I'm on the phone, I'll eventually ask if they want to come in and see me in my office."

Thus begins a longer-term process, of ongoing meetings and counselling over a period of weeks and months, even years. Watching her members develop full-fledged careers is what drives Evans. "I like working with the membership and helping them define their career goals and training aspirations," she says. "When I see that someone is eager and willing to work hard, it makes me want to help them all the more."
Evans is proactive, often finding job placements for her clients within the many Det'on Cho joint ventures. Many jobs prove to be casual or short-term job placements. But by providing ongoing training for each member, their job prospects improve until eventually, they have full-time positions. It's this kind of capacity-building that lifts YKDFN members into stronger careers.
"Some of the members come in when they already have jobs but they want better jobs that are full-time with benefits," she explains. "I helped someone who knew he was going to get laid off to get a better job. It took a couple of years, but by consistently helping him apply for jobs over that period, including working with him to re-write his resume, we found him a good position. He has a good full-time job now."
Evans worked hard for this particular member. "In the early days, I noticed that his applications weren't being noticed at the places he was applying. I took the extra step to contact the recruiters to find out why he wasn't even getting an interview. Then I took steps to overcome those obstacles with more training and counselling."

Evans herself walks the talk; she continually upgrades her own skills and explores new opportunities. Having begun working life with BHP Billiton Diamonds at the Ekati Mine, over a period of 10 years she worked her way up in human resources from an advisor position, to communications and recruitment, and benefits before leaving to go back to school.
She attended the Academy of Fashion Design in Saskatoon, achieving a diploma in fashion design before returning to Yellowknife and joining Det'on Cho in 2017. She is currently in a nine-month Northern leadership development program at Aurora College where she attends classes one week each month. Her longer-term goal is to open a business.
"I do fashion design in my spare time," says the busy mother of two daughters. "I sew and bead mukluks and mitts. And I sew other clothing when I have time." MN