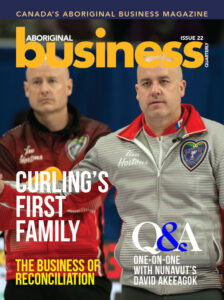 Aboriginal Business Quarterly is the first busi­ness magazine of its kind in Canada. Our content goes beyond simply telling stories that entertain to delve into industry best practices and case studies aimed at assisting Aboriginal business leaders and entrepreneurs.  It also reaches Aboriginal partners, suppliers, customers and the politicians whose decisions in­fluence the legal 
and regulatory landscape in which they operate. We are proud to call ourselves champions of enter­prise and economic growth in one of the fastest growing sub-economies in the country. We celebrate the visionary leaders who make the Aboriginal business sector the vibrant, growing community it is around the country with a primary focus on Northern Canada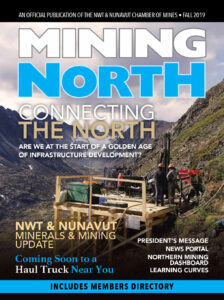 Champion for a Strong Northern Minerals Industry,  Mining North is the official publication for the NWT & Nunavut Chamber of Mines.  Our content has been the trusted source of information for industry for over 20 years.  We have up to date information on the mining sector in both the Northwest Territories and Nunavut, representing 
almost $3 billion in mine production annually (Natural Resources Canada).   Mining North reaches CEO's and Operations Managers, Procurement Officers, and technical, legal, financial, accounting, environmental; virtually every area of expertise in the exploration and mining industry.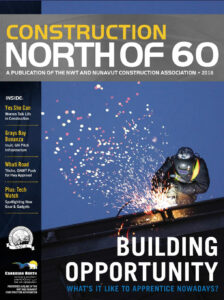 We Build the North, Construction North of 60 is the official magazine of the NWT and Nunavut Construction Association.  We deliver an exclusive community of industry leaders and decision makers serving the toughest construction environment in Canada.  Whatever the challenge – frigid construction periods or permafrost
undermining the process – the industry finds ways to get the job done from highways and schools to airports, hotels, housing and hospitals. Construction North of 60 drills into made-in-the-North solutions for industry leaders and executives highlighting the latest projects, innovations, technologies and trends in the North.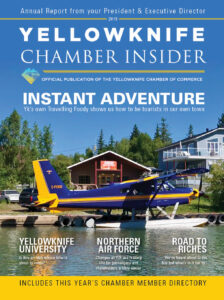 The "Insider" is the official magazine of the Yellowknife Chamber of Commerce, the largest business organization in Northern Canada. As the voice of business in Yellowknife, the Chamber works tirelessly to represent the interests of private enterprise across all sectors of
 the economy. "Insider" magazine highlights business leaders, innovators and issues and is the only publication dedicated exclusively to private sector decision makers and opinion leaders in one of Canada's most dynamic markets.