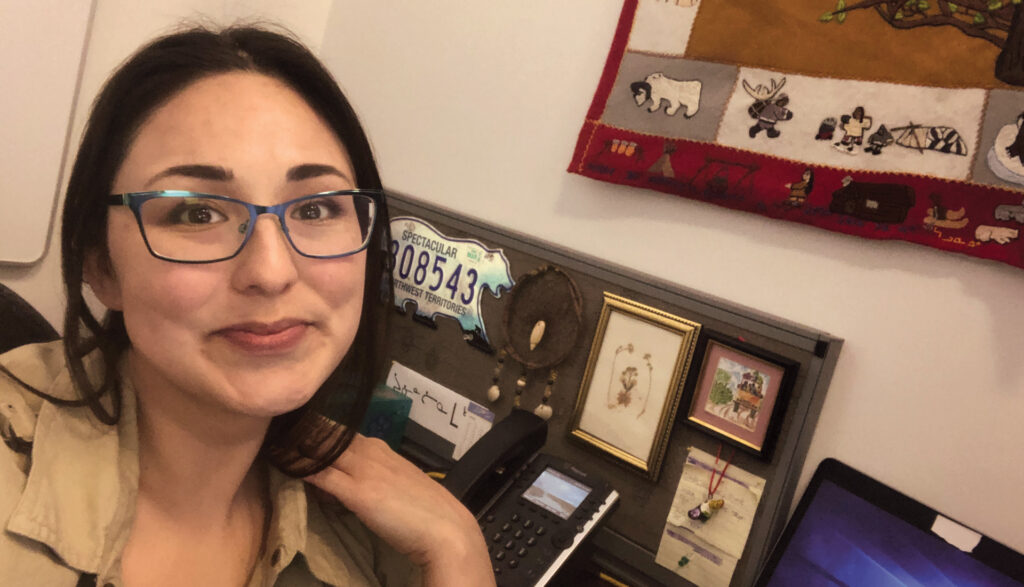 meet the bridge
Jaynine McCrae Helps Nuna Stay Connected
By Meagan Gillmore
When Jaynine McCrae became a community engagement officer for Nuna Logistics in fall 2018, her co-workers joked she'd run the company soon. In eight years, the 31-year-old Inuit woman has held positions in nearly every department of Canada's largest Inuit-owned heavy civil construction earthworks and contract mining company. McCrae began in project administration on a Hope Bay, NU, worksite. Between administrative contracts, she took positions as a travel coordinator and an assistant winter road coordinator. She's given orientations and assisted the shipping department. In her latest role, she travels to worksites and represents the company to employees. Her job is to be the "bridge between the office and the worksite," McCrae said. Duties include listening to workers' concerns or planning Indigenous Day celebrations for workers at a mine.
"Mining is something that I've really come to enjoy," said McCrae, who moved seven years ago to Edmonton, where Nuna's headquarters are, to further her opportunities with the company. Growing up in Yellowknife, McCrae saw many people – mostly men – involved in the industry. "Everyone's working in the mines," she said. It didn't automatically appeal to McCrae. She worked for territorial governments in Nunavut and the Northwest Territories before joining Nuna, looking for a change from Monday to Friday work. She also liked the opportunity to travel in between her rotations. (Besides visiting family in the North, she's also travelled to a long list of foreign countries including China, Thailand, Costa Rica and Jamaica.)
In the beginning at Nuna, McCrae was like any new, young worker: overwhelmed by all the things to learn and uncertain that the job was the right fit. Living at a camp, away from her family and friends, only magnified these feelings. McCrae credits her success to the women who encouraged her and helped her through the loneliness. She's developed her own leadership and organizational skills, while becoming more aware of how the mining industry can benefit Nunavut and its residents.
"I'm passionate about the Nunavut territory," said McCrae who was born in Kugluktuk and regularly travels back to the territory, where she has extended family.
She often represents Nuna at trade shows and career fairs, and takes pride in working for a Northern company with a long history of hiring Inuit workers. McCrae said she's seen more Inuit work in mining, but says there's still a lot of work to be done to remove the barriers making it difficult for Inuit, particularly youth and women, to work in the industry. Most training happens in the south, meaning people have to leave their communities to get necessary industry skills. Nuna offers training on worksites, said McCrae, which can alleviate that problem. "The support for training in communities needs to be a team effort," McCrae said. "We have resources that are in and from Nunavut that need to be better utilized.
Critical Time
"We are at a transitional time for our culture and the mining industry," she said. "We're a people who have a unique history and perspective of the world. The struggles we face shouldn't limit us, but make us stronger. We can use those strengths and our skills alongside our societal values to make a difference for our community and in our lives." Youth and women need to be encouraged to join the industry. McCrae recently helped oversee a six-week internship for an Inuit youth in the Edmonton, office. She reminded the intern of what more experienced workers told her when she began with Nuna.
"You have to work hard at everything you're doing. It doesn't matter what it is or which department it is as long as you work hard to learn as much as you can." McCrae wants young women to know mining holds many opportunities for them. "You can do anything you want," she said. "You can get work experience and training on the job. Work hard and explore your options. There are a lot of different jobs you can do in the mining industry and it doesn't have to be in an office. It doesn't have to be in a piece of equipment. It can be whatever suits you and your interest." McCrae's recently started using the business and organization skills she's acquired at Nuna in a new role as President of Inuit Edmontonmiut, the Inuit group in Edmonton. There is one mining task, however, that McCrae is content to leave to others: operating heavy equipment. "I'm afraid of heights and getting up on the haul trucks," she says, noting the reputation women have for being good machine operators. "I admire them for having the strength and the courage to do that." MN