Pirurvik Picks Up $1 MILLION Prize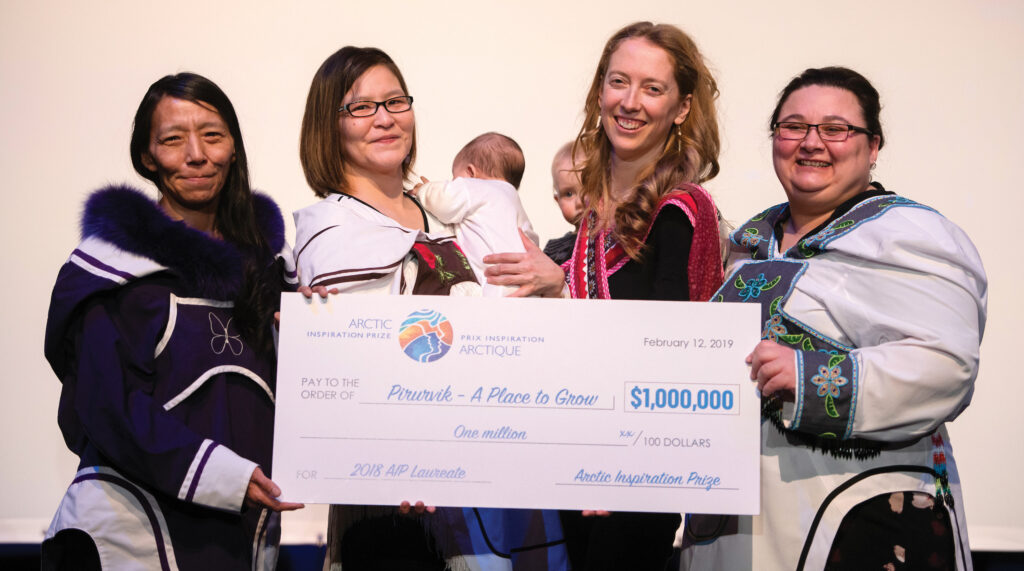 Whitehorse, YT – The seventh annual Arctic Inspiration Prize Awards Ceremony was held here recently in conjunction with the third instalment of the Arctic Indigenous Investment Conference.
"Thank you to everyone who joined us," say organizers for the festivities. "The ceremony was a tremendous success in celebrating Northern excellence and achievement."
Held on Feb. 12 at the Yukon Arts Centre, five teams from across Canada's North were awarded a share of over $2.5 million to implement impactful and innovative projects that will improve the lives of people in their communities.
Pirurvik: A Place to Grow, was the big winner of the night. The innovative and comprehensive early childhood education program rooted in traditional child-rearing practices that aims to change the lives of children throughout Nunavut, received the top prize of $1 million.
"In a territory where lasting impacts of the residential school system still affect our Northern communities today, it is imperative that we change the experience for both parents and children when it comes to education. Engaging with Pirurvik as a first experience with education is essential to creating a strong, positive relationship between home and school for years to come," says Tessa Lochhead, one of the leaders of the project, along with Karen Nutarak. "The program provides an early educational experience that is based on Inuit ways of knowing while building capacity in our communities for the benefit of the safety and health of our children."
Other winners included Nunami Sukuijainiq: A Youth Arctic Ecology Land Camp Program which was awarded $466,000 for its land-based and hands-on science education program designed for Nunavik youth. A team from Yukon working to address food insecurity in the North received $500,000 for the Tr'ondëk Hwëch'in Teaching and Working Farm Extended-Season Greenhouse Construction.
The third winner in this category is Traditional Techniques Tweaked to Galvanize Indigenous Northern Artisans. The project was awarded $500,000 to create an association of Northern Indigenous artists and crafters from across the region to work at developing sustainable business ventures, improving local artisans' skills, ensuring authentic, high quality products, and building confidence as sustainable business owners.
In the Youth category, this year's laureate is From Scrap to Art which, with its $100,000 prize, will develop teaching materials, and set up a dedicated welding studio in Cambridge Bay, Nunavut.
The ceremony also featured a phenomenal, first ever pan-Northern performance of Juno award winners Elisapie and Leela Gilday, along with Yukon's Diyet and special guest Wesley Hardisty.