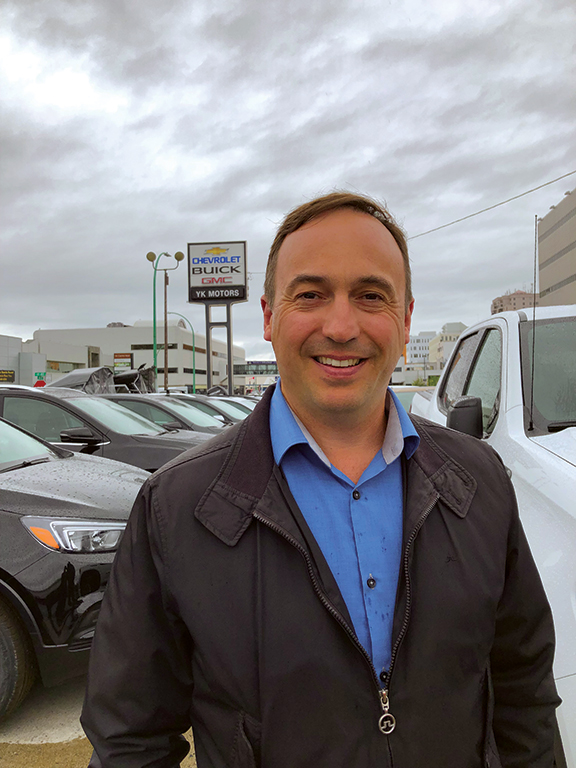 Yk Motors Shifts into High Gear
GM Dealership's Expansion Promises Job Growth, Enhanced Service
---
"People know that their dollars that they spend here in the North are being reinvested in the North"
---
By Meagan Gillmore
Yellowknife Motors is gearing up for expanded business, built on a foundation of quality service and community involvement.The GM dealership will open its new location in the fall of 2019. The facility on Old Airport Road will allow the company to provide expanded and  faster services, says Greg Boucher, the dealer principal. 
"It will be a much newer, and integrated customer experience," he says of the capacities of the new building. The former building was built in the '70s. The new location will have increased parking spaces and customers will be able to drive into and be received in the new dealership.
"We outgrew (the old building) many years ago," Boucher says. "It just took a while to acquire the right piece of land in the retail corridor."
The new facility will also provide more jobs. Yellowknife Motors had 18 employees when Boucher bought it in 2011. By 2019, it had 26. The new location will require a staff of close to 40, he says. The project has also increased local job opportunities. Construction began in 2017, shortly after the company purchased the space. Between 80 to 100 people have been hired throughout the process, Boucher says. All have been local.
"One of the things that we're quite proud of is that almost every discipline for the new building has come locally from Yellowknife, from the general contractor right down to the smallest of trades," says Boucher.
Community involvement has always been important for the business. Yellowknife Motors is the city's only locally owned and operated car dealership. While a General Motors dealership, they service all vehicles. Boucher says they have a competitive advantage by living in the community where they work, and hiring local employees. "We want people who are not only good employees, but who are good neighbours," Boucher says.
People can walk into the dealership and have a conversation with any of us. "This allows us to have a much closer sense of what's going on, in our market and in our community" he says.
Hiring locals helps the city's economy. "People know that their dollars that they spend here in the North are being reinvested in the North," he says.
These investments include supporting local charities, like the SPCA, Stanton Foundation, the Rotary Club and providing equipment to schools. For Boucher, owning a Northern car dealership is a dream come true. He moved to Yellowknife from Alberta in 2003 to work in the car industry.
"It was my ambition and dream to own a dealership, and a General Motors one in particular, growing up in a GM family," he says. General Motors has been supportive of the Northern dealership. Yellowknife Motors staff have the same training as staff in other markets, Boucher says.
"No two days are the same," Boucher says. "I get up every day to sell cars and trucks and repair cars and trucks. People are very excited to pick up their nice new and shiny vehicle, and by the same token are relieved to know that their vehicle that means so much to them is repaired properly."