High flight
First Air has filed a smooth flight path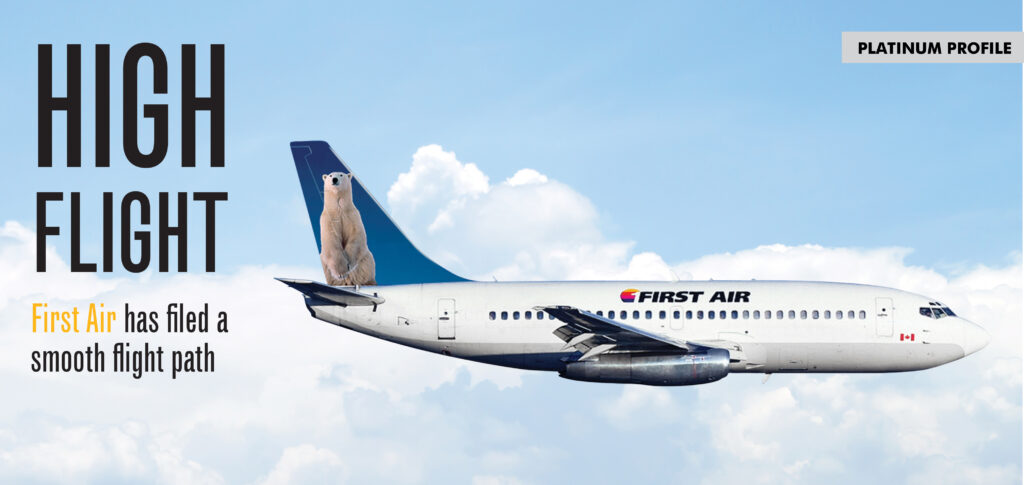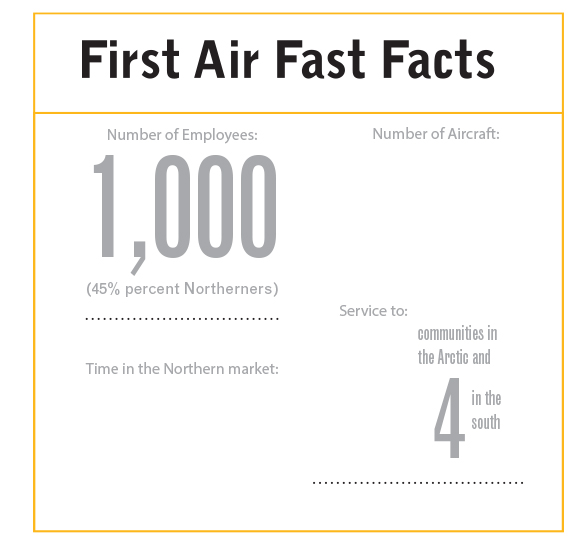 By Lisa Hicks
First Air is changing its game plan. By streamlining operations & forging new partnerships, the company sees blue skies ahead With the volatility in the airline industry and fierce competition in the Yellowknife market, it can be challenging for a smaller operator to stand against the national carriers. Yet, this is exactly what First Air is doing.
Bringing families, friends and businesses together for more than 69 years, First Air is a growing force in the Northern skies. The airline carries passengers and cargo to 34 Northern communities, as well as to four communities in the South. They employ close to a 1,000 people, and 45 percent of those live in the North.
"The Airline of the North" is not only surviving, it appears to be thriving. The company has added three flights between Yellowknife and Edmonton starting June 1st, 2015, thereby bringing the total number of flights per week to nine between the two capitals.
Kim Poulter, Manager of Corporate Sales for First Air, credits First Air's tightly-knit group of employees, all committed to excellent service. "Our employees are what keep people coming back," says Poulter. "We believe in providing a unique travel experience that makes passengers feel welcome, and our customers tell us that is one of the main reasons they fly with us."
The airline has been streamlining operations to make them more efficient. Having previously operated eight different aircraft types, First Air is moving towards two aircraft models which will result in cost efficiencies for both training and maintenance. The last of the airline's Hercules fleet has now been sold and decisions are being made on which aircraft model will replace their turboprops.
In addition to streamlining the fleet, First Air has entered into partnerships with other carriers such as Summit Air and Lynden Air Cargo, to better serve certain markets. Poulter says Summit Air and Lynden Air` Cargo were a good fit with First Air's approach to service and its particular market. "We work with our strategic partners for unique product offerings, and opportunities for greater flexibility as we continue to restructure our operations and tap new markets," she says. "Our partners operate a complementary fleet and have an outstanding record of reliability and service, and are therefore a perfect fit for First Air."
While the airline focuses on its operational and restructuring efforts to ensure long-term viability, it continues to invest in the communities it serves through generous sponsorship programs. In Yellowknife alone, the carrier has committed to a number of sponsorship programs through the provision of tickets and cargo transportation. "We understand the importance of supporting community events and charities that operate in the North as there is a small corporate base for those organizations to draw from," says Poulter. "We live here and know that many extremely worthy causes wouldn't be sustainable without our support."
First Air and Canadian North announced plans to merge a couple of years ago, but were not able to reach an agreement at that time. But there is still a will to work together. The companies recently announced their decision to code share on some routes, meaning that a passenger conceivably would be able to fly different legs of a route on one or the other airline to take advantage of more favourable scheduling.
First Air's logo states the company is "the Airline of the North." But it also wants to be known as a "Partner of the North" because of its commitment to investing for the long-term in communities and in youth in particular. First Air has plans to continue to fly the Northern skies, serving the people in Northern communities for many more years to come.