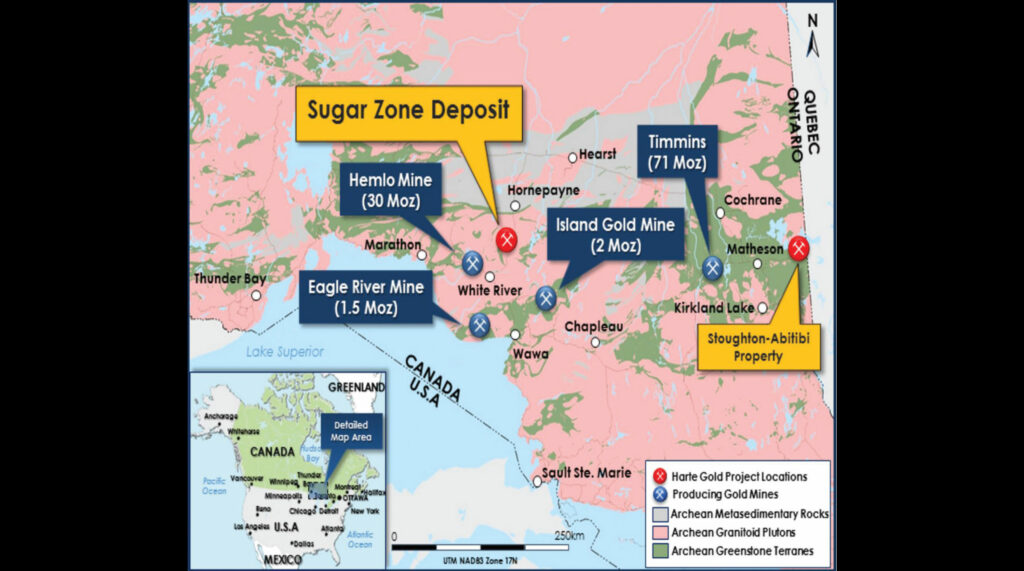 White River, Ont. – Ontario Premier Doug Ford recently joined Harte Gold President Stephen Roman to officially open the company's new gold property, the Sugar Zone mine.
The mine's arrival follows the revival of the township's once-mothballed sawmill, which was relaunched five years ago, and signals a new era of prosperity in the region. "The opening of Harte Gold's Sugar Zone mine is a signal to the world that Ontario is Open for Business. It shows that this government is committed to improving the conditions for businesses, so they can thrive. It's also one more example of why Ontario is a global leader in mineral exploration and production," says Ford.
"We told the people of Ontario we would create and protect good, local jobs all over the province. We will continue to support businesses that are bringing more prosperity and economic growth to every corner of Ontario." Located 60 km east of Barrick Gold's gold complex, it's the first new development in the Hemlo camp in 30 years. "As one of the few companies that's actually moved a project from grassroots right to production, it's taken us almost 10 years," said Roman adding there was a time when mine projects near Timmins were developed in less than a year.
He said the previous government supported an overly onerous regulatory regime that delayed start dates repeatedly. "We had timelines that were promised to us that came and went," he said. "They did things that were totally unexpected and out of the blue, and it was just a constant struggle to move things forward to maintain peace with all the different parties." Roman said it took two years to permit the access road to the site, and three years to permit a bulk sample. "I mean, that's just outrageous beyond belief." Harte Gold, which poured its first gold brick in mid-October, achieved commercial production at the site earlier this year. The mine now employs a workforce of 200, as well as contractors – a significant boost for the community of about 1,300 located roughly midway between Sault Ste. Marie and Thunder Bay.
"It's all good news to the community," long-time Mayor Angelo Bazzoni told media. All the activity has led to a housing crunch in the area with Harte Gold buying a trailer park and a remote tourist camp to help take some of the pressure off in terms of housing its workers and executives. The local council also approved Pic Mobert First Nation and Outland Camps to build bunkhouse-style accommodations in town. Now that the Sugar Zone mine is up and running, Ontario has 39 operating mines, including 18 gold mines.
Ulnooweg Doles Out Annual Awards
Truro, N.S. – In Atlantic Canada members and supporters of the Ulnooweg Development Group, the business arm of the Mi'kmaq people, recently came together to hand out its 2018 Business Awards. Several honours were presented over the course of the evening, including: Start Up Business of the Year went to Lena and James Kennedy of G-man Waste Removal; Aboriginal Government Enterprise of the Year is the Bideford Shellfish Hatchery; Male Entrepreneur of the Year is Ivan Blake of Labrador Towing; Female Entrepreneur of the Year is Cecilia Brooks of Soul Flower Herbals; Youth Entrepreneur of the Year went to Colin Baikie of CRB Rebuild and Recreation Ltd.; and Cottage Craft Business of the Year is Patricia Smith of the Glooscap First Nation in Nova Scotia. Additionally, lifetime achievement awards were presented to three individuals: Julia Penney­, J C Variety, Port Hope Simpson, Nfld.; Joe John Sanipass, Renowned basket maker, Elsipogtog, N.B.; and, Connie Nicholas­, Bodin's Native Craft and Supplies, Tobique, N.B.
First Nations Forestry Council Touts Jobs
Nanaimo, B.C. – The B.C. First Nations Forestry Council (FNFC) has taken its show on the road to host a series of career fairs promoting the opportunities created by the industry. The events were held in Nanaimo on Feb. 20, at the Coast Bastion Hotel; Kamloops on Feb. 27, at the Coast Kamloops Hotel & Conference Centre; and, North Vancouver on March 12 at the Pinnacle Hotel at the Pier. While the career fairs were open to all audiences, the focus of the events was on Indigenous forestry careers. The goal of these career fairs was to increase Indigenous awareness of forest sector opportunities, as well as increase Indigenous participation as part of the FNFC's B.C. First Nations Forestry Workforce Strategy. The B.C. First Nations Forestry Workforce Strategy has been developed by FNFC as a long-term initiative to increase the participation and success of Indigenous peoples in the B.C. forest sector training, careers, employment and self-employment – as forestry employees, managers and executive staff, forestry contractors and self-employed entrepreneurs. The B.C. First Nations Forestry Workforce Strategy is an FNFC initiative that started in 2015 and involved extensive labour market research, First Nations and stakeholder engagement. The research unveiled a forecast of 11,419 job openings in the B.C. forest sector by 2028. "This is an opportunity to develop sustainable and meaningful career, employment and business outcomes for Indigenous people in the B.C. forest sector," said Charlene Higgins, FNFC's CEO. "Currently the forest industry is in need of skilled labour. Jobs in the forest sector present opportunities for Indigenous people to stay and work near their communities. Training and education are key to increasing Indigenous access to high paying jobs in the forest sector." Currently, Indigenous participation represents approximately five per cent of the total workforce in B.C.'s forest industry. The goal of the Workforce Strategy is to double Indigenous employment in the sector by 2027.
Raven Events Plays MatchmakerRaven.png
Regina, Sask. – A recent event here brought the concept of economic reconciliation back to the forefront of public consciousness thanks to the host, B.C.-based Raven Events. This year's annual Advanced Business Match event, brought together Indigenous and non-Indigenous entrepreneurs, businesses, organizations and government agencies to see how they could work together to make a more profitable future for everyone.
"It's about empowering Indigenous communities to use their natural resources to support their people, as well as connecting non-Indigenous business with Indigenous communities for mutually beneficial projects," the company says. "It's the brainchild of two business partners; one Indigenous, the other a German-born Canadian, who saw the opportunity that the concept of economic reconciliation provides for shared success." Raven's Advanced Business Match gatherings use a digital platform where entrepreneurs and business owners can "match-up" and schedule meetings with investors and other business owners before the event. They then meet face-to-face on the event floor to discuss opportunities. The event series began seven years ago as the Aboriginal Business Match in an attempt "to connect First Nations with mainstream business opportunities to support self-determination and economic reconciliation." It now travels between several Canadian and U.S. cities spreading that principle.
Organizer L. Maynard Harry, who goes by his traditional name, Qwastanaya, says the event has been successful over its seven years.
"I think we're doing it right," he says. "Regina has always been one of our more energetic events." The event had several partners this year, including the Yorkton Tribal Council, the Government of Saskatchewan, FHQ Developments and Economic Development Regina. A range of businesses were in attendance from the construction, education and training industries to representatives of the energy and mining sectors. Qwastanaya says that economic reconciliation means different things to different people. While governments talk about being in and out of recession, he says, Indigenous people "have been in a recession for 150 years." "Economic reconciliation is how we turn good intentions to concrete results that bring positive change to our children and our communities," Qwastanaya concluded.
2019 Indigenous Women in Leadership Award
Fort McMurray, Alta. – The Canadian Council for Aboriginal Business (CCAB) has named Nicole Bourque-Bouchier, CEO of the Bouchier Group, the 2019 Indigenous Women in Leadership Award winner. Bourque-Bouchier is a member of the Mikisew Cree First Nation with an extraordinary history of accomplishment in business expansion, job creation for her people and community service. As CEO of Bouchier Group, a provider of integrated site services to the Athabasca Oil Sands region, Nicole's resolute, thoughtful and principled approach to business management and community service has transformed her company and advanced quality of life for Indigenous people. "CCAB is proud to recognize Nicole Bourque-Bouchier as a visionary Indigenous business and community leader," says JP Gladu, president and CEO, CCAB. "Nicole is a powerful and fearless Cree woman with an unstoppable resolve to achieve excellence and advance Indigenous culture. Nicole's journey is a source of pride and inspiration for all Indigenous women and men." When she joined the Bouchier Group in 2004, the company had 10 employees. Today, the company ranks among the largest Indigenous-owned businesses operating in the Oil Sands with 850 employees, the majority of whom are Indigenous.
The Founder and Exclusive Award Sponsor is TD Bank Group. The Lead Event Sponsor is the Barry and Laurie Green Family Charitable Trust. ABQ