Earth Moving Through Generations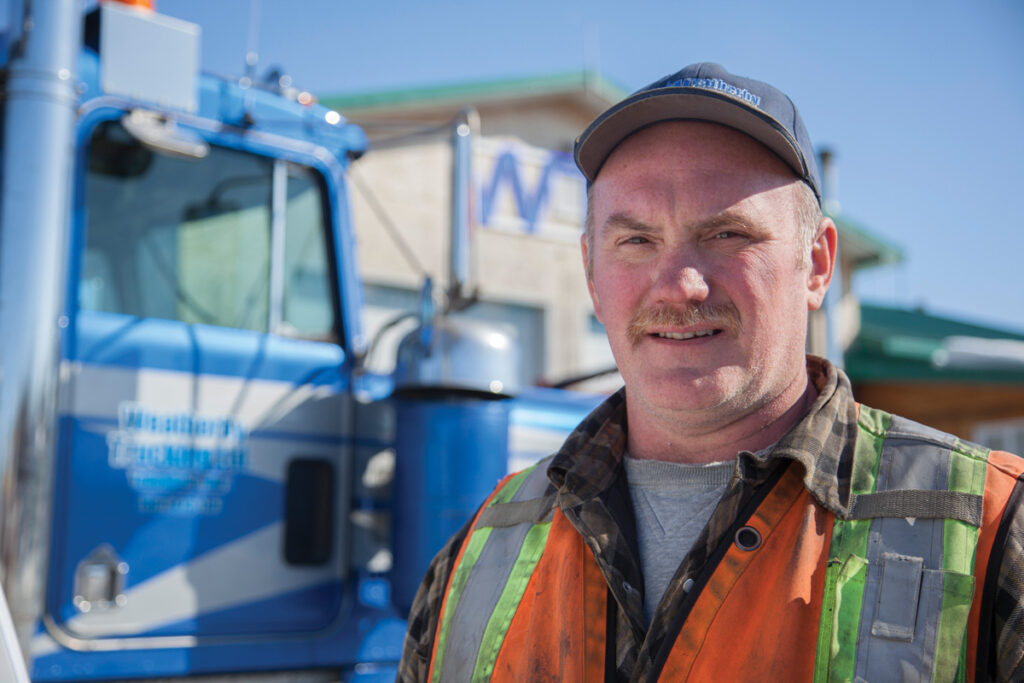 Weatherby Trucking has Grown with the NWT Mining Sector.
Blair Weatherby's grandfather moved to Yellowknife with his family in 1951, attracted by the lure of good-paying mining jobs. Blair's father stayed in the area, working directly for the mining industry and eventually with a trucking contractor. Growing up watching his family doing trucking and mining jobs, Blair Weatherby's favourite toys to play with were miniature trucks and loaders. He says he dreamed of owning his own trucking company one day.
"I bought my first truck – a 1975 Mack," Weatherby says. It wasn't until 1997, with the purchase of a second vehicle, a 1978 Kenworth winch truck, that Blair Weatherby started Weatherby Trucking Ltd. in Yellowknife.
More than 20 years later, he still operates out of the Yellowknife office and the majority of his business is in the NWT mining industry.
"We're proud to be a local company," says Weatherby. "Although we occasionally drive into other parts of Western Canada, all returns are to the NWT."
As Weatherby Trucking grew, it developed a reputation for providing a range of services. "We are Yellowknife's go-to company for moving oversized loads," he says. "I once hauled a DC 4 airplane down the ice road from Diavik Mine to Hay River."
More than Just Trucking
The company often unloads large pieces of equipment brought in with Hercules Aircraft. "Until First Air sold their Hercules Aircraft, we were loading and unloading without incident since the beginning," says Weatherby. "We are still the on-call crew when the Herc comes into town. And occasionally we even get to unload some pretty amazing aircraft."
With an array of equipment, including Cats, excavators, loaders, and rock trucks, Weatherby Trucking does a lot of earth moving jobs. "We have moved a lot earth in the Yellowknife area over the last two decades," says Weatherby, adding that it's a family tradition. "There are three generations of Weatherbys that have worked in the earth moving business here."
Other services include mine reclamation jobs. "We have been fortunate to be able to move the last ore from the Giant Mine to Con Mine for processing," says Weatherby. "And we have been working with other companies to complete the reclamation of both sites."
By 2018, Weatherby Trucking employed as many as 20 during the company's peak season when the ice roads are open to service the various mines in the NWT. All of his drivers are from the North, including many from local Indigenous communities. "Our preference is to hire local," says Weatherby. "We've had 32 Indigenous drivers through the years."
Weatherby Trucking also has strong working relationships with NWT indigenous corporations such as the Det'on Cho Corporation, the economic development arm of the Yellowknives Dene First Nation; and the Tłı̨chǫ Investment Corporation. "We've been involved with them since they started," says Weatherby,.
local communities are key to Weatherby Trucking and giving back through corporate gift giving is important to Weatherby.
"We have fundraised for all kinds of sports," he says, adding that some of the regular recipients are a cross-country ski club, snowboarders, and the company hockey team, the Weatherby Warriors.
There may soon be another generation ready to enter Weatherby's NWT trucking business. His seven-year-old grandson has a penchant for toy trucks, just as his grandfather before him. "I can understand his tastes in toys," says Weatherby.