Designs on the North
The design community North of 60 has seen an evolution over the past four decades. Four top Northern-based architects weigh in on the changes.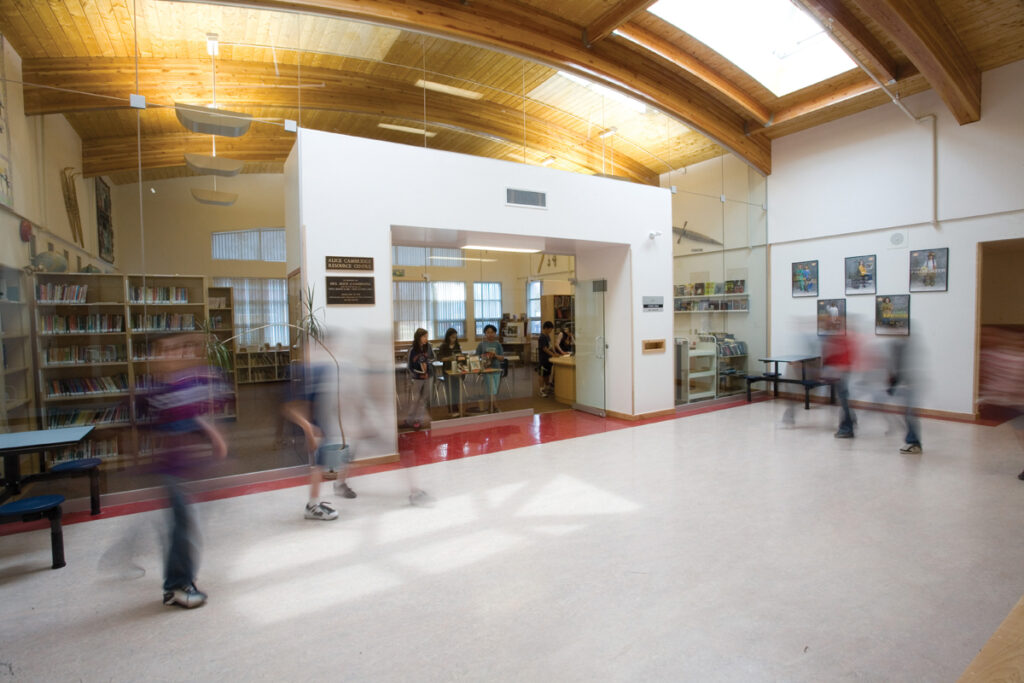 By Graham Chandler
Northern architects have always faced different design experiences than their southern counterparts. For example, Jack Kobayashi recalls that 40 years ago, architects were still feeling the after-effects of Montreal's Expo 67. "There was a lot that came out of Expo 67," says the principal and partner of Whitehorse-based kobayashi + zedda architects, "but not much of it came to the North."
Forty Years Ago
What was the design scene like for the North in the 70s?
"Oil was cheap, so definitely not a focus on energy efficiency," says John Berg, architect and senior associate at Stantec. "So now we are doing a lot of renovations to buildings and finding that the technology – both energy efficiency and the air/vapour barriers – were pretty simple, so there are issues with them now. They were less durable; tended to be a lot of stick-build wood frame."
In the Eastern Arctic, there was minimal architectural input. "When we started up in what is now Nunavut in 1980 there were very few privately owned buildings," recalls Harriet Burdett-Moulton, Senior Architect at Stantec. "They were all government except for a few commercial buildings like Hudson's Bay Company, the Anglican church and maybe the Co-op. All the public housing was prefab insulated plywood panel, shipped up on sealift and put together like Lego blocks."
There were also a few built of fiberglass panels, she adds.
But already, changes were afoot. When Darrell Vikse, principal architect at Yellowknife-based PSAV Architects, graduated in 1980, designing for efficiency, passive and active solar design were the catch words. "It was that first energy crisis," he recalls. "People had to save money on fuel and you had these great buildings with glass that would cook you during the day and retain heat in the evening. So if nothing else I would say the North was getting ahead of the curve on the energy conservation end of things."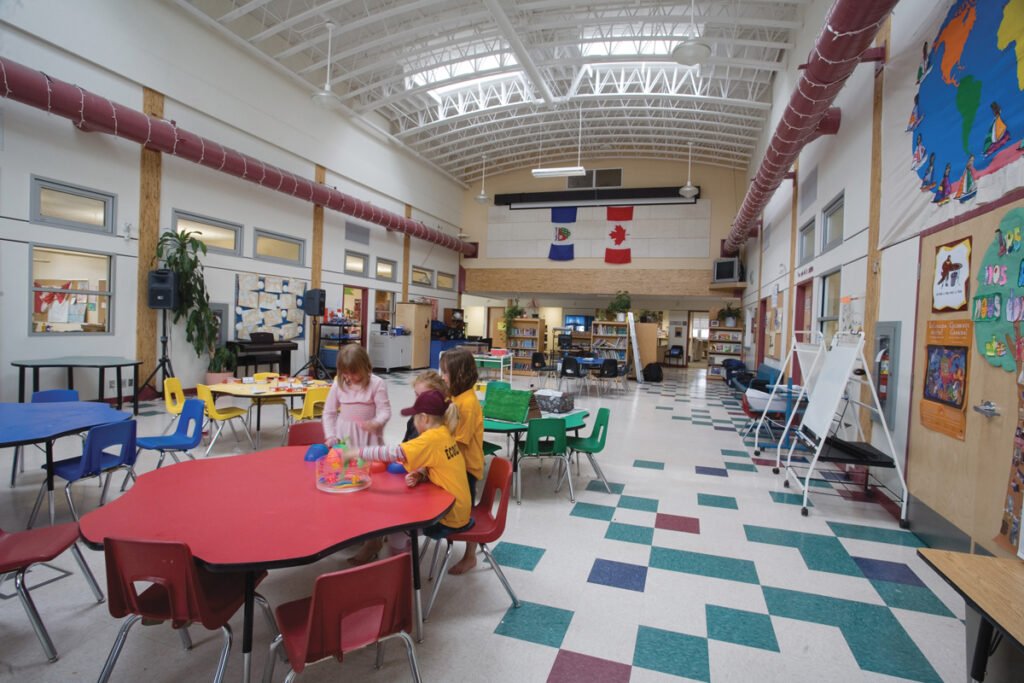 Regulatory and Changing Climate Influences
So in the early '80s, energy conservation was an emerging item and a boost for Northern energy efficient building. "When some of the commercial energy conservation programs and regulations like C2000 and the National Energy Code for Buildings were introduced, they weren't game-changers," says Kobayashi. "Northern architects had been designing to a higher level of energy efficiency than the market for years. They were way ahead of the curve."
Berg says the regulations have had an influence. "To a degree it is code-driven, but a number of companies including Stantec, over the years have always done a reasonable job of getting energy efficient systems: electrical, mechanical, and architectural. But now it is definitely quantified, be it LEED or government priorities to meet the model national energy code for buildings." He says it has resulted in more green and sustainable materials. "More wood, or especially recyclable metals. So we get LEED credits." Key features would be more natural ventilation, more daylight, meaning more glazed glass and more natural finishes both inside and out.
Kobayashi notes the effect too. "In the early days, our projects had many finicky edge details with projecting joists and lattices," he says. "Wrapping buildings in higher levels of insulation has become paramount and this has led to more monolithic detailing in our buildings. It's all about adaptation."
He also acknowledges an increasing influence from progressive changes in the Northern climate. "Typically it just used to be cold and dry in the winter, and those are pretty good conditions for building," he says. "What isn't good is more temperate climes like Vancouver, which has probably the worst climate; nothing ever dries out. And our climate is starting to change. We are seeing a lot more cool damp weather." As a result, he says, they are starting to have to get smarter with their detailing: a lot more icy conditions and freeze thaw cycles are harder on materials and the envelope. "Our waterproofing has to be topnotch as there is more possibility of ice forming," he says. "We have to be really careful about how we shed water off buildings. And of course good vapour barriers are very important."
The Northern climate has its psychological impacts; and a big change from 30 years ago has been designing to occupants' space needs. Vikse explains: "There are practical considerations like needing the smallest space possible to make a building work," he says. "But in the North of course our winters tend to be longer and darker, and so we have to design spaces inside that are more habitable." Consequently, common spaces have become larger and higher. There are larger spaces that make the place more habitable and more human, in terms of lighting, in terms of volume. "You can imagine if you were to work in an apartment 12 months of the year with eight-foot ceilings and tiny spaces, it gets claustrophobic," he says. "Many of the schools and office buildings now have larger spaces often with some volume that allow for more gatherings, more socializing, more light."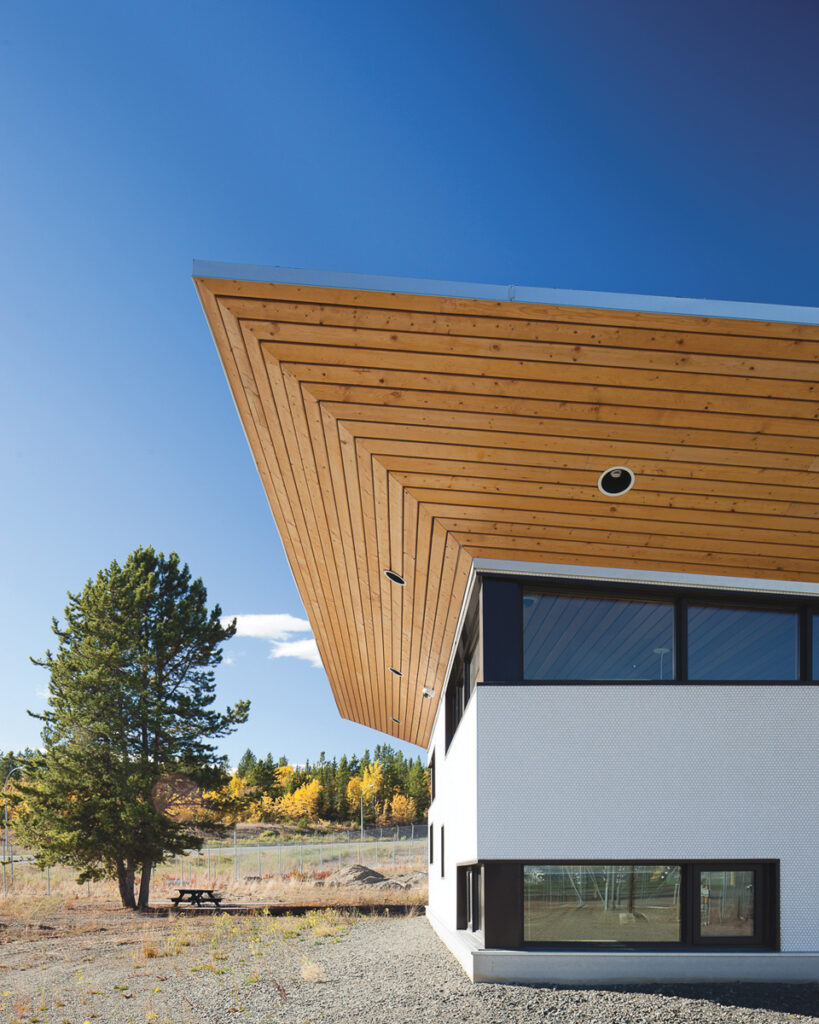 Technology
The trend to more light has been aided by another change the design industry has seen: the introduction of LEDs. They can offer cool light or warm light, and different colour temperatures ranging from the soft glow of incandescent fixtures to a stronger fluorescent type of light.
New advances have arrived for natural lighting too – another major change in recent decades for Northerners. For example, Berg says triple glazed glass has become an important material over the last 10 or 15 years. "You get better sealing between the glazing to make sure they don't break and fog up the window. And thinner glazing, each pane can be like 4mm instead of 6mm." That's influential because it enables design for larger windows, as the thicker glass can be too heavy for big windows. "Also the solar gain rate, you can add two coatings," he says. "One for the winter to add solar heat gain and one to reject the solar gain in summer. And different colours are possible, like blue or green."
Other changes in materials abound. One gaining favour in the North over the decades is thermal-fused plastic, an exterior cladding that varies from 6mm to 16mm thick. "It is a durable exterior plastic-like finish very similar to kitchen counter tops," explains Berg. "It can be used in combination with metal cladding, it goes on fairly quickly, and it is recyclable."
Vikse adds another newly popular cladding material: galvalume. "In part it's because the industrial look has become more popular. It is also a very convenient material because it's quickly installed. It comes up prefinished so if you were cladding a building today at 17 below you can do that because it is simple to apply in cold weather. And it requires very little maintenance." For insulation, he says foam in place – a spray foam – is a reasonably new product, probably in the last decade too. "Technically that has helped construction of the buildings because it addresses a number of problems for us."
For esthetics, Vikse says they often pair metal claddings with another product like acrylic stucco, also new in the last decades. "That gives us a chance to put a texture onto a building, with a pattern. And a colour, because the acrylic stucco can be whatever colour of latex paint you can get. The stucco is applied directly over the insulation; it has a fiberglass mesh underneath it. Metal siding by itself can be challenging because it has an industrial feel so you have to find some way to soften it up with masking or some other materials. It's a challenge because the metal cladding is one of the less expensive products to use so of course your client would like to use it."
Adding pizazz to metal cladding is more becoming the norm for the North, for good reason: plain cladding has become just too commonplace. "Over the years we have specified a lot of corrugated metal cladding," says Kobayashi. "Forty years ago, it would have been a radical use of material. Twenty-five years ago it was 'big city'.
Today it is mainstream. It's a popular product because of its low cost, lack of maintenance and easy installation." Unfortunately, he says, many Northerners are growing tired of its ubiquitous application. "It's clearly a case of having too much of a good thing."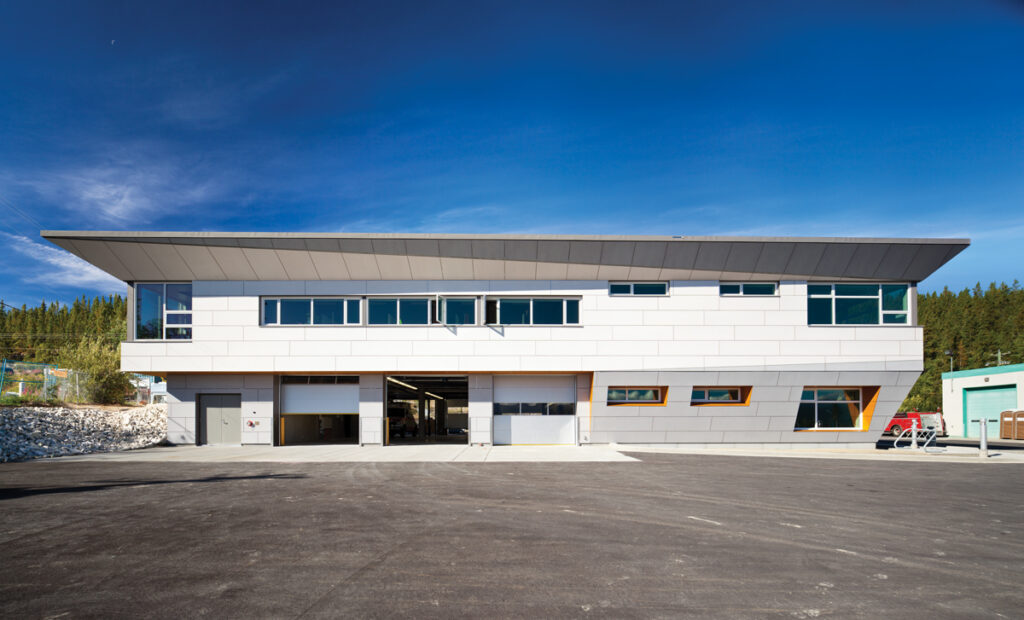 First Nations Involvement
Although Aboriginal peoples make up over half of the Northern populace, it is only in recent decades they've been engaged with Northern design processes. Burdett-Moulton calls it "a total change from what you would have seen 30 or 40 years ago." Where Aboriginals needed structures, in the old days the federal government would send in the building components and a construction crew and the locals would say, 'what's this, who's it for?'", says Burdett-Moulton.
Today that's radically different. It's the norm for First Nations to be directly involved in every step.
"It is their own expression; there's more originality; a more human scale," she says.
The process has become highly consultative, every step of the way from proposal to final commissioning. The outcome is also more esthetically pleasing. "The buildings are certainly less boxy," she says. "They're more organic and free-flowing. For example the Iqaluit Justice Centre, the new Iqaluit Airport and the Iqaluit Aquatic Centre are all examples of buildings that have had a high component of user input in the design process."
Her record as the first female architect in the Eastern Arctic has also encouraged more women into the industry, especially in Nunavut. "The Inuit are a matriarchal society so it's easier for a woman to take a more substantial role than in southern Canada where it has been predominantly male," she says. "Stantec now employs many female architects in the Western Arctic, too."
In the Yukon, Kobayashi has experienced the First Nations difference over the decades too. "Forty years ago we would have been dealing with the federal government to design indigenous projects," he says. "Now in the Yukon we deal directly, because First Nations in the Yukon have self-government so it's their money, they hire us, they are the project managers. We deal directly; no middleman." As in Nunavut, the designers sit down with them through the entire process. "We never see a federal bureaucrat," he says. "In the 40 years, that's the biggest thing. And they are still federally funded under the self-governing agreement but it's just a transfer of money and it's there for them. It's really a good thing – any time you can deal directly with the user of the building."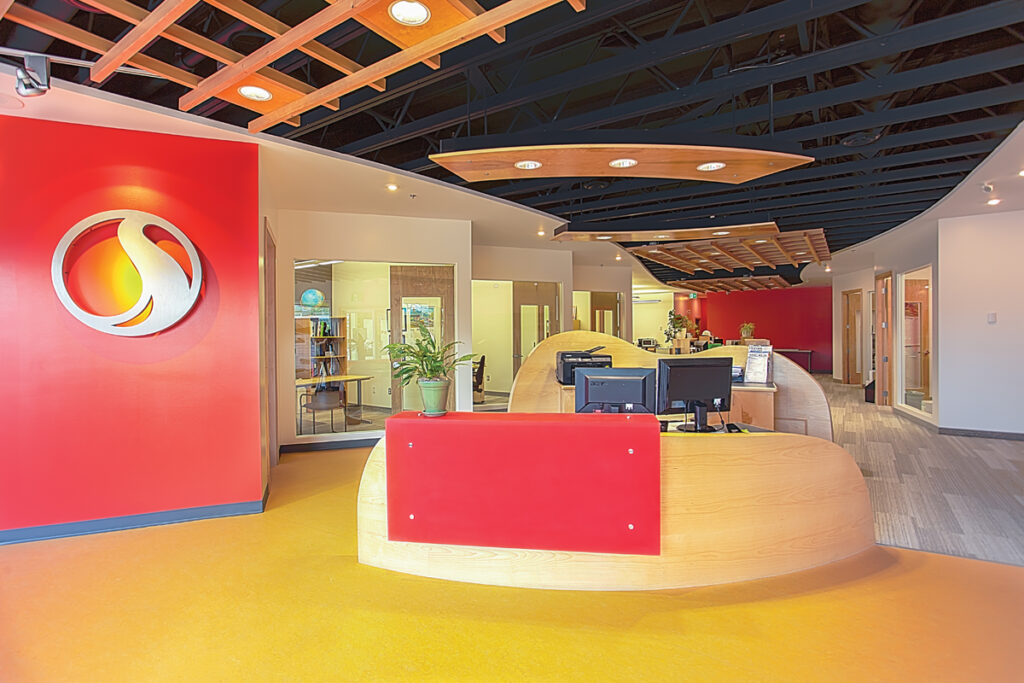 The Future
Burnett-Moulton sees that consultative process continuing, even improving. "People are getting more vocal," she says. "We have all the social media to communicate instantly. Forty years ago it was difficult to get a meeting together. Now, just use Doodles. And if you can't make it, there's Skype. I see that people are going to become more involved."
Related to that, Berg anticipates a decline in design-build delivery, "because clients are being dissatisfied with the final product," he says. "The stakeholders who use the building – the occupants – have less and less say. Versus the traditional design-bid-build where you work with the client and the users and say this is what your space is going to look like, and get a product that meets their needs."
Kobayashi echoes this. "I see design-build trailing off a bit as clients and user groups become disgruntled with the lack of control over their own projects," he says. Added to his horizon is "more re-tooling of Northern buildings as climate change exposes our buildings to more freeze-thaw cycles and generally wetter weather."
Vikse sees the future becoming much more interesting now, because of the way technology is evolving with building products and lighting, "I think there is going to be more design avenues open. Technology is advancing; you can do things that in 2016 you couldn't do even in 2006. There are materials you can use to be much more creative." CN