CURLING'S NEW FAMILY
The Koe Clan Shows what Hard Work, Dedication Can Do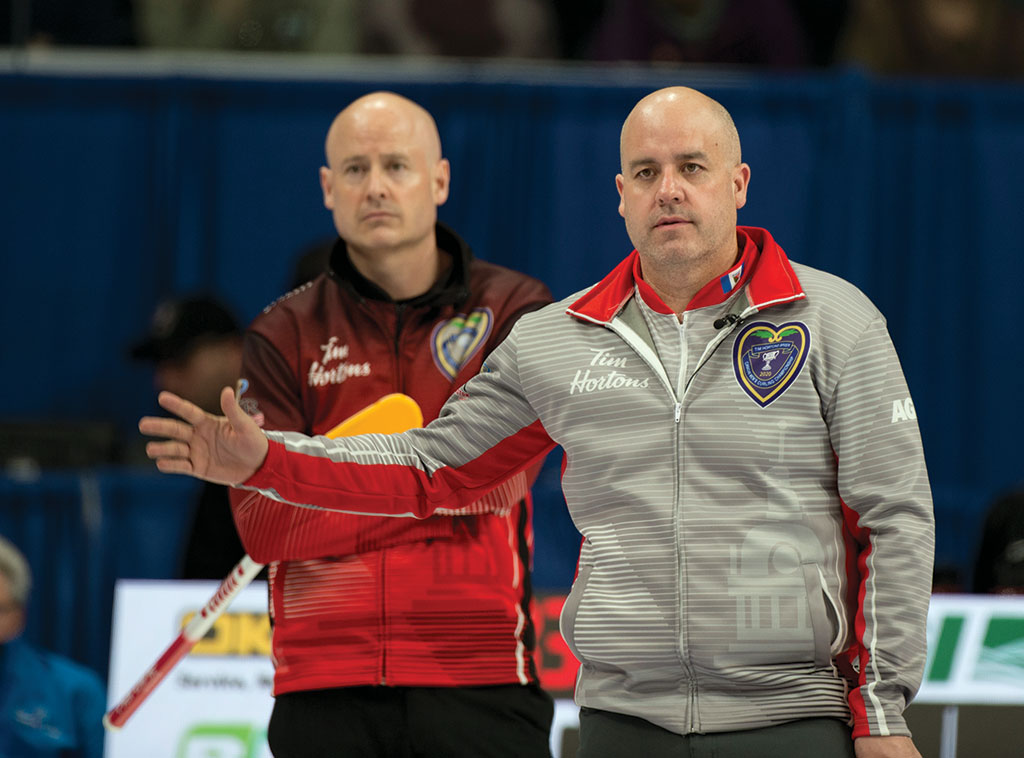 By John Curran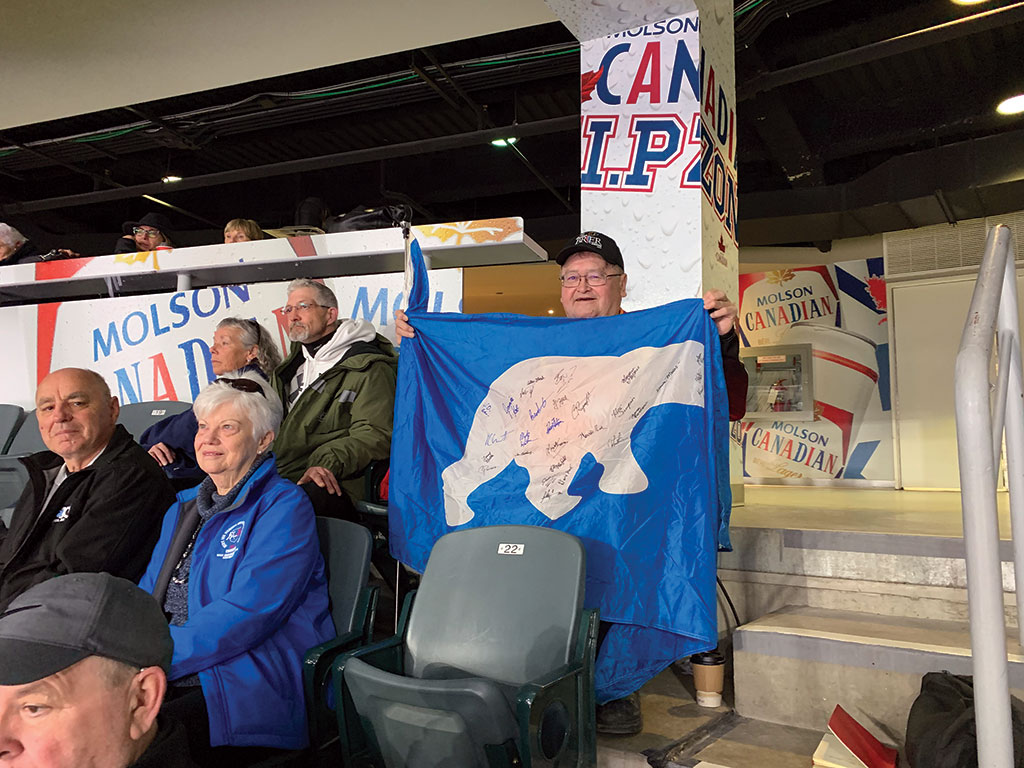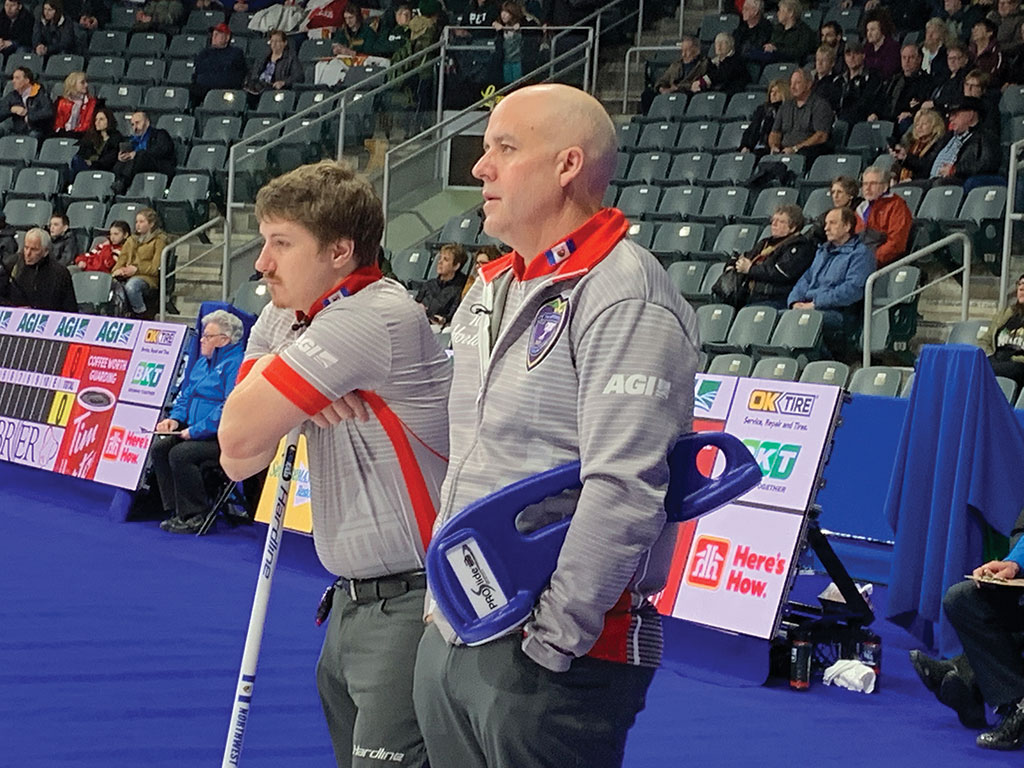 "Polar Power! Polar Power!"
Fred Koe screams at the top of lungs to the 2020 Tim Hortons Brier crowd in Kingston, Ont., while waving his blue and white polar bear flag. One of his sons, Jamie, has just made a great shot with his last rock of the end in the against Team Yukon to score a pair.
For Gwich'in elder Fred, he's living any Canadian father's dream. Not one, but three of his children are elite-level curlers and all seem to book their trips to their respective national championships with more consistency than geese flying north in the spring.
"When they were young my whole life revolved around curling," said Fred. "The kids were always around and they naturally picked it up."
First in Inuvik and later Yellowknife, Fred was involved at the executive level with the local curling clubs. "The boys were always with me and they picked it up along the way," says Fred.
Thinking back to his start in Inuvik instantly brings a smile to 44-year-old Kevin's face.
"I was curling up there, but maybe just a year or two before we moved away – that's where I got my start," he says. "It was a lot of fun. It was the old rink, so conditions were a little different than we have today."
A few minutes earlier he was in a pressure-packed 10th end versus Mike McEwen's Team Wild Card from Manitoba. Kevin settled into the hack to throw the final stone facing three opposition counters that made his pair in the twelve-foot seem so distant they might as well be back in his current hometown of Calgary.
Trailing 2-1 at the time, the situation would later prompt a TSN reporter to say, "Most players would play for the extra but most players aren't Kevin Koe."
Kevin's shot of choice turned out to be an epic, up-weight triple takeout to score two for the win, 3-2.
"Your odds of stealing aren't very good against good teams and Mike's been playing great all week," he told the post-draw scrum of reporters. "Pretty much any kind of shot, we were going to try it, and we were really fortunate to have a shot after I missed on my first one."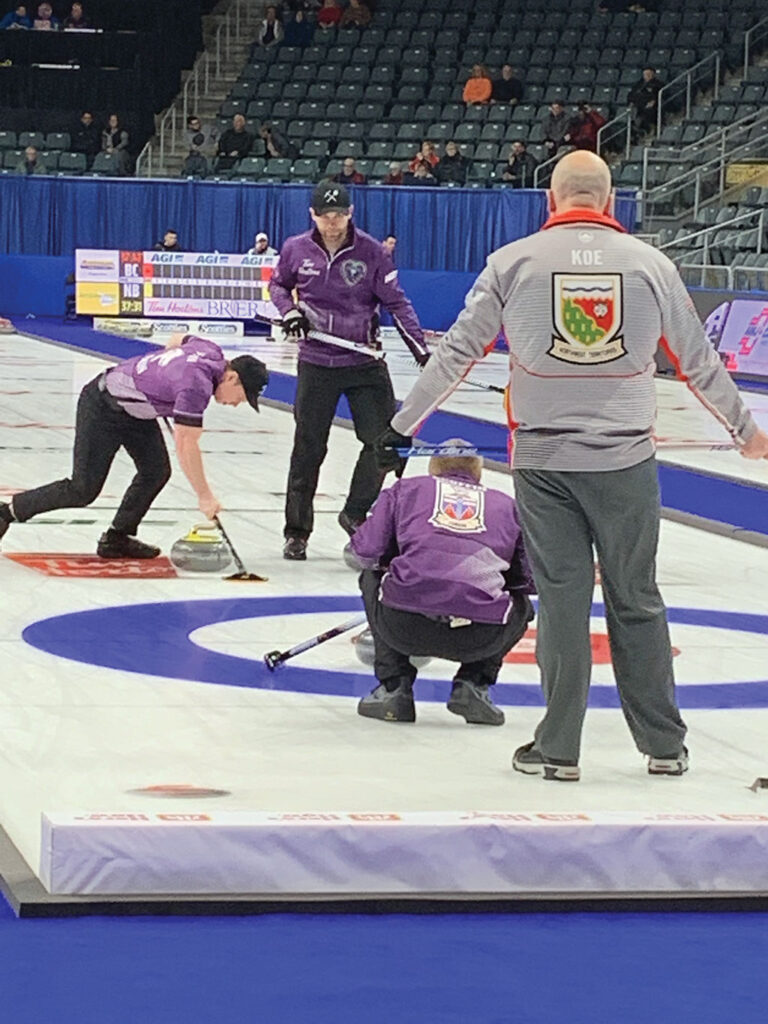 Girls Rock, Too
It was a slightly new look, but the same result for Kerry Galusha (nee Koe), who attended her 17th Scotties Tournament of Hearts – sixth consecutive – in Moose Jaw, Sask., this year, qualifying out of the NWT with a new teammate onboard.
The younger sister of four-time Tim Hortons Brier champion Kevin Koe and twin sister of Jamie Koe, who has now represented the NWT at 14 Briers, Galusha ranks near the Top 10 in most games played at the Scotties Tournament of Hearts.
This season, Galusha's rink went undefeated at the NWT playdowns with a 4-0 round-robin record at the Hay River Curling Club before advancing straight to the final. Galusha and her Yellowknife Curling Centre teammates, Sarah Koltun at vice-skip, veteran Jo-Ann Rizzo at second and lead Shona Barbour, defeated Sarah Stroeder's foursome (Sharon Cormier, Megan Koehler and Anneli Jokela) 9-3 in eight ends to earn NWT's representation.
In most recent Scotties Tournament of Hearts play, Galusha finished with a 2-5 record in Pool B play at the 2020 national championships. Rizzo was new to the Galusha rink this season, but a veteran of many curling wars, including more than a dozen Ontario Scotties events. Rizzo is a former provincial mixed champion and twice qualified for the Tim Hortons Roar of the Rings Canadian Curling Trials – the first in 2005 as a skip and the second in 2013 while playing with Sherry Middaugh. Rizzo also won two provincial senior curling championships in 2016 and 2017, finishing fourth and second, respectively, at the national championships. She also coached the U.S. team at the World Senior Curling Championships in 2017.
Encouragement for Youth
All of the Koes insist curling is a great game for youth – especially young Indigenous people from smaller communities.
"You know, seeing is believing. I started from the North and I still consider that home for me," said Kevin. "We've gone on to have great curling careers, win some Canadians, win some Worlds go to the Olympics… you've just gotta believe you can do it."
Curling is an ideal sport for Indigenous youth to get involved with, contends Jamie.
"Typically Indigenous folks, we're all from small communities," he says. "You have a chance if you find three friends, three people who want to work as hard as you." Jamie, who is now 42, and older brother Kevin first rose to prominence when they almost won the national junior title while representing the NWT as youth.
"All Indigenous children in small communities have that same opportunity to do that," he says.
For Fred, he explains that his boys were great at many activities but they were always given the opportunity to select their own paths in life. "They excelled at baseball, hockey, and curling, of course, curling was what they finally chose."
Pointing to Kevin's 2018 appearance in the Olympic bonspiel, Fred stresses that the world of sport is open to all Canadian children providing they get the support they need.
"Communities need to provide the facilities and it takes a lot of support, first from families and later from your employer," said Fred. "Both Jamie and Kevin have full-time jobs outside of curling and a lot of [they and their teammates] have young families, they still find a way to work at it 365 days a year."
Plenty of support
Kevin is a surface landman with Repsol Canada out of Alberta while Jamie is the Assistant Deputy Minister of Finance with the Government of the Northwest Territories.
"It's a juggling act but there are tonnes of support from our families and everyone," says Kevin. "We love doing it and we're pretty fortunate to be able to."
In Jamie's case, he's now tied for second with Russ Howard on the all-time list of Brier appearances by a skip with 14, behind only Brad Gushue (17). "I'm a government employee … so it's hard for me to get away especially at this time of year, it's budget season," says Jamie. "The GNWT is great, they support me to come here each year – I really appreciate it but I think that's just the kind of employer they are." ABQ