CIBC's been banking cold Arctic cash for 77 years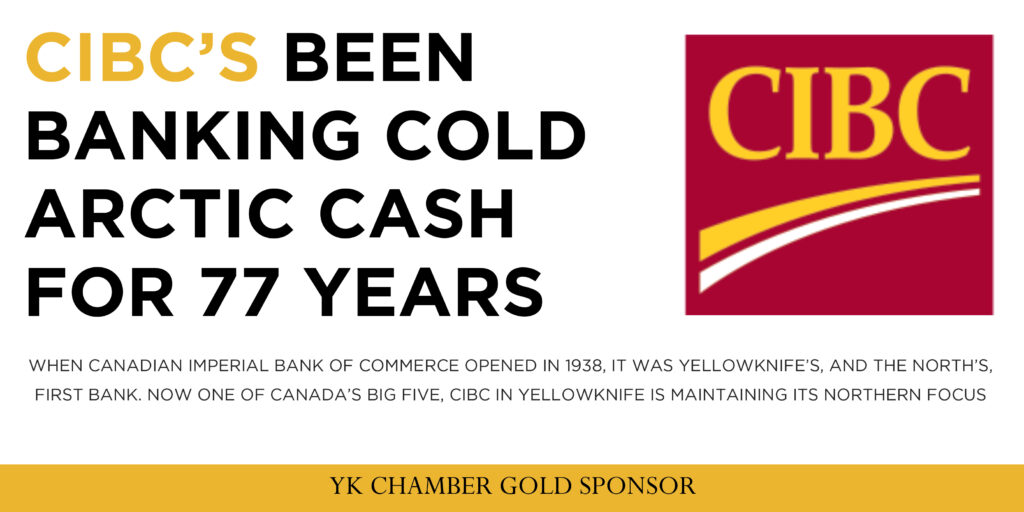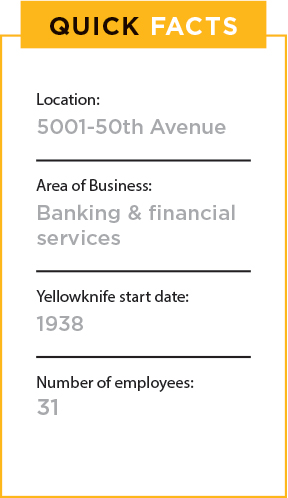 The Canadian Imperial Bank of Commerce (CIBC) first set up shop in Yellowknife on Valentine's Day, 1938, when the Canadian Bank of Commerce opened a branch in a small log cabin. It was the only chartered bank branch in the Northwest Territories, which at that time included the NWT and what is now Nunavut.
The bank's first employees, branch manager D.T. Munroe and clerk P.A. Thomson, had to sleep on the cabin's floor their first few nights. Later they found their own living quarters.
Business was brisk. By late summer that same year, the little bank sought bigger premises and moved into shared quarters with the Yellowknife Drug Store. By 1947, the bank moved again, this time to a temporary building in Yellowknife's new town site at what became the corner of 50th Avenue and 50th Street, now the heart of the city's downtown area. Several years later, a permanent building was constructed at this address and became the CIBC's Northwest Territories head office.
In 1961, the Canadian Bank of Commerce merged with the Imperial Bank of Canada, thereby changing is name to Canadian Imperial Bank of Commerce. The bank's original log cabin is now privately owned and is located in Old Town on Latham Island.
Since those early years of handwritten account ledgers and adding machines, CIBC Yellowknife has brought many banking innovations to the North. In the days before computers, it created Canada's first "flying bank branch" to serve 1,700 people in five Arctic communities. A Northwest Territorial Airways DC3 took 12 hours to take bankers to Port Radium, Kugluktuk (formerly Coppermine), Cambridge Bay (Iqaluktuuttiaq), Ulukhaktok (formerly Holman Island) and Lady Franklin Point.
High tech made its northern banking debut in 1978 when Yellowknife became CIBC's 1000th branch to become computerized. Local newspapers declared that the "age of the computer" had arrived. Less than ten years later in 1987, CIBC installed Yellowknife's first ATM.
Now, CIBC has the largest branch network in the NWT. The bank's latest technological push is in mobile banking for smartphones and tablets, and includes an application for the Apple watch.
Nationally, CIBC is known as one of the "Big Five" banks in Canada. The bank has more than 11 million clients and employs more than 44,000 people in its 1,129 branches. Its branch in Yellowknife is the largest rural CIBC branch in Canada.
~Beverly Cramp