Bicycle repairman. Social media consultant. Marketer. Web designer. Photographer. Humanitarian. Author. Publisher. Bread baker. YK Chamber member.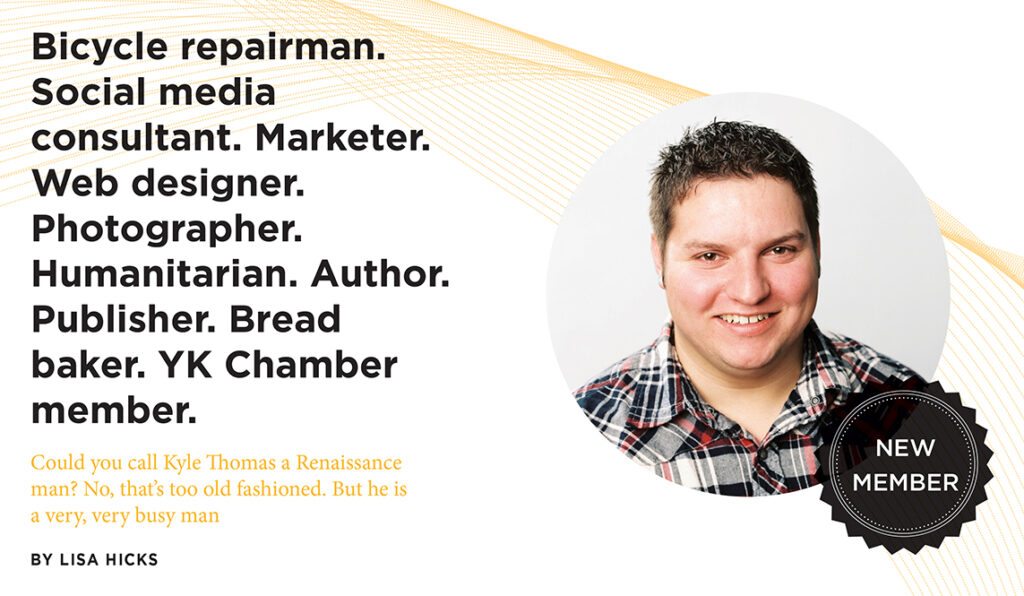 To call Kyle Thomas a Renaissance man does him a disservice. The term doesn't tell you how busy he is, changing the many hats he wears in his daily life. And besides, it's an old-fashioned term that doesn't really sit well on Thomas' shoulders. He's 24, too young to be a Renaissance man, but old enough to have already established himself as an aspiring business man.
Many Yellowknifers will know Thomas from the weekly downtown Farmer's Market held in the summer, where, after much trial and error learning to make bread, he sold fresh made sourdough bread. (His mother sold homemade jam at the next booth.) Others may know him from the book he photographed and published about Yellowknife's street people. Thomas is also known as the founder of YKonline.ca which he started in 2009. Now he is becoming known for his marketing and social media agency he started in 2014 called With Media ("With" comes from the first two letters of his first name, William, and the first two letters of his last name, Thomas.)
Back when he started his first business, at 15, he wasn't thinking of a career. He was just doing something that he liked to do and that interested him. "I was doing bike repairs but had a unique spin on it," he says. "I would come get your bike and repair it on-site or take it back to my parents' garage and fix it there." Thomas had to get his driver's license so he could offer this service.
He quit the bike repair business when he decided to work at summer tourism camps. "I did whatever was needed," he says, "whether that was moving things around or cleaning bathrooms." This is where, he says, he first developed a keen interest in the tourism industry and in the many small businesses offering tourism services.
In his early twenties, after a stint at an agency in Fort St. John, he returned to Yellowknife and joined Kellett Communications, working mainly on bigger contracts such as for the Government of the Northwest Territories. Thomas is very appreciative of the mentoring he received while with Kellett, but discovered he was far more interested in working with much smaller companies, non-profits, artists or entrepreneurs than with larger organizations.
Since starting With Media in mid-2014, Thomas has focused on marketing other people's ideas, products and businesses. Through his company he offers digital marketing services including website development, social media strategy, digital marketing and photography. He is already compiling an impressive client list, including the Long John Jamboree, the YK Seniors' Society and the Akpik Theatre, to name a few.
Thomas credits his parents with giving him the courage to start his own business. "They encouraged my ideas and allowed me to dream," he says. They also taught him to treat all people with respect, and to value everyone in the belief that people can help each other out.
He joined the YK Chamber of Commerce for that reason. He feels he can learn from the Chamber's members, and get more involved with issues facing the city such as the revitalization of the downtown area and, at the same time, offer his own skills and abilities to help Chamber members.
As for advice he could offer to other young, business-minded people, looking to launch a first business, Thomas says self-confidence is essential to success, although it is difficult to be confident right at the start. "Never be afraid of failure or rejection," he says. "Be confident in what you are doing. Exude that confidence and people will respect you, as long as you deliver the product or service you are offering."