A Road Map to 
Reconciliation
Uncertain how to start the reconciliation process? The Canadian Council for Aboriginal Business guides the way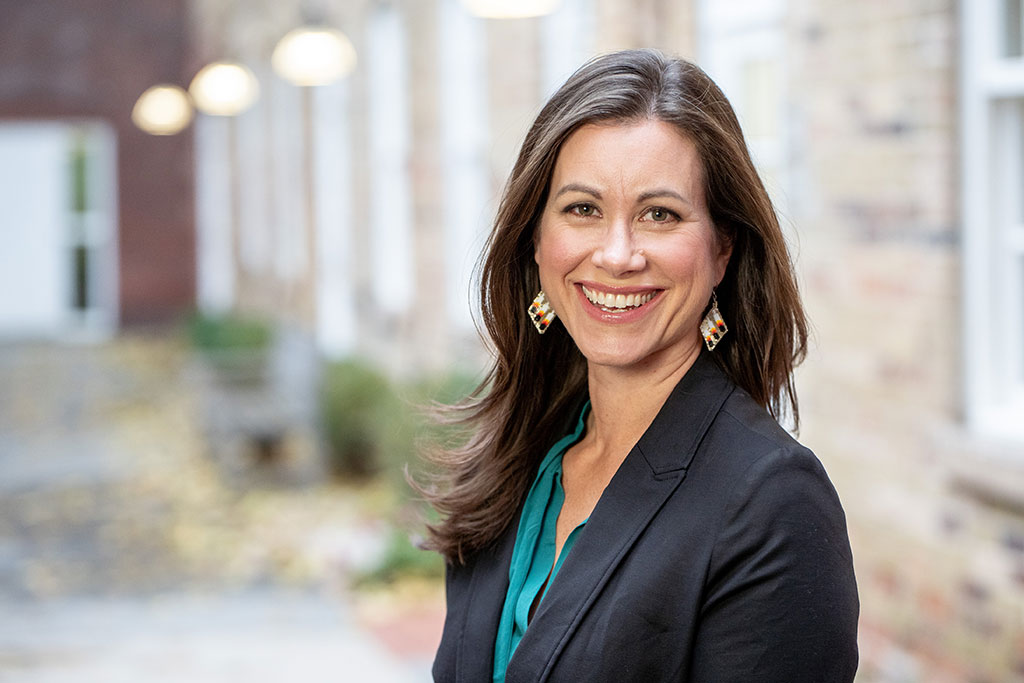 ABQ 22 Guidebook
Friday, September 6th, 2019, was a special day for businesses raring to get started on the road to reconciliation. In the Toronto offices of MasterCard, 80 people listened to presentations by JP Gladu, Mark Sevestre, Dr. Elder Bob Phillips, MasterCard VP Sasha Krstic, and the Honourable Mary Ng, Minister of Small Business and Export Promotion.
The occasion was the launch of the Canadian Council for Aboriginal Business's (CCAB) comprehensive Business Reconciliation in Canada Guidebook.
Four years prior, in 2015, the final report of the Truth and Reconciliation Commission called upon Canada's corporate sector to adopt the principles of UNDRIP as a reconciliation framework. Many businesses, however, remained unsure as to how, before committing resources to action.
"Since the release of the TRC's 94 Calls to Action, we have heard from many Canadian businesses who are eager to start working toward reconciliation but don't know where to start," JP Gladu, then president & CEO of CCAB told the Toronto audience. "Through this guidebook, businesses can begin fostering respectful economic partnerships and build a prosperous Canada, together."
Why a guidebook?
"CCAB's Business Reconciliation Guidebook is a great starting place for Canadian businesses – small to large – to start thinking about their role in reconciliation," says Tabatha Bull, current president & CEO.
To support the UNDRIP principles the 44-page guidebook contains what you need to know in order to begin building respectful and sustainable business partnerships, whether you're long-established or just starting up. To promote learning, awareness, and action, it provides an introduction to the historical and cultural context of business reconciliation, steps for building relationships with Indigenous businesses and communities, and steps to foster sustainable economic partnerships. Funding was provided by CCAB's partners at Innovation, Science and Economic Development Canada.
"It's aimed at businesses and entrepreneurs across Canada who want to engage with and form partnerships with Aboriginal businesses and communities," says Andy Avgerinos, the guidebook's research coordinator. "It is really a primer for non-Aboriginal businesses wanting to engage with and form partnerships with Aboriginal communities and businesses per the TRC's Call to Action Item 92 on business reconciliation – those that don't know what they don't know."
Developing the guidebook
Ensuring coverage of all three identity groups, First Nations, Inuit, and Métis, "we modeled the guidebook after CCAB's Progressive Aboriginal Relations (PAR) program, which is the only corporate social responsibility (CSR) program with a focus on Aboriginal relations in the world," says Avgerinos. "PAR provides businesses with a high-level framework with four organizing themes: business development, employment, leadership actions, and community relationships." The business co-develops that framework with a community of interest-based on the needs and priorities identified by that community.
"We were deliberate in not taking a prescriptive approach," notes Avgerinos. "Every Indigenous community has different needs and priorities, and organizations and partnerships have different opportunities and hurdles. Context is important." So CCAB chose to pursue a generally adaptable framework. "It was a challenge because you don't want to pay short shrift to the economic history and cultural identity of the people," he says.
Importantly, CCAB wanted to make the guidebook accessible to industries that are not involved in the natural resources sector or don't have a history of working with Indigenous peoples, like many small businesses or the technology sector. "There are things every business can do, including buying from Aboriginal suppliers. For example, CCAB used an Aboriginal-owned printer, graphic designer and copy-editor to meet all our vendor needs on the project," notes Avgerinos.
In addition to the benefits of working effectively with Indigenous business, CCAB wanted to point out the very real material costs of not respecting Indigenous relations in business strategies. These could include project delays, negative publicity, uncertainty from investors, or even lawsuits. "Most non-Indigenous Canadians will be receptive to the moral argument for reconciliation," says Avgerinos. "But some will only understand the business argument (dollars and cents), so we wanted to present both."
PAR's extensive database built over the years proved to be an invaluable resource. The program has over 200 companies awarded at various achievement levels. To date, over 3,300 business owners have been interviewed. Moreover, "in the summer of 2018 we visited over a hundred First Nations, Inuit, and Métis communities to interview community and business leaders face-to-face," says Avgerinos. "So that's a lot of input for the guidebook from those who drive change on the ground."
CCAB's research department led the project. "It's not heavily data-driven like the work we've been come to be known for," says Avgerinos. "The writing and secondary research was a team effort. In addition to our review committee, we had significant edits and comments from our former Director of Research and Government Relations, and from Tabatha, who was our chief operating officer at the time." He says the guidebook was essentially an outlet to share some of the collective learning of CCAB's research and that gained through the PAR program.
Striking an effective review committee was vital from the outset. Key to planning, directing, and overseeing the project was a highly qualified and carefully chosen six-member advisory committee:
"We met Eric Cardinal when he worked for National Public Relations headquartered in Montreal," says Avgerinos. "He specialized in Indigenous affairs, and NPR was a key partner for us in French-speaking Canada. We have an increased presence in Quebec so we wanted to make sure the French-speaking sector was represented."
Dr. Ken Coates is a Canada Research Chair in Regional Innovation at the University of Saskatchewan and senior fellow at the McDonald-Laurier Institute. "He has a special interest in Indigenous rights, Northern Development, and Northern Canadian history," explains Avgerinos.
Dr. David T. McNab is a Métis historian with a focus on Indigenous land and treaty issues and has served as an advisor in land claim negotiations. He advised the guidebook project on Métis history and peoples.
Dr. Elder Bob Phillips grew up in North Toronto when the urban Indigenous community was less established, says Avgerinos. He now serves on the Toronto District School Board's Aboriginal Advisory Committee.
Mark Sevestre founded the National Aboriginal Trust Officers Association and is currently Trust Officer for the Mississaugas of the Credit First Nation so he provided a unique perspective on the investment side of Indigenous relations.
Luanne Whitecrow is CCAB's PAR program director, working with companies in the process of developing an Indigenous relations strategy every day. "Information reported by PAR companies informed our thinking on trends and patterns of behaviour across companies and industries—what works and what doesn't," says Avgerinos. The six monitored the guidebook's team and undertook regular reviews of the work's direction.
Combatting Indigenous stereotyping
The guidebook recognizes that an important hurdle on the road to reconciliation remains lingering negative attitudes towards Indigenous people, largely as a result of their treatment historically as was revealed and summarized in the TRC report. "We know that unconscious bias toward Indigenous people is real," says Bull. "Our guidebook can help all Canadians confront that bias and take the necessary steps to build an effective and mutually-beneficial relationship with Indigenous communities and business."
The first step is knowing the truth. The guide addresses that by summarizing Indigenous prehistory and history. "First, we establish the long [pre]history of Aboriginal trade and commerce before European contact and during the period following first contact," explains Avgerinos.
Facts about the present Indigenous population often come as a surprise to or go against the dominant thinking of, many Canadians. To counter that, "we tried to always present a data-driven argument," he says. "We think it's important to back up the narrative with data." When it comes to contemporary Indigenous businesses, points are brought up like:
Indigenous people are creating new businesses at nine times the Canadian average. The Aboriginal business community is over 50,000 strong. Of those businesses, about 12 per cent are large community-owned firms. Approximately five per cent of the Canadian population identified as Indigenous in 2016.
Moreover, with the steep decline in age of Canada's working population the fact that Indigenous people comprise the fastest-growing segment of the population is vitally important: between 2006 and 2011, the number of Indigenous persons in the workforce grew 21 per cent. And now a full 38 percent have post-secondary accreditation. In discussing facts such as these in the guidebook, "we try to brush away stereotypes and preconceived notions, and shine the light on the positive," says Avgerinos.
"One of the things we try to emphasize is that the truth needs to come before the reconciliation," he says. "Before initiating the project we had to remember past injustices and their knock-on effects. Because many of the systemic issues that some Indigenous peoples see as a result of the Indian Act still persist today. They haven't gone away."
These include barriers like remoteness, lack of adequate infrastructure and reliable internet access, lack of credit history, lack of financial management skills, limited retained earnings of businesses, limited personal net worth, and impediments to business development imposed by the Indian Act, like the inability of First Nations people to borrow using their houses as collateral. It proved a challenge for the guidebook's creators to represent the rich history and culture of Indigenous peoples in Canada, TRC, UNDRIP, the contemporary Indigenous economy, and communicating it all in a clear and concise way. But it is an important step in the truth before reconciliation equation. Still, Avgerinos feels it may not be enough. "There is so much more that could be included," he says. "It seems like the type of publication that lends itself to multiple editions – a living document."
So what's in the guidebook?
The guidebook begins with background leading up to why it is needed and proceeds in a logical, easy-to-follow sequence.
It analyzes what reconciliation is, what it really means – and, most importantly, why it really matters. Necessary because, while, as the TRC report emphasizes, all Canadians have a role to play in reconciliation, the term will have different meanings for all Indigenous peoples, Indigenous communities, and all Canadians. Ensuring Indigenous peoples play a meaningful and substantial role in the economy is the most relevant and impactful way forward for economic and business reconciliation in Canada, relates the guidebook. "Developing mutually beneficial economic relationships with Indigenous peoples can be a profitable endeavor that redresses past wrongs and assists in building a prosperous Canada for all."
It then makes the case for business reconciliation as a business best practice, encompassing two parts: the business case for business reconciliation, and the CSR case for business reconciliation. The third section presents a well-summarized and compact treatment of the economic history of Indigenous peoples in Canada starting with the wide-ranging prehistoric commerce and trading networks that existed before Europeans arrived. From there, it traces how the relationship between Indigenous peoples and the Crown evolved in many ways over the centuries: proclamations, acts, treaties, residential schools, and much more. The section is key for non-Indigenous businesses to understand the origins of Indigenous rights and the duty to consult.
Building on that knowledge, the fourth section involves steps for engaging with Indigenous peoples, emphasizing the need for understanding Indigenous cultures: First Nations, Inuit, and Métis. The section presents a useful primer on respecting the many different community protocols, political systems, and structures for the three Indigenous groups including the role of Councils. As well, the place of national organizations like the Assembly of First Nations is explained.
Section 5 addresses how businesses should approach the process: how they can engage independently with Indigenous communities and businesses with the guidance of consultants, or through an Indigenous-focused CSR program. Comprehensive guidance is presented separately for the unique requirements of small, medium, and large businesses.
The sixth and final section is a helpful guide for businesses starting their journey to reconciliation and building a comprehensive Indigenous engagement strategy within the company. It stresses the importance of making it a top-down, company-wide effort involving all departments and levels of staff and avoiding just giving it lip service by simply calling it another corporate value. It's a pillar of the PAR program. "By engaging Aboriginal businesses and communities early and co-creating your engagement strategy, Aboriginal business partners will be more likely to view the outcome as respectful and of mutual value," the guidebook states. The volume closes with a list of further information resources, a handy list defining common terminology, and a full bibliography.
How should the guidebook be used?
How to use the guidebook is broken down by Indigenous community or business, and best practices for large firms and small and medium enterprises. Business leaders are asked to keep three organizing principles in mind as they move through the guidebook: Educate – Learn about local Indigenous businesses and communities; Reflect – Think about your company's capacity to work more effectively with Indigenous peoples; and Act – Implement a personal or professional strategy for advancing business reconciliation.
Although outside the project's scope – it's aimed at non-Indigenous businesses – the guidebook can also serve the Indigenous side. The TRC report stated that reconciliation is everyone's responsibility. Now Indigenous businesses and communities are increasingly playing a role by reaching out and helping non-Indigenous businesses with their guidebook-driven approaches. For example, "One of our board members who's also part of executive management for a large community-owned development corporation actually takes the guidebook with him to meetings on Bay Street in Toronto," says Avgerinos.
Every business and Indigenous business or community will have different paths toward business reconciliation. In commencing the journey toward building respectful business partnerships, the guidebook summarizes some immediate actions businesses can take for starters:

Acknowledge traditional lands through territorial
land acknowledgments;

Sponsor, volunteer and/or participate in local Indigenous
events and ceremonies;

Observe special dates commemorating and celebrating
Indigenous history and culture;
Respect community protocols;

Explore capacity-building through employment,
procurement, business development, and leadership actions;

Engage with Indigenous communities and businesses early
and often; and

Co-develop a research and communications strategy to
disseminate environmental, social, and economic impact solutions.
The guidebook was further promoted through an additional launch at Innovation, Science and Economic Development Canada (ISED) aimed at federal employees, and disseminated nationally through the Canadian Chamber of Commerce. Over 800 copies have now been printed and distributed.
The guidebook is a good start, reckons Bull. "When we took on this project, I wanted to be sure it was a product that was respectful of the long and unique history of Indigenous peoples in Canada," she says. "I am very proud of the guidebook, but it's a first step. We encourage everyone to take the next steps by learning the history and learning about every unique community you work with." ABQ
Download the guidebook at https://www.ccab.com/research/ccab-collaboration-series/business_reconciliation/.
For print copies, please contact:
Samantha Morton, CCAB Director of Research,
at 416-961-8663 ext. 242 • [email protected].