Yellowknife's cost of living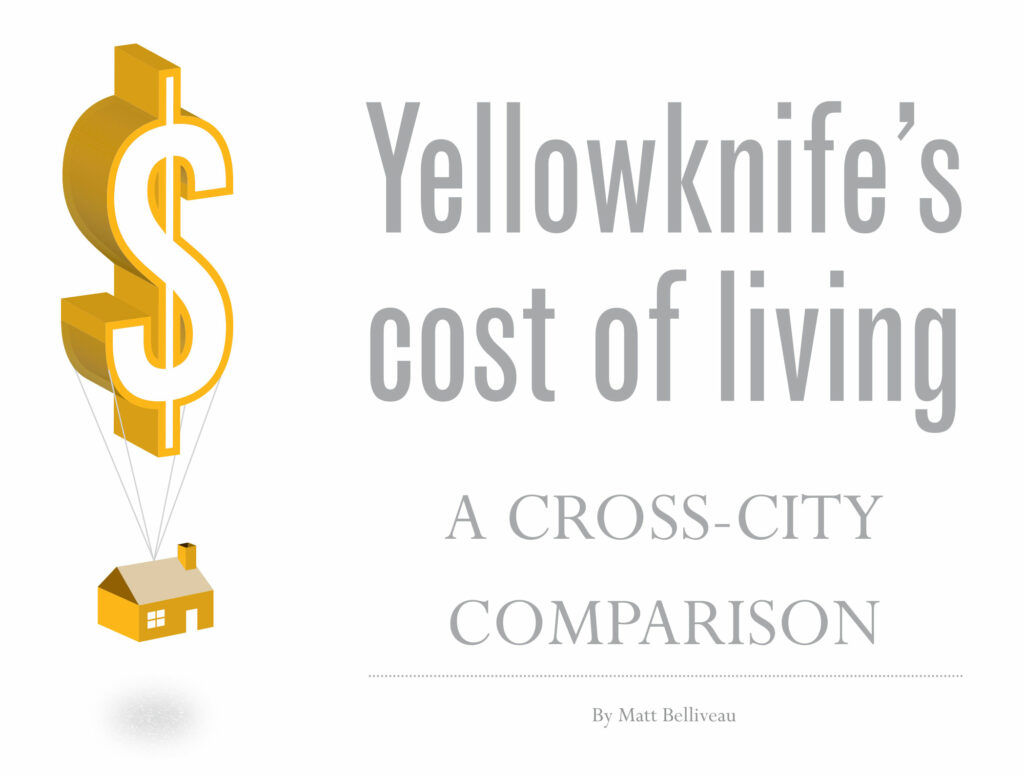 There are plenty of good reasons to move to Yellowknife. Amazing aurora views, a sprawling wilderness for a backyard, and ample employment opportunities await adventurous professionals. However, the most likely deterrent for those looking to relocate here is a perceived high cost of living. Residents can be quick to criticize prices in Yellowknife, but how do we actually stack up?
One of the largest, most recent attempts to curb the cost of living in Yellowknife is the Dehcho Bridge, completed in 2012. For companies that struggled to shuttle goods across the Mackenzie River and into Yellowknife during the winter freeze and spring thaw, the bridge has helped to even out prices and stabilize supply chains. However, the bridge's toll fees also put upward pressure on prices in Yellowknife. These fees are set to increase later in 2015 to a maximum of $392 for northbound vehicles with 7+ axles. For comparison, a 7-axle truck pays $83 for round-trip passage over Prince Edward Island's Confederation Bridge.
To understand Yellowknife's cost of living, data was compared from similar-sized Canadian cities. Those cities were Whitehorse, our rival territorial capital; Fort St. John, British Columbia, an energy boomtown just south of the 60th parallel; Brockville, Ontario, a manufacturing hub an hour outside the nation's capital; and Corner Brook, Newfoundland, a regional service centre and the base for a large pulp and paper mill.
Shelter proved to be the biggest budget item for most Yellowknife residents. The Canada Mortgage and Housing Corporation lists the average monthly rent for a two-bedroom apartment in Yellowknife at $1,686. That's $609 more per month (about $7,300 more each year) than the average rent for a similar apartment in Fort St. John. With $1686 in Corner Brook, you could afford to rent two apartments each month with $200 to spare.
Homeowners in the city don't get off any easier – a report by Environics Analytics stated that the average property tax bill in Yellowknife last year was $3,332, compared to $2,047 in Fort St. John. The average property tax bills for Whitehorse, Brockville and Corner Brook were all under $2,000 a year.
Yellowknife's 2014 average household income was $138,277.58 – about $37,000 more than Fort St. John, $42,000 more than Whitehorse, $59,000 more than Corner Brook, and $63,000 more than Brockville.
Yellowknifers also pay a premium on power – according to the Northland Utilities online bill calculator, the first 1000 kWh of electricity you use each month in Yellowknife will cost you $338.68. That's nearly 2.5 times the rate in Whitehorse and over 3.5 times what residents pay in Fort St. John.
Even the Yellowknifers who can afford to keep their fridge plugged in may have a hard time stocking it. At $56.65 a case, Yellowknife is the most expensive place in the country to buy a 24 of Molson Canadian, according to a pan-Canadian comparison carried out by Global News last year. That's $12.70 more per case than you'll find in Whitehorse, and just over double the $26.99 customers pay at supermarkets in Quebec, the cheapest place in Canada to buy beer.
Of course, you don't need to drink to have a good time in Yellowknife. You can head to the theatre downtown, where a movie ticket costs $13.00, compared to a low of $9.00 in both Whitehorse and Corner Brook. But at least you can take comfort knowing the gas you burn getting downtown is 6.8¢ cheaper per litre than fueling up in Corner Brook. You could also just stay home and stream a movie online, although at $110.95 per month, a 50 Mbps Internet plan is almost double what you would pay for the same service in Fort St. John or Brockville.
There is one category where Yellowknife came out on top: the Big Mac Index. At $5.45 apiece, tax included, a McDonald's Big Mac in Yellowknife is 85¢ cheaper than you'll find in Whitehorse. The Big Mac Index has been used to compare purchasing power parity across jurisdictions since 1986, under the rationale that its price is based on a diverse set of input costs that include agricultural commodities, labour, advertising, rent and shipping.
But if anything truly offsets the cost of living in Yellowknife, it's the local earning potential. Moneysense reported that Yellowknife's 2014 average household income was $138,277.58 – about $37,000 more than Fort St. John, $42,000 more than Whitehorse, $59,000 more than Corner Brook, and $63,000 more than Brockville. That's a lot of Big Macs.
A long-running community campaign to "Save the Headframe" by having the City of Yellowknife take it over was unsuccessful. In February 2015, the City of Yellowknife was advised there was no legal way it could take possession of the headframe from Newmont Mines, the current owner and which is undertaking the mine site clean-up and remediation. Newmont expects to begin taking the building down this summer and will complete the dismantling process in 2016. The End of an Era.