Stanton Hospital Project Advances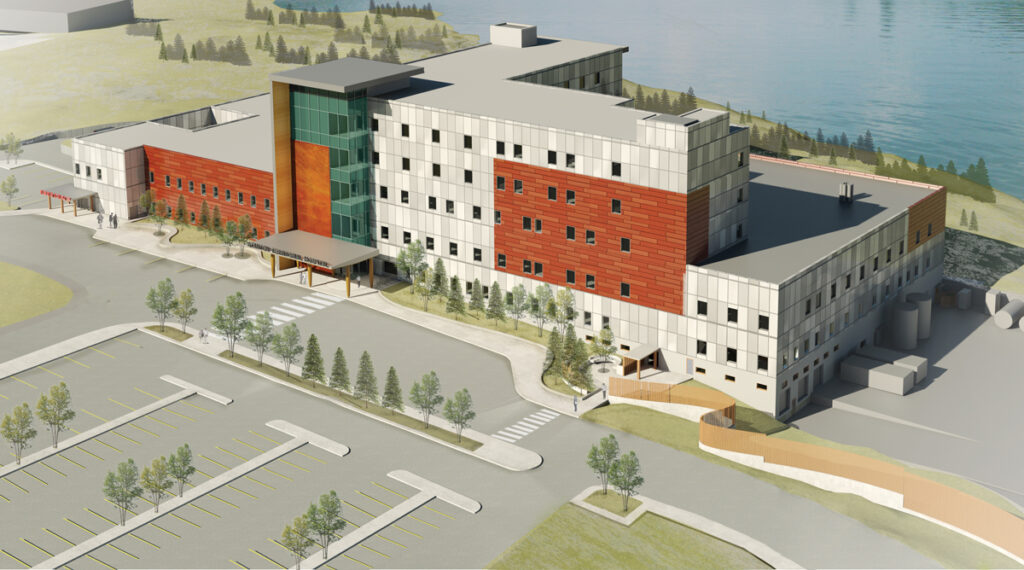 Construction goals have been met to complete the structural steel and roofing work, and have all concrete floors put in place and enclosed by the end of winter 2016/2017. Furthermore, windows and exterior insulation are installed and several floors will be heated for the winter season.
After extensive pre-design planning, ground was broken on Oct. 8, 2015, to begin the construction process. More than 133,150 hours have been worked to date. That amounts to over $13 million in local and Northern spending.
It's been almost 80 years since the first hospital in Yellowknife opened its doors at the old Con Mine site and the city's first doctor, Dr. Oliver Stanton delivered babies.
Several new hospitals followed, most named after Dr. Stanton. In 2015, the NWT government announced the public-private partnership it would be working with to complete a new state-of-the-art Stanton Territorial Hospital.
Boreal Health Partnership (BHP) won the competition to design, build and finance the Stanton Territorial Hospital and maintain it for 30 years. The finance partners are Carillion Canada Inc., HOCHTIEF PPP Solutions North America Inc. and Bird Capital Limited.
The industry partners who will design and build the hospital are: Bird Design Build Construction Inc., Clark Builders, and Kasian Architecture Interior Design and Planning Ltd. The engineering teams include Crossey Engineering Ltd. and Weiler Smith Bowers Consulting Structural Engineering. Carillion Canada Inc. will maintain the hospital for 30 years upon completion.
Many local firms are employed who in turn employ local individuals on the Stanton Renewal Project including: Break Away Drilling and Blasting; NWT Construction; Tetra Tech; and Aurora Telecom.
The design work is done in three stages: schematic design, design development, and construction drawings. With schematic design and design development both complete, the size and shape of the building and structure was known; and the location of elevators, stairs, and the main corridors has been determined. Design development also added details of what is required in each space, such as electrical supply and plumbing needs.
Architects, engineers and drafters are now in the process of creating blueprints, the construction drawings.
The new building will be more than 280,000 sq. ft. and offer outpatient and inpatient services including emergency, medical imaging, dialysis, obstetrics, pediatric, cardio and mental health departments as well as day procedure and surgery suites.
There will be many changes to the hospital, such as:
A new and larger emergency department.
A bigger and better equipped medical laboratory.
Additional space for diagnostic imaging.
Enhanced medical technology throughout the hospital to improve quality of care and clinical efficacy.
More space for surgery and day procedures.
Additional space for ambulatory care including specialist clinics, medical day care and dialysis.
More space for support services such as sterile reprocessing.
More inpatient beds, all in larger single rooms. The current facility has 80 inpatient beds (including 67 inpatient beds and 13 extended care beds).
The new facility will have 100 inpatient beds, and a new 18-bed Extended Care Facility that is planned to be built separately from the new hospital.
Scheduled to be fully constructed by late 2018, the project cost to the GNWT is $350 million (including a clinical information system, project management, engineering, legal services, etc.) with $300 million going directly to BHP for construction costs.
On the current schedule, the hospital will be open to serve patients in mid-2019. A period of transition will take place between completion of construction and full operations when hospital staff can train and practice in the new facility.
Over the 30-year operation and maintenance contract, the total cost will be $1.1 billion. BHP has identified that $70 million will be available for local contractors both in the construction phase and for maintenance post-construction.