NWT Mining and Mineral Exploration Update 2017
the Northwest Territories Geological Survey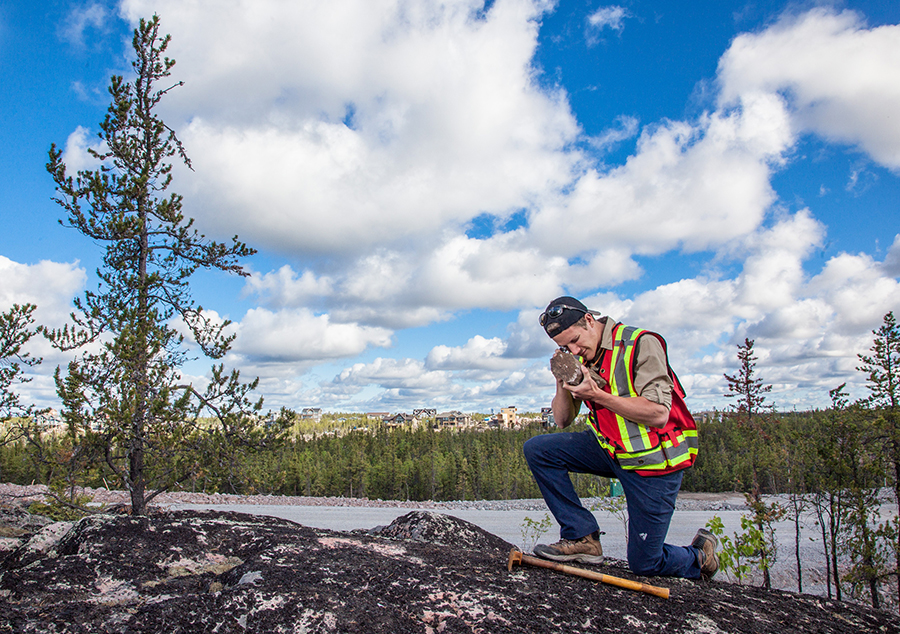 The Northwest Territories (NWT) mineral industry showed signs of an upswing in 2017, based on improved commodity prices and an increase in claim staking. In 2016, 85 claims covering 42,000 ha were staked, in 2017, over 270 claims covering 182,000 ha were staked in the first three quarters of 2017.
Diamonds
There were major changes for Ekati and Diavik Diamond Mines, culminating in Dominion Diamond Corporation's (Dominion) recent sale to Northwest Acquisitions ULC, affiliated with The Washington Companies.
Ekati Diamond Mine
The Core Zone at the Ekati mine, in which Dominion has an 88.9% participating interest, encompasses 175 mining leases totalling 172,992 ha. Dominion increased its ownership of the Buffer Zone surrounding the Core leases from 72 percent to 100 percent when Archon Minerals' participating interest was converted to a 2.3 percent royalty on Buffer Zone production.
The Ekati Mine produced a total of 3.2 million carats from 1.89 million tonnes during the first six months of 2017, compared to 1.9 million carats from 1.5 million tonnes during the same period in 2016.
The Jay project, in Lac du Sauvage and containing an estimated 79 million carats in 44.7 million tonnes of kimberlite, received water license approval in late May. Dike construction is scheduled to begin in July 2019 and continue until 2022 when dewatering and stripping will begin.
Dominion decided to continue mining the Misery pit following a positive pre-feasibility study of the Misery Deep project. The probable mineral reserve estimates 8.7 million carats in 1.8 million tonnes of kimberlite. A preliminary economic assessment of the Fox Deep project indicates the recovery of 11.0 million carats of diamond from 31.3 million tonnes of kimberlite. Modified production plans, including the defined Jay, Misery and Fox resources, extend Ekati's current estimated mine life to 2041.
In May, Dominion announced an inferred mineral resource for the Leslie kimberlite of 51 million tonnes containing 16 million carats. Summer exploration included ground geophysics, airborne magnetic surveys, and diamond drilling. One drillhole on the Kodiak pipe recovered 530 kg of kimberlite for microdiamond analysis. Two other exploration targets were drilled but failed to intersect kimberlite.
Diavik Diamond Mine
At the Diavik Diamond Mine, which is 60 percent Rio Tinto/40 percent Dominion owned, underground operations continued at A-154 South, A-154 North and A-418. Higher-grade A-418 ore resulted in increased production of 3.75 million carats from 1.1 million tonnes of kimberlite in the first six months of 2017. Dike completion at the A-21 pipe is expected by late 2017, and ore processing is expected in 2018.
On the Diavik lease block, Dominion drilled three kimberlites, the C42, T29, and A61. Samples from these pipes have been submitted for microdiamond analysis.
On the Lac de Gras (LDG) joint venture between Dominion and North Arrow Minerals, Dominion completed magnetic, resistivity, and gravity ground surveys over 20 targets. An airborne geophysical survey and drill program are planned for later in the year.
Gahcho Kué Diamond Mine
September 2017 marked the first full year of operations at the Gahcho Kué diamond mine. The mine, owned by the De Beers Group of Companies (51percent) and Mountain Province Diamonds (49 percent), opened two months ahead of schedule and produced 847,000 carats from 515,000 tonnes in 2016. With the diamond recovery plant running at nameplate capacity, commercial production was declared at the beginning of March. By the end of August, total production for 2017 was 3.77 million carats from 1.84 million tonnes. Gahcho Kué has a designed production of 4.5 million carats a year over a 12-year mine life.
Gahcho Kué's fall exploration program focused on the area between the 5034 and Hearne pipes. An extension of diamondiferous kimberlite, not previously included in resource statements, was found in the area during waste stripping operations. Geophysical work to delineate the kimberlite extension has commenced and will be followed up with diamond drilling later in the fall.
Kennady North Diamond Project
Kennady Diamonds carried out significant work on their Kennady North Diamond Project. In January, Kennady reported an initial estimate for the Kelvin kimberlite as 8.5 million tonnes grading 1.6 carats/tonne, with a diamond valuation of US $63 per carat.
Kennady commissioned a large-diameter drilling project to collect mini-bulk samples of the Faraday kimberlites. Seventy-five large diameter holes were used to collect 565.4 tonnes of kimberlite. Results are summarised in the table below. Summer drilling of nine holes (2766 m) extended the Faraday 2 kimberlite body 150 m along strike and showed that the Faraday One and Three kimberlites are connected at depth.
Gold
Nighthawk Gold Corp. continued exploration on its Indin Lake property, completing 76 holes (ca. 26,000 m) to enhance the Colomac resource. Most of this work focused on Zone 1.5 and a possible connection to Zone 2.0, with an additional 1,000 m of drilling on other regional targets to accompany prospecting and mapping. Other exploration included magnetic and induced polarisation ground geophysical surveys, and a LIDAR survey flown over the entire property. An updated NI 43-101 compliant resource is anticipated in late 2017 along with the release of the remaining 13,000 m of drill results.
TerraX Minerals Inc. continued a vigorous exploration program on its wholly-owned Yellowknife City Gold Project. The Project was expanded to a 440 sq. km. property covering 45 km of the strike length of the Yellowknife volcanic belt. Many of the added claims cover the sedimentary basin to the east of the volcanic belt.
In 2017, 43 holes (14,689 m) were drilled on the Yellowknife property. Six holes (1,774 m) were drilled at Dave's Pond to extend the known length of a high-grade shear zone. Sixteen holes (5,432 m) were drilled to the east, north, and south of Mispickel, testing a set of high-grade quartz veins. Fifteen holes were drilled at Northbelt (Sam Otto, Banting Lake, and Jackson Lake) and six holes were drilled at Southbelt to test the high-grade Con Shear and New Vein targets.
During the summer, TerraX completed a high-resolution airborne LIDAR and ortho-photo survey covering approximately 350 sq. km. Airborne geophysical work including electromagnetic, magnetic, and radiometric surveys totalling approximately 3,200 line-km was conducted over previously unsurveyed areas.
Fieldwork has included comprehensive mapping and sampling of historic trenches in the newly acquired East Belt property, testing known areas of gold mineralization with over 6,000 samples. This work was complemented by a till and lake sediment sampling program to extend mineralised trends in areas covered by overburden and water. Earlier in 2017, prospecting extended the mineralised trace of the Sam Otto zone by five kilometres. Additional work, initiated in the fall and expected to continue to the end of 2017, includes extensive ground magnetic and induced polarisation surveys and biogeochemical surveys over portions of the property covered by swamp and overburden.
The Up Town Gold Project, optioned to Rover Metals, is a vein-hosted lode gold prospect adjoining the former Giant Mine lease near Yellowknife. The property consists of six claims covering 3,227 ha. A drill program consisting of nine holes was announced in August 2017 to test the depth extent of the Rod Vein. Results are pending.
Lithium
Equitorial Exploration Corp. continued exploration on their LNPG property near the Yukon border, 37 km NW of the Cantung Mine. The results of 2016 channel sampling were summarised in an NI 43-101 report released in March 2017. Exploration work in 2017 included diamond drilling, channel sampling, resampling of 2007 drill core, geological mapping, and prospecting. Results have not yet been released.
92 Resources has continued exploring granitic pegmatite dikes on its Hidden Lake property, 40 km east of Yellowknife. Beneficiation testing on the pegmatites produced a mineral concentrate of 6.16 percent Li2O at 79 percent recovery using a standard spodumene flotation flowsheet. Standard lithium extraction techniques of roasting followed by acid baking and water leaching were applied to the spodumene concentrates, resulting in the extraction of 97 percent of the lithium
Zinc
Darnley Bay Resources Limited, renamed Pine Point Mining Limited, acquired 100 percent interest in the Pine Point zinc and lead project near Hay River in December 2016. The company staked an additional eight claims adjoining the property, adding 3,490 ha to the approximately 18,000 ha property.
In April 2017, Pine Point Mining released a preliminary economic analysis for constructing a mine with a 13-year mine life based on 25.8 million tonnes of measured and indicated resources grading 2.94 percent zinc and 1.12 percent lead, and an additional 3.7 million tonnes of inferred resources grading 2.90 percent zinc and 0.77 percent lead. The report describes a robust economic return with a relatively low capital cost compared to similar projects and an after-tax payback of 1.8 years.
Drilling during 2017, totalling 111 drill holes by early fall, upgraded some of the historical resources on the property to current standards. Assay results for the first two holes confirmed high-grade zinc and lead mineralisation with good continuity, along with high gallium and germanium values at the W85 deposit. Fifty-six holes (5,906 m) were completed by mid-August on the L65 deposit and demonstrated an extension of the L65 deposit to the west towards the K68 and M67 deposits over a strike length of 1,300 m.
Pine Point contracted a ground gravity survey over several targets to cover 97 line-km at 100 m line spacing, with follow-up work at 50 m line spacing, where anomalies are identified. A heliborne gravity gradiometer survey over the western portion of the North Trend is planned for November, covering an additional 709 line-km at 50 m line spacing.
In 2017, Canadian Zinc Corporation focused on completing a feasibility study on its Prairie Creek Zinc-Lead-Silver Project in the Mackenzie Mountains northwest of Nahanni Butte.
The study is based on a new mineral reserve estimate of 8.1 million tonnes of proven and probable reserves at a combined grade of 16.75 percent lead and zinc plus 124 gm/tonne silver, a measured and indicated resource of 8.7 million tonnes grading 9.5 percent zinc; 8.9 percent lead and 136 gm/tonne silver, and additional inferred mineral resources of 7.0 million tonnes grading 11.3 percent zinc, 7.7 percent lead, and 166 gm/tonne silver. The new study identified an increased mining rate, increased mill throughput after dense media separation, a lower operating cost and the potential for a fifteen-year mine life.
Following all-season road project approval by the Mackenzie Valley Review Board, Canadian Zinc is focusing on financing for mine construction of Prairie Creek Mine.