Northern Mining At a Glance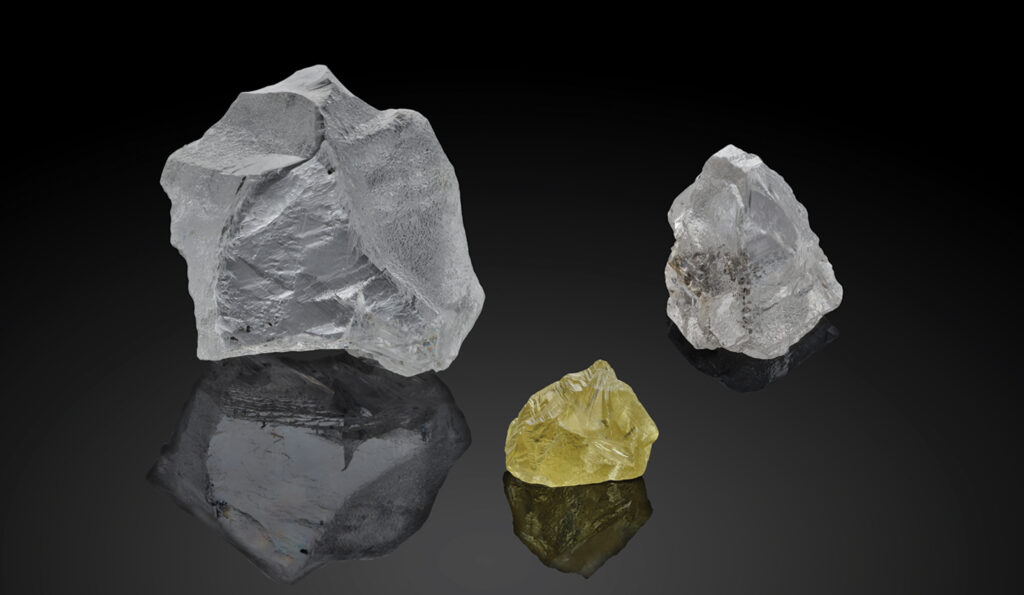 Diavik's Big Rocks
In October, Rio Tinto and Dominion Diamonds announced the finding of three large, exceptional diamonds, called Diavik's Stars of the Arctic. Each has a name, as follows: Vega of the Arctic™, 177.71 carats, one of the largest rough diamonds ever produced in Canada; Altair of the Arctic™, 59.10 carats, a white gem quality rough diamond; and Capella of the Arctic™, 24.82 carats, a very rare yellow diamond. Diavik showed the diamonds to specialists in large diamonds in Antwerp before bids closed on October 25.
Ekati Turns 20
In August 2018, Dominion Diamonds celebrated two decades of diamond mining at Ekati, Canada's first diamond mine. The company's invited guests, including aboriginal partners, discoverers, and constructors toured the mine site and were treated to a celebratory dinner and an announcement about the mine's new kimberlite. As of December 2017, Ekati had produced 67.8 million carats.
Prairie Creek Road EA Approved
In early October, the federal government approved the Mackenzie Valley Review Board's Report of Environmental Assessment for the 184 km Prairie Creek all-season road, planned to connect the Prairie Creek lead-zinc mine to NWT Highway 7 near Nahanni Butte. The Board's report was completed and sent to the government in September 2017, but the minister's approval was delayed until mine owner NorZinc (formerly Canadian Zinc) completed additional community consultations. The project now moves to the regulatory and licensing phase, which will be completed in 2019.
Cause for Excitement – Sabina Gold & Silver
In September, the Nunavut Water Board recommended approval of the critical Type "A" water license for Sabina Gold & Silver's Back River Gold Project. This license allows for mine construction, operation and for development at the main proposed production zones – Goose Main, Umwelt and Llama open pits. Ministerial approval is expected by the end of 2018, along with several other permits and licenses. Sabina announced the discovery of Nuvuyak in August, and in October, released positive results of additional drilling on this zone. Nuvuyak could show a link to the Goose Main deposit, and will add significantly to the project's overall production and mine life. Sabina estimates mine construction costs to be $415 million. Based on current discoveries, the Back River project could produce approximately 200,000 oz. gold/year over an 11-year mine life. Sabina expects to produce first gold in 2021. When completed, Back River will be Nunavut's fourth gold mine and fifth operating mine.
TerraX Announces Summer Results
TerraX says results from the Yellowknife City Gold (YCG) project's summer drilling program in the Northbelt target, the core focus area and a possible extension of the Con-Giant trend, were positive, showing considerable high-grade gold. On October 26, company President and CEO David Suda said, "The goal at YCG is to find the source of the high-grade on the surface, which we believe trends from the nearby Con and Giant mines and exists within other targets in the district." In September, TerraX purchased 100 percent interest in the Tom Mine (6 sq km) and Sickle (2 sq. km) properties from Altamira Gold Corp., increasing YCG's land holding from 772 sq km to 780 sq km. The Tom Mine produced from 1985-1997 and is near the Ptarmigan Mine, which TerraX now owns. The Sickle property is underlain by the Walsh Lake sediments, which are host to TerraX's Mispickel Zone.
De Beers Buys Peregrine
De Beers $107 million offer to buy Peregrine Diamonds and its Chidliak exploration property was finalized September 13. Peregrine was delisted from the Toronto Stock Exchange on September 14. Chidliak is approximately 120 km north of Iqaluit, on Baffin Island. Discovered in 2008, it is host to 74 kimberlites discovered so far, including eight that are potentially economic, some containing rare yellow diamonds. A preliminary economic assessment pegged Chidliak's inferred resources at 22 million carats. Peregrine was 43 percent owned by brothers Eric and Robert Friedland.
Nighthawk Finds More Gold
Nighthawk's exploration at its Treasure Island project, a northern site on its Indin Lake property, and a satellite to its Colomac property, 11 km south, is showing significant shallow high-grade mineralization. Nighthawk announced it had drilled 16 holes that intersected mineralization and 14 contained visible gold. In a press release dated October 22, Nighthawk president and CEO Dr. Michael Byron said, "The continued exploration success from our satellite targets supports our conviction that the Colomac deposit is not the only multimillion ounce opportunity, nor the only deposit capable of hosting high-grade mineralization." In addition to Treasure Island, Nighthawk has found other higher-grade satellite prospects in the Colomac area including the Damoti Lake gold deposit and the four Leta Arm gold deposits and showings (North Inca, Diversified, #3, and Lexindin).
Mountain Province Joins With Kennady Diamonds
Mountain Province has added to its reserves through a business arrangement with Kennady Diamonds to combine the companies, a $176 million stock deal completed in April 2018. Kennady was spun out of Mountain Province in 2012. The property borders Gahcho Kué mine, and contains the Kelvin kimberlite, estimated to hold 13.62 million carats and Faraday, estimated at more than five million carats, and includes other prospects. Mountain Province is a 49 percent owner of Gahcho Kué, and has signed an agreement with operator De Beers to contemplate including the kimberlites in the mine's joint venture.