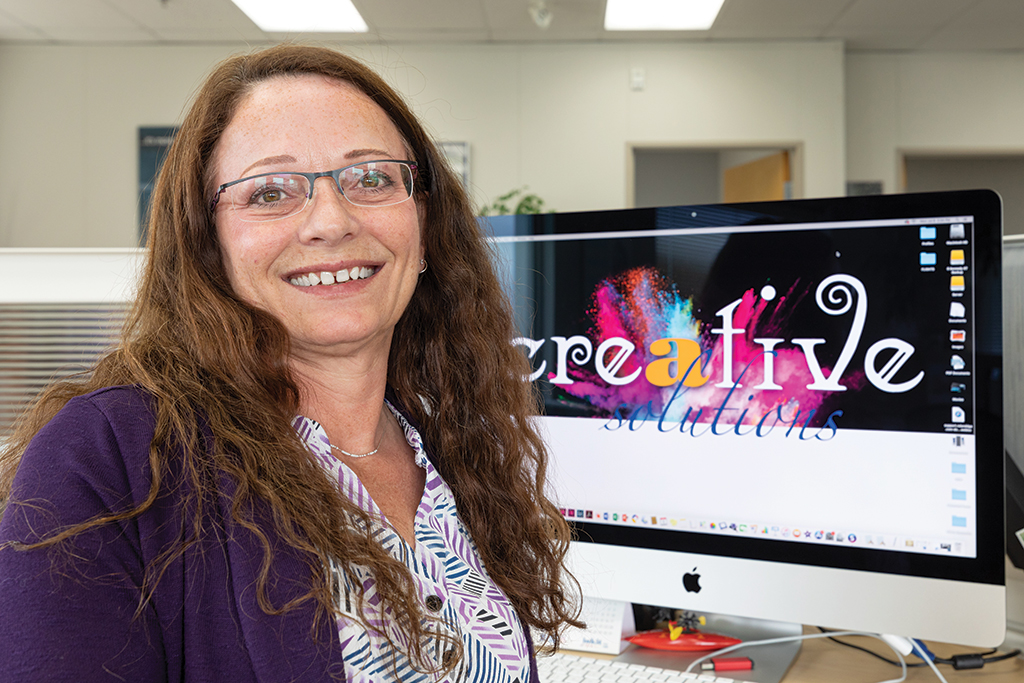 YK attention getters
After 38 Years, Inkit Refocusing on Agency Work
---
"It's taking into consideration who the different audiences are and things that are important for them."
---
By Meagan Gillmore
After 38 years in operation, creative image crafter Inkit Ltd. is refocusing and dedicating its resources to the graphic design and advertising agency parts of its business.
The company has built a steady base of clients throughout the decades. Its website boasts more than 500 customers, with more than 10,000 projects completed to date. This includes work for the territorial government, First Nations, mining companies, various businesses and not-for-profits.
"We've done a lot of different things," says Dawna Marriott, President and Project Manager. "In fact, that's my favourite: that we do a lot of different things. It's pretty hard to get bored because you've got so many different things coming at you."
But projects will no longer include in-house screen printing or embroidery. This year, Inkit sold its screen printing and embroidery equipment to a business in Grande Prairie, Alta. While they continue to oversee print/production for many of their projects, they will utilize suppliers rather than handing the production in-house.
"We're just trying to focus more on the design and advertising, the agency aspects, rather than having our fingers into actual production," says Marriott, who began with the company in 1991 and became an owner in 1998.
"I still have mixed emotions about it, because that is how we started," says Marriott, noting there used to be two staff dedicated to screen printing and that almost all staff have been involved in it in some way over the years. However, with changes in technology, the demand has slowly dwindled. "It was a really difficult decision to let go of it because it is part of our history, but sometimes you have to make hard decisions."
Inkit began offering embroidery services in 2011. Requests "weren't as often as we hoped they'd be," says Marriott, noting Inkit's machinery was suited for large jobs, and most embroidery requests that came in were for smaller orders.
Marriott says she's excited about how the change will give the company more time to focus on their core functions. "We still have a really big base of clients," she says. "(This) allows us to focus more."
New Digs
The company also sold its building; it didn't need as much space once the screen printing and embroidery equipment were gone. It now rents space from the Avier building on 48th Street. No staff lost their jobs because of the change. One of the company's designers was doing screen printing as part of her job; now, she'll solely be designing, says Marriott.
Inkit has built its success by providing reliable service, customized to the needs of each client. "It's taking into consideration who the different audiences are and things that are important for them, and we try to recommend things that will resonate with them," says Marriott. Sometimes, this means thoroughly reading the materials they're given to design to determine what a client values. Often, documents will include a list of values or a vision statement. That information can inspire designs.
Inkit has also been able to see how the territory has changed over time. As an example, they've worked with Diavik Diamond Mines Inc. since its infancy. "It's been cool to see how they've changed and grown over the years, and how their needs have changed. Seeing them just starting out, ramping up for mining, and then start to ramp down," says Marriott.