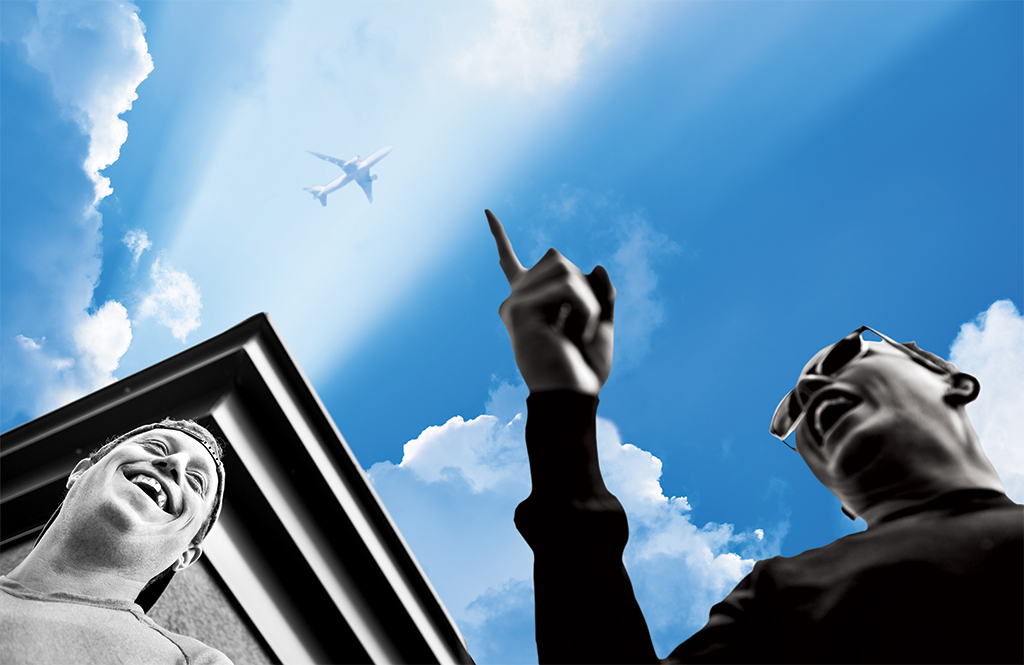 Aviation and beyond
Avier Group Continues to Help Companies Rise, Thrive
By Meagan Gillmore
Travis Arychuk has made a career helping businesses thrive up North, whether meeting their aviation needs or providing them with quality office space. Arychuk is the President of the Avier Group of Companies, an integrated group of businesses that includes Private Sky Aviation, Fuel Flo Petroleum & Logistics and Modrent, a storage supply company. Completely family-owned, Arychuk's brother, Ryan, is a co-owner and the President of Fuel Flo and Modrent. 
A desire to better serve customers motivated Arychuk's business career. He began Private Sky Aviation in 2006, after his parents sold Air Tindi.
"I just wanted a company where we're not limited to our own operations and our own assets," he says. "We wanted something that could really focus on the clients." Private Sky Aviation operates like an airline, but without aircraft, he says. Clients explain their needs; Private Sky finds aircraft best suited for the jobs. They use aircraft from a variety of airlines, but try to work with Northern companies as much as possible, and have used every airline operating out of Yellowknife. They've even secured regular work throughout Canada for Yellowknife-based aircraft.
"When I was selling just a certain airline, we turned away a lot of work that we couldn't do, or we put clients in aircraft that weren't the most economical or the best fit for their specific jobs," he says. "Clients aren't limited to one airline or one specific fleet of aircraft. We give them flexibility to actually get 100 per cent what the best aircraft is."
Private Sky Aviation specializes in serving remote locations, particularly those in the North. It has bases in Yellowknife, Vancouver, Kelowna, B.C., Calgary and Edmonton. Many clients are Vancouver-based mining companies or oil and gas companies headquartered in Alberta, he says. There's been notable non-mining clients. The company worked with NASA, a job in the High Arctic that eventually included providing aircraft, grounds crew, fuel supply and lodging. Private Sky oversaw the 2011 Royal Tour of Prince William and Kate Middleton, the Duke and Duchess of Cambridge.
---
"We wanted something that could really focus on the clients."
---
"We have calls like that all the time," Arychuk says. "One day you'll be flying a celebrity or exceutives from mining companies and then we're moving drills out of a cargo planes. Nothing surprises us these days."
Not Just In the Air
Jobs sometimes involve other Avier businesses. Fuel Flo Petroleum & Logistics has a fleet of trucks. They can deliver a client's cargo to a site. The company can provide transportation, storage and barging needs for fuel. "We have the means to look after all the logistics," Arychuk says. Modrent provides safe and secure storage, and modular offices built out of steel storage containers. The offices come equipped with lighting, air conditioning, heating and internet connectivity and are sturdy enough to travel on trucks to mining or construction sites. The Avier Group provides permanent office space. It bought the former Waldron Building in downtown Yellowknife in 2018. At three storeys and 10,000 square feet, the environmentally-certified steel and concrete building provides an optimal place for businesses.
"The natural light is like nothing else in town," Arychuk says, noting each floor has great windows. "You feel better working in that building than you do in others because of the air filtration."
The building was empty when the Avier Group bought it. As of July 2019, it was almost three-quarters full. Clients range from the territorial government, to lawyers to graphic design and adverisement agencies. "We're not in a race to just fill the building," Arychuk says. "We want quality tenants that work well with each other."