Kit Corp Pays Many Dividends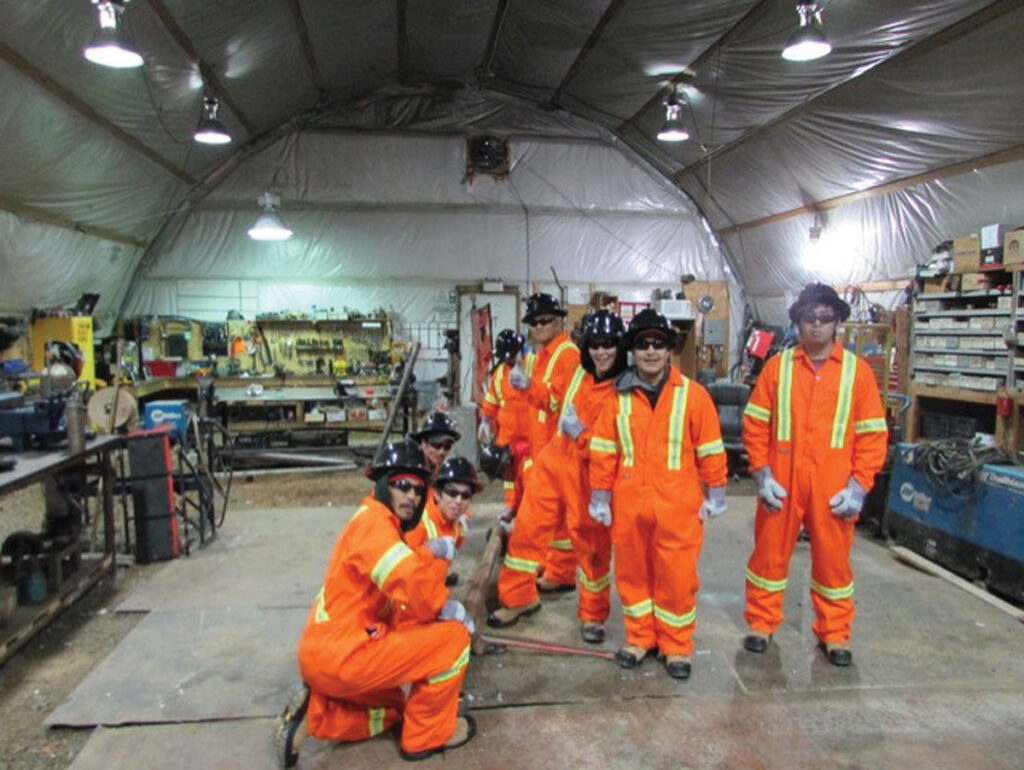 Training and Jobs to Create a Bright Future and Prosperous Region.
Nunavut's Kitikmeot Corporation (KC) is definitely a company that's going places.
Owned 100 per cent by its shareholder, the Kitikmeot Inuit Association (KIA), KC is one of Nunavut's three Regional Development Corporations. From its headquarters in Cambridge Bay, the company owns and manages more than 20 business subsidiaries and joint venture partnerships that operate in a range of sectors, including mining, construction, transportation, health services, and real estate. As the business arm of the KIA, KC's mandate is to deliver both monetary and social 'dividends.' Monetary dividends come in the form of payments to KIA, which are used to help support its delivery of important social and cultural programs.
Skills and employment training are at the heart of KC's mission to help build the Kitikmeot economy. The company recognizes the importance of having a local, Inuit workforce that is able to take full advantage of the employment opportunities being generated by KC business activities. Given the importance of the mining sector to the Kitikmeot economy, many of KC's training programs provide the region's residents with their first exposure to working at remote mine and mineral exploration sites.
"We're working at building the capacity of our region," said Christy Sinclair, KC's Director of Business Relations. "We know that training and skills development are crucial for securing the kind of steady, well-paid employment that transforms the lives of our people." A prime factor in delivering successful training programs is working with effective and committed partners. First and foremost for KC are the relationships within its own joint-venture companies.
Shared Vision
Also crucial for KC is that its partners share a common vision that focuses on the empowerment of Inuit through employment, training and mentorship. Over the past three years, the commitment to training has been realized through programs offering Inuit exposure to exploration drilling, logistics, civil construction, and hospitality sectors. KC also has been fortunate in receiving support for training from industry partners, such as TMAC Resources, as well as from the Government of Nunavut, and KIA itself.
The scale and reach of KC's business development activities are quite remarkable – particularly considering the corporation has only nine full-time employees. Seven of these employees are Inuit. KC's story of pluck and ambition began in 1993 when it was established. This was the same year the Nunavut Land Claims Agreement was signed. In the Kitikmeot, KIA owns the land on which the region's two mining projects operate – TMAC Resources' Hope Bay Project and Sabina Gold & Silver Corp's Back River Project. David Omilgoitok, KC's president and CEO, noted his company's focus on Northern resource sector opportunities has led to the creation of some formidable partnerships. One of KC's original holdings, Nuna Logistics Ltd., proudly markets itself as the largest Indigenous-owned heavy civil construction and contract mining company in Canada. The Nuna Group of Companies is comprised of almost 40 companies, ventures and partnerships – many involving other Inuit, First Nations and Métis businesses across Canada. While the Northern mining sector is at the core of KC's business model, it is also a sector prone to widely fluctuating economic cycles. Omilgoitok pointed out "it can be both feast and famine." Because of this, KC is actively looking at branching out in its investments into other sectors to diversify its portfolio and limit risk.
There's a deep sense of enthusiasm about these changes and expansion on the horizon. And after 25 years of operation, it's clear KC is just getting started.