If you're going to have tours, you must have tourists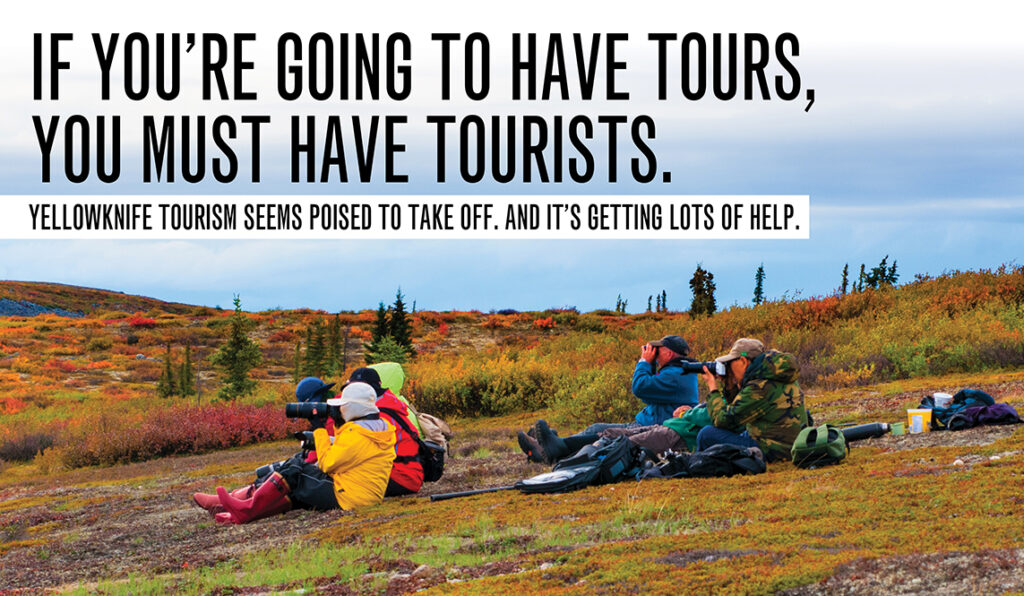 Cathy Allooloo knows what Yellowknife tourists like. She's part owner of Narwal Northern Adventures which offers up a myriad of tours, trips and outdoor training. The top seller is their floating dinner theatre, where guests paddle 29-foot voyageur canoes to a scenic location on Yellowknife Bay. "The arts community is very vibrant here so we have an opportunity to profile them as part of our floating dinner theatre," she says. "We mix it up every week with something different—like a couple of painters set up on our dinner site doing a duet painting on one canvas while having dinner. It is usually something dramatic like voyageurs' canoes or a history of Yellowknife. And then we have a silent auction for the painting."
There's even more. "Lots of music," she adds. "We have a fiddler in each of the boats, we have ballad singers, flute players. The boats stop enroute to our dinner spot and some of my staff emerge from the bush in costume and character, and do a re-enactment of some local history. At the dinner site we serve dishes like moose soup, bannock and have more theatrical presentations. Then a lovely sendoff at the end."
According to research conducted by the Department of Industry, Tourism and Investment -Tourism and Parks Research Planning Unit, tourism operator licenses in the North Slave region have increased slightly from 36 in 2010 to 39 in 2015. But tourist numbers are more revealing of the City's popularity: walk-ins to the Visitor Information Centre increased from 19,379 in 2012 to a City-reported 40,759 in 2015. Total visitors to Yellowknife went from 41,906 in 2009/10 to 68,778 in 2013/14, leisure travelers accounting for 70 percent and 66 percent respectively. And traffic to www.visityellowknife.com jumped last year to 134,677 hits, compared to 45,157 in 2013.
The increase in numbers of tourists coming to Yellowknife happens in summer and in winter. While NARWAL's busy season is summer, Bobby Drygeese, who owns and operates B. Dene Adventures, gets busier in winter with aurora tours from mid-December to mid-April. He says people come to his Dettah cabin to experience Aboriginal authenticity too, like hunting stories, drumming, and traditional lifeways. For example, "We have the fish we catch daily," he says. "We cut it up, cook it over an open fire and share it with them, let them try it out. They love it." He says being truthful and honest is key. "We were taught the way we grew up to tell the truth all the time and be honest and respectful of people; doing things the right way." It ensures his guests learn and understand the ways of the Yellowknives Dene.
For winter, aurora viewing is the top draw, says Cathie Bolstad, executive director of NWT Tourism, whose mandate is territorial. For summer it's hiking and fishing. Aurora touring has jumped from 18 percent of leisure visitors in 2009/10 to 21,191 or 47 percent in 2013/14 and now accounts for nearly half of leisure travelers' spending. "Aurora season starts in September, drops off in October and then back in November to March," says Bolstad. "It is not unusual to see hordes of tourists in their parkas navigating the main drive to and from the shops and oohing and awing at night. They go to bed late and sleep in late and a hub of activity in the afternoon into the night."
Attraction to individual events is harder to measure. "But destination tourist activities give you that one more reason to come," says Bolstad. "In the summer it is things like Folk on the Rocks, the float plane fly-in, National Aboriginal Day is becoming more of a draw. And the Northern Frontier Visitor Centre is, for the third year now, putting on the annual shore lunch championship – the competition of cooking awesome fish. Those are the main summer events."
And for those who come for the northern lights, in the winter: "I think the mainstays are the Prince of Wales Northern Heritage Centre with its fabulous display of the Yellowknives Dene First Nation. And the Visitor Centre is becoming quite popular," says Bolstad. The two winter festivals, the Snow King Festival, and the Long John Jamboree, are becoming longer. "It's not unusual to see bands performing in the snow castle and books being launched, and dances which lead right into the Long John Jamboree." Some offer ice fishing at the festival.
The Prince of Wales Northern Heritage Centre has proven to be a popular spot for tourists to encapsulate their experience in a one-stop shop. Sarah Carr-Locke, Director of the GNWT's Culture and Heritage Division and of the Prince of Wales Northern Heritage Centre, reports that last year's visitor tally was about 49,000, not counting school groups. "That is impressive considering the population of the territory," she says. At the Centre, visitors can take in the entire NWT's history, prehistory, and culture as well as local artist exhibitions all in the same building.
"We have a discovery gallery which is a hands-on experience geared towards children—it's a fun place where you can try on clothes and stuff and the tourists love that too," she says. The moose skin boat is the major exhibit. Current featured artist is Abraham Anghik-Ruben, "an internationally known sculptor originally from NWT, and recently featured at the Smithsonian." The Centre's biggest upcoming project is on the special RCMP constables, opening in about a year. "We like to think about a topic that will link into the history of Canada with next year's 150th anniversary," she says. "It is an aboriginal story that hasn't really been told."
Though territorial in scope, the Centre liaises extensively with the City. "We don't really have any jurisdictional overlap with them," says Carr-Locke. "But we were part of the initial conversations on their development strategy early on." Acting on growing interest and recognition of Yellowknife's tourism potential, in 2012 city council's Goals and Objectives directed the administration to develop separate but complementary economic development and tourism strategies. A resulting project to address the provision of tourism support services became a priority in the 2014 budget. Funding was provided by the Canadian Northern Economic Development Agency (Cannor) "to develop a tourism strategy for the City of Yellowknife which would identify how the City can most effectively support tourism in Yellowknife and provide a clear framework for moving forward over the next five years (2015 to 2019)," says Nalini Naidoo, director, communications and economic development.
This tourism strategy has three main goals – enhancing Yellowknife's tourism management and partnership model, increasing destination awareness, and improving community tourism infrastructure and services. Among the related 25 action items is a destination marketing strategy, which was presented to city council in April 2016 and which outlines a three-year planning and implementation period starting in the second half of 2016. To enhance these initiatives, Naidoo says, the City actively partners with other tourism organizations such as NWT Tourism and the GNWT's Department of Industry, Tourism and Investment, as well as the Yellowknife Chamber of Commerce.
The City's Economic Development and Communications Department promotes tourism to locals and visitors alike year-round through several campaigns and partnerships. For example, "Be a Tourist in Your Own Town" is a partnership with the Chamber, the City and the GNWT. The goal is to encourage city residents to take advantage of local activities and tourist experiences. #YKFestivals is an online contest in partnership with the GNWT's Department of Industry, Tourism and Investment to promote festivals and destination awareness. Twice a year, during the summer and winter festival season, festival goers are invited to post their experiences using text, photos or videos to Twitter and Instagram using #ykfestivals for additional chances to win.
And for tourism operators, the City is open to business. "We support partnerships and initiatives that contribute to a diverse and vibrant local and regional economy, draw investment to Yellowknife and the NWT, and encourage new business and residents to join our growing and prosperous community," says Naidoo.
A fast-growing ambition among Yellowknife tourism stakeholders is to engage the 34 percent of visitors who come to the city for business. NWT Tourism leads the charge. "In June 2014 we signed an agreement with the GNWT to undertake development of a convention bureau," says Bolstad. "We built a website and made agreements with all five regions, the airlines and the hotels, positioning us to form the NWT Conference Bureau." By January 2015 it was ready to roll, accepting bids to hold conferences.
It's working well. "We've secured $1.6 million in future conferences, and $400,000 of that is taking place this year for the first time," says Bolstad. "And there's another $1.4 million in bids in process right now." The initiative is NWT-wide, but Bolstad says Yellowknife is getting the benefit of our work. "Typically, when people are bringing a conference north, the flight to Yellowknife is high so to go on to another region they can't afford to do one more hop." Narwal's Allooloo welcomes the conference bureau initiative. "We needed better coordination when conferences are in town," she says. "When there are two conferences there is just no place for anyone to stay. But a couple (of hotels) under construction should help."
Margaret Peterson, owner and operator of Peterson's Point Lake Lodge, tarted My Backyards Tours in 2009 to offer a variety of city tours, including a specialty tour she calls "Introduction to Yellowknife" designed specifically for human resources recruitment and retention services for Yellowknife companies. "If you are an employer conducting interviews with out-of-town candidates, you can increase your hiring success by letting us acquaint your candidates with our wonderful city." Petersen says. The tour showcases the many facilities available, speaks about the services offered, and provides practical information on schools, housing, transportation and weather. "For example, some mining companies spend a lot of money to bring people up for a job interview," she says. "We do a tour with that individual with family and show them Yellowknife and why we love living here. We take them to whatever they want to see. Some people with children want to see the school so we make arrangements for that. Some are interested in the churches so I make arrangements with the churches. For some it is recreation. We try to do a real sales job on Yellowknife. It's a great place to live."
Allooloo would like to see more seasonal diversity in YK tourist offerings. More tourists are coming in the shoulder season, expecting to see northern lights, despite being told aurora viewing is better in winter. "Yellowknife needs to plan more for the shoulder season because there is so much to do here," Allooloo says. "We could program more cultural events, for example. I think we need to work towards making Yellowknife not just a seasonal operation and not putting all our eggs in the aurora basket. We need to brand that somehow."
Branding will be a part of NWT Tourism's planned television commercials aimed at Canada's 150th. "So, as the gateway, Yellowknife will benefit hugely," says Bolstad. "I think the city can play an incredible role in helping put NWT on the map. With tourism growing, there is an opportunity for Yellowknife to really step up and recognize it can be a pivotal point in making NWT greater than ever before."
The City shares that enthusiasm. "[Statistics] show that Yellowknife is an up and coming tourism destination … we will be further enhanced over the next few years with the tourism strategy that is being rolled out," says Naidoo. "For the future, I see Yellowknife as a solid brand, well established on the map as a business conference destination as well as for leisurely travel where people can get a taste of living in the Canadian wilderness." YKCI