Highway to Prosperity
Kitikmeot Inuit, GN Partner on Road and Port Proposal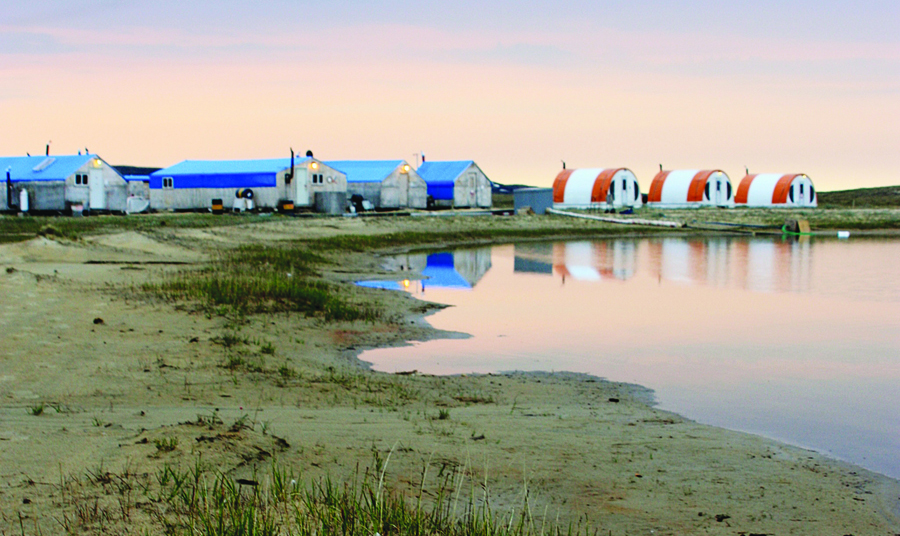 Through a landmark partnership with the Kitikmeot Inuit Association (KIA), Nunavut is proposing to build its first highway in the history of the territory.
Officially known as the Grays Bay Road and Port (GBRP) project, the plan would see the mineral-rich Slave Geological Province, which straddles Nunavut and the NWT, connected to Arctic shipping routes via a 232-km all-season gravel road and a deep-water port at Grays Bay on the Coronation Gulf.
"This is an historic moment in the relationship between an indigenous group and the Crown," said Patrick Duxbury, Advisor and Operations Support for the Nunavut Resources Corporation (NRC).
The NRC is an Inuit-owned corporation founded in 2010 by the Kitikmeot Inuit Association to diversify and develop the economy of Nunavut by attracting investment capital to the region.
"For the first time, Inuit are in partnership with a territorial government and industry in the development of regionally significant infrastructure," he added. "Inuit are not passive junior partners in this enterprise, but are rather co-proponents and joint developers with the Government of Nunavut in pushing this project forward within the federal government and within the private sector."
Construction is expected to run throughout the year over a four-year period.
"In addition to the road and port, the project will require construction of bridges and culverts, quarries, tanks for storing diesel fuel, a runway, a rest station at Jericho Mine and other facilities needed to operate a port, such as a landfill, camp, power supply and sewage treatment," wrote Paul Emingak, KIA's executive director, in the proponents' official submission to the Nunavut Impact Review Board (NIRB).
$487.7M Cost Estimate
A project of this scale obviously wouldn't come cheap and current estimates for the GBRP are pegged at $487.5 million. This includes final planning, engineering and environmental studies at $12.5 million; general mobilization and demobilization at $39 million; materials and supplies at $65 million; on-site work $286 million; and a contingency of $85 million.
"This may also be expressed as the road will cost an estimated $400 million and the port $87.5 million," explained Jim Stevens, Nunavut's Assistant Deputy Minister of Transportation.
The proponents say that would be money well spent given the numerous benefits
resulting from construction of the GBRP. These are expected to include:
Boosting Canada's gross domestic product (GDP) through infrastructure-induced Northern resource development – just the development of MMG Canada's Izok Corridor Project, in concert with construction of GBRP infrastructure will, over a 15-year period, raise Nunavut's GDP by a total of $5.1 billion and Canada's by $7.6 billion;
Stimulating new mineral exploration and development;
Supporting the economies of the NWT, Alberta and other jurisdictions;
Generating significant amounts of employment for Northern residents;
Strengthening Northern sovereignty, safety and security;
Connecting Nunavut to the rest of Canada and the world;
Providing Nunavut communities with access to markets via a new overland route;
Reducing the cost of living in western Nunavut communities;
Providing cost-effective and climate change resilient transportation options for diamond mines in the NWT – potentially extending their operating lives; and,
Connecting Yellowknife businesses with shorter access to tidewater.
For most Inuit, the biggest boost would likely come in the form of long-term, stable good-paying jobs.
"Up to 250 people at any time, working on fly-in/fly-out rotation schedules, will be required to build the project," added Emingak. "During operations, the number of required employees will be much less than during construction – between 10 to 25 positions … We will develop and apply an Inuit hiring policy to maximize opportunities for Inuit during and after construction."
The project will support training of Inuit for jobs such as in administration, equipment operation, camp services, emergency response and port operations, he added.
Those are really just the tip of a rather large iceberg as the project is seen as a possible catalyst for the development of MMG Canada's Izok Corridor projects: Izok Lake and High Lake. Previous estimates suggest another 600-700 could be employed for several years building mining infrastructure for MMG and up to another 700 during multiple decades of resulting production.
"MMG believes that the advancement of the Grays Bay Road and Port Project would help to improve the economics of the Izok Corridor Project," said Sahba Safavi, President of MMG Canada. "The primary challenge for the project is the substantial infrastructure required to develop this project in Nunavut. There is a large infrastructure deficit in Nunavut, as well as the cost premium for any capital projects taking place in the North."
Safavi concluded that there are many potential long-term benefits of the link to tidewater at the Coronation Gulf.
"[It] could be very substantial and deliver economic and social benefits in the North that stretch well beyond the scope of the Izok Corridor Project and be available to public and private sector interests other than MMG."
Challenges Can Be Overcome
In the submission to NIRB, the KIA identified many potential impacts requiring mitigation measures in order for the project to proceed. It also highlighted several of the fixes to those challenges.
"The GBRP Project crosses through land used by the Dolphin and Union, and Bathurst caribou herds," wrote Emingak. "We are seeking to develop and implement a broad range of measures to minimize effects to these herds."
For example, proponents explained that the port will not be open when Dolphin Union caribou are crossing the Coronation Gulf in spring and fall. As well, the road will be closed to vehicles when Bathurst caribou are calving near the corridor.
From a design perspective, side slopes of the road will be made flatter and packed down in areas where caribou are expected or known to cross. Through constant monitoring of the area, construction activities will be shut down at all times when large numbers of caribou are nearby.
"We recognize and share the concerns around potential effects to caribou and plan to work with Inuit and Northwest Territories Indigenous groups to develop appropriate protection measures," he added.
For a short time during construction, the KIA acknowledged activities at the port could disrupt marine mammal and fish activities. Freshwater fish and their habitat may also be locally impacted during road bridge construction.
"We will implement best practices to prevent sediment from entering waters to minimize harm to fish," added Emingak. "Areas around the port and certain bridge crossings are also known to have high potential for heritage resources. We will complete an archaeological survey once the exact location of these project components is known."
In most cases, such potential effects to archaeological sites can be minimized by designing the project to avoid these areas.
"If sites cannot be avoided, we will develop a plan to reduce impacts through investigation and documentation of sites," he said in the submission. "Effects on other components of the environment such as vegetation, soils, air and water will be mitigated through best practices and by following an Environmental Protection Plan that we will apply to all activities."
Together the KIA and GN recognize the project would have many far-reaching and cumulative effects on the region. As a result they are recommending an environmental review of the proposed project that would be conducted by NIRB.
With NIRB's initial screening of the proposal now complete, it is up to the federal government to decide whether or not that review and the GBRP should progress beyond the conceptual stage to become a reality. CN