Is Yk ready for a
university?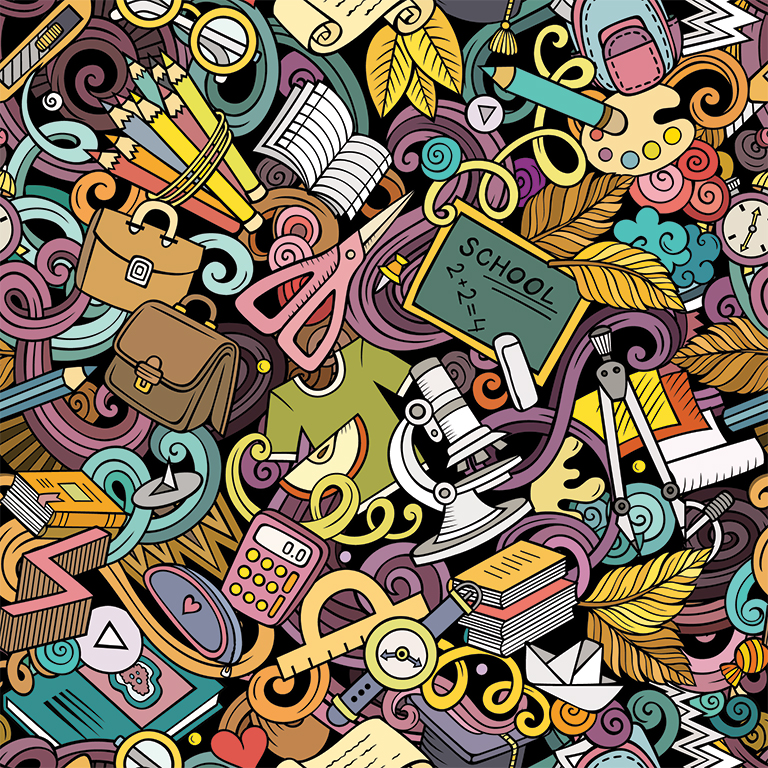 Feasibility Study Highlights Benefits, Path Forward for New Polytechnic School
The idea of a university in Yellowknife is not new, but since last June when the GNWT released its Aurora College Foundational Review the concept has certainly been gaining momentum.
The review recommended transitioning Aurora College into a polytechnic institution capable of granting both college diplomas and university degrees. It also suggested the polytechnic institution be headquartered in Yellowknife, rather than at Aurora College's main campus located in Fort Smith, with a community satellite campus continuing to be maintained there as well as in Inuvik.
In the fall, the GNWT accepted or partially accepted all recommendations except the decision to establish a polytechnic campus in Yellowknife, which was deferred until an undetermined future date.
StrategyCorp Inc. (SCI) has since delivered its report titled University Feasibility and Benefits Study to the City of Yellowknife and it also favours a polytechnic school based in the capital, illustrating many benefits that would accrue to both the city and the broader NWT if that's the way the territorial government decides to go.
Employment Requirements For Future NWT Jobs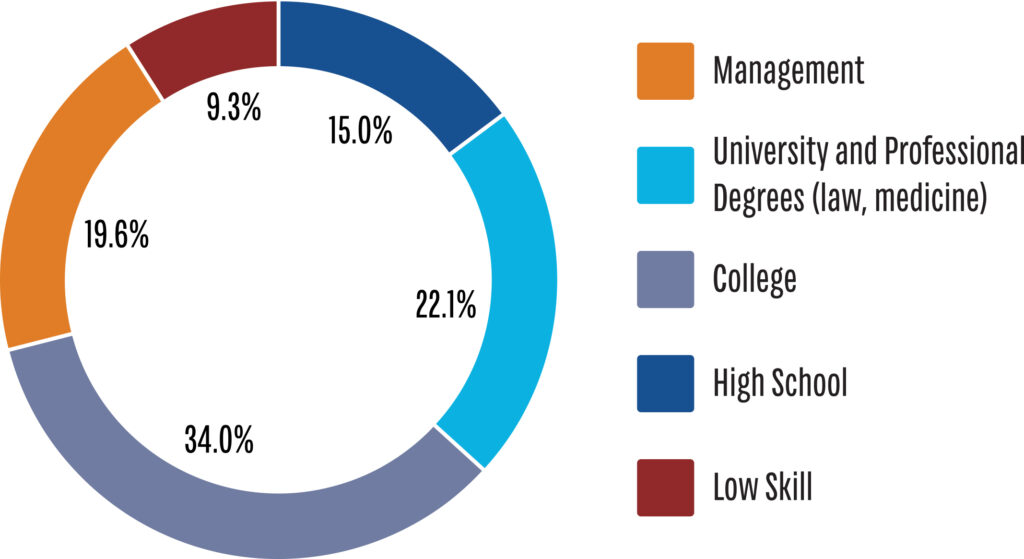 ---
"A polytechnic university in Yellowknife maximizes local opportunity, accessibility, and affordability"
---
"StrategyCorp's report is written with the recognition that the City of Yellowknife, as a municipal government, does not possess the legislative or regulatory authority to establish alternate models of post-secondary education delivery (e.g. university)," states the report. "Rather, this report is an examination of the community's and territory's capacity to support and sustain a new post-secondary institution (e.g. university, polytechnic university, satellite campus)."
SCI also stressed that it gave no consideration to the specific program or strategic mandates and priorities of Aurora College.
"As such, this study focuses on providing a third-party analysis of the feasibility of a university (or variation thereof) instead of evaluating the current model in place (i.e. Aurora College)," it states.
The study reviewed key education delivery model options including college, polytechnic university, university model, and university satellite (branch) campus.
"The most feasible path to transforming NWT's post-secondary system lies in establishing a polytechnic university that can meet current challenges and opportunities," states the report.
Advancing the idea would mean an opportunity to set a new vision and energy – and to specialize in areas where Yellowknife and the NWT can lead.
It would also mean the chance to offer programming specialized and aligned with immediate and near-term labour market needs for both applied and academic learning (as well as Indigenous student needs), such as:
• Upgrading (GED) offerings, adult literacy, ESL and FSL;
• Professional development;
• Nursing, social work, mining, education, environmental studies;
• Construction trades, heavy equipment operating; and,
• Arts and culture, Indigenous languages and governance.
A polytechnic university is most aligned with NWT's labour market needs, adds the report.
"Over the next 15 years, 28,500-36,700 job openings are projected to emerge in the NWT, of which 78 per cent will require both college-based and university-based post-secondary education and/or work experience," says SCI. "98 per cent of these jobs will be to replace retirees or outward migrants (Conference Board of Canada)."
It pointed to the fact industry, government, and businesses currently rely on southern Canadian institutions to educate the local labour force and provide university-level skills training. Anecdotally, it added that many positions requiring post-secondary education are being filled by employees without higher education.
"A polytechnic university is the best of both worlds: it follows a made-in-NWT solution that builds on the existing assets and programming of Aurora College, while testing and refining new university-based programming as it evolves," says SCI.
Editor's note: This is the projected operating profile and costing associated with one possible model of a
Yellowknife polytechnic university serving 200 full-time and 4,000 part-time students.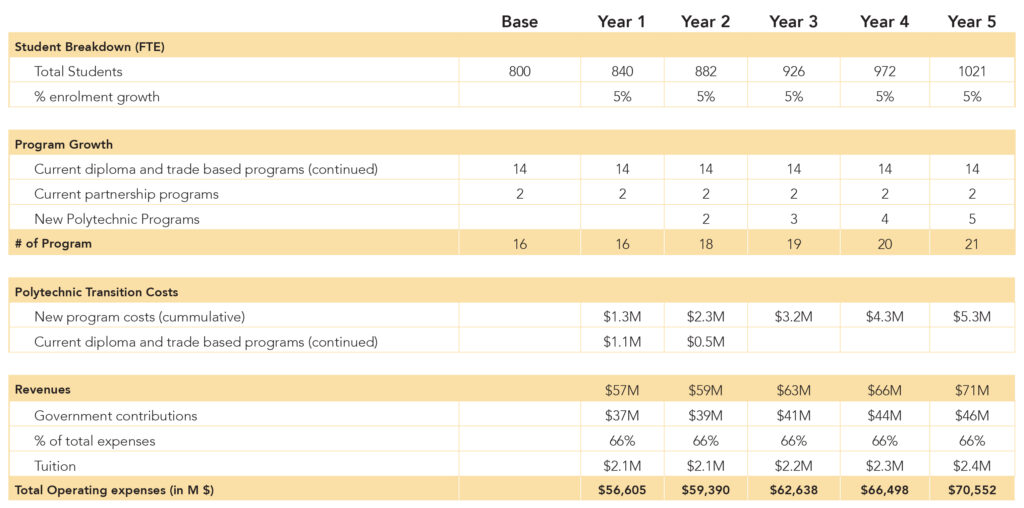 What could it look like?
While researchers admit there are many ways a new, Yellowknife-based polytechnic university could take shape, they did identify one possible vision for the institution in order to better define potential benefits and challenges. Specifically they considered a "new campus model" in which a built-from-scratch campus serving 200 full-time and 4,000 part-time students would be erected somewhere in Yellowknife at a cost of up to $80 million.
"The model presented is high-level and directional," the report cautions, "it is only intended to show potential options … It does not factor in land value or purchase costs for a campus, nor does it propose a location."
The report included multiple case-study-style examples of the economic impact, such as Sackville, N.B. where Mount Allison University increases the town's population by 42 per cent during the school year, supporting local business as part-time labour and clientele.
"The university supports provincial Indigenous growth through its Aboriginal Community Development Centre," writes SCI. "Employment by the university makes up 15-35 per cent of the area's total jobs, while the university's capital campaign in 2018-19 spent $468,000 in the community. For every dollar spent by Mount Allison, another dollar was spent somewhere else in the region."
Thanks to its increased revenues, the town's strategic plan identifies investment towards infrastructure expansion and housing development as key priorities. Elsewhere in the province UNB Saint John offers sustainable projects and development to an otherwise industrial city.
"The university purchases $40 million in goods and services from the local community," states the report.
"The student body increases the city's population by around 11,000 … Student spending off-campus in Saint John is roughly $25 million [annually]."
University salaries total around $45 million and UNB Saint John contributes roughly $100 million to the provincial GDP and adds about 700 jobs to the city.
While it's hard to quantify exactly what the benefit would be for Yellowknife, given its size, researchers are confident it would be noticeable. For example, they write, "In a smaller centre, the university had a greater
impact on the local economy in the past calendar year than the University of Toronto." SCI also points out that there may be additional opportunities to boost the impact by attracting more research projects.
"Improving competitiveness for, and access to, federal research funding can have a positive effect on the GDP of the NWT – every dollar invested in a university can generate $1.36 in economic activity," states the report.
The other benefits for the city identified in the report are somewhat harder to quantify, but, many would argue, equally as important: Fostering creativity; Supporting Indigenous culture and governance; Sparking debate and civic engagement; Contributing to municipal and social infrastructure; Encouraging collaboration across society and business; and, Establishing a global presence.
Challenges Exist
To achieve the targets and potential benefits identified in the report, SCI adds the new polytechnic university will require a core focus on marketing to create new student demand over time – including recruiting southern and international students.
"Northern Canada struggles with lower educational outcomes compared to much of southern Canada – this directly affects the readiness and supply of students for post-secondary opportunities," the report states. "Northwest Territories is facing a continued population decline (population decline of 1,092 by 2040) and the population is aging (in NWT, there will be 5,486 more people aged 65 and over by 2040) … A polytechnic university focused on attracting students from outside the NWT may help stem the outmigration trend."
The other big challenge facing any potential new school would be ensuring there are sufficient community supports to make it an affordable destination for students to study and live.
"Addressing the issue of affordable and available student housing is key to attracting southern Canadian and international students," states the report. "Overall, the cost of modest, basic standard living is rising at a 4 per cent rate annually in Yellowknife [compared to the national average of roughly 2 per cent] … Low vacancy rates (4.2 per cent in 2017) mean that there are insufficient (affordable) housing units to meet current market demand – an issue both the GNWT and the City of Yellowknife are working to address."
Next Steps
Everything hinges on the GNWT at this point; with a commitment to a polytechnic university, it is just a matter of time before Yellowknife transitions into the new centre of learning, according to SCI.
"The GNWT response to the Aurora College Foundational Review commits the NWT to a polytechnic vision, but defers the decision to base an expanded campus in Yellowknife," states the report. "The GNWT's Response to the Review provides the City with the opportunity to work with the GNWT to create clear and evident conditions to support establishing a polytechnic university in Yellowknife."

It points to several advantages Yellowknife has compared to other locations in the NWT:
• NWT students are more likely to pursue education and career opportunity in a larger city centre;
• As a capital city and NWT's largest community, Yellowknife is much more likely to attract investment, research dollars, and immigration (including international students);
• Yellowknife offers students greater access to amenities, public transportation, housing, and recreational facilities that improve the student experience;
• Yellowknife offers greater access to labour market and opportunities in key territorial industries;
• In practice, other jurisdictions headquarter satellite universities in major centres as a matter of practicality and access to policy-makers; and,
• The new Associate Deputy Minister of Post-Secondary Education (overseeing polytechnic transition) will be based in Yellowknife.
"A polytechnic university in Yellowknife maximizes local opportunity, accessibility, and affordability," concludes the report.
Support in the Communities
In January of this year, the Town of Fort Smith, the Town of Inuvik and the City of Yellowknife came together to make a joint statement about the idea of a new school, and pointed to their shared interest in strong post-secondary opportunities for residents, communities and all Northerners as the impetus. "Together, as the three communities currently hosting Aurora College campuses, we urge the Government of the Northwest Territories (GNWT) to establish a clear vision for post-secondary education – specifically a polytechnic university – in the Northwest Territories (NWT).
"A strong knowledge economy benefits the entire NWT. Without a university presence in the NWT we face enormous lost opportunities to advance the academic, social and economic advantages for all Northerners, as well as the ability to attract academics and students from elsewhere who would benefit from the opportunities for learning and research in the NWT. We believe that no decision should be made that would be a detriment to any NWT community." At the time Yellowknife Mayor Rebecca Alty stated, "Modern, relevant post-secondary opportunities in the NWT that can inspire social, economic and educational development in our communities and across the NWT is a win for all Northerners, and Yellowknife looks forward to working with the GNWT and other communities to advance this meaningfully."
Fort Smith Mayor Lynn Napier-Buckley and Inuvik Mayor Natasha Kulikowski made similar comments of support.The Yellowknife Chamber of Commerce has taken the formal position that post-secondary transformation in the NWT is needed and that the head office of any post-secondary institution should be based in Yellowknife. However, it also believes that there is an important role for the Fort Smith and Inuvik campuses, and it supports the City's position that they are each "well positioned to focus on specialized programming and their continued role is important to move ahead successfully."
In a letter of support sent to Alty and the City of Yellowknife by Chamber President Kyle Thomas and Executive Director Deneen Everett, they point out that they were pleased with the quality of SCI's study and it's unbiased, evidence-based approach. "We are pleased to offer our support to the City of Yellowknife, for the GNWT to establish a clear post-secondary vision and to advance a polytechnic university in Yellowknife," they wrote, adding that in the organization's annual membership survey, some 74.5 per cent of member respondents supported the idea with only 14.5 per cent opposed.