Faces in Mining: Gabriel Olayok
Production Equipment Operator Meadowbank Gold Mine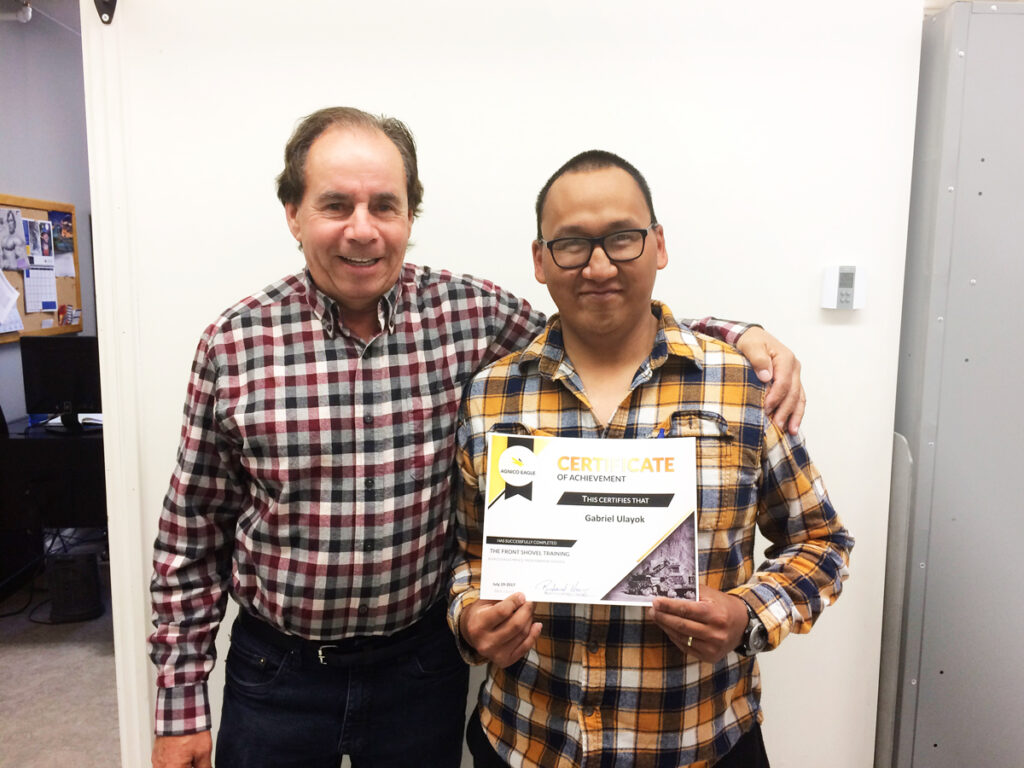 When Gabriel Olayok signed on at Agnico Eagle's Meadowbank gold mine six years ago, he was a 30-year old father of three, with his late father, Vital Olayok, looking over his shoulder. He wanted "to follow my dad's footprints" in the same job – heavy equipment operator – his father had in their home community of Arviat. "I like to operate big machines, and I want to learn more about these big machines," Olayok says. "They're different than the ones back home."
In Arviat, he had a part-time job driving the water and sewer trucks. At Meadowbank, Olayok has logged over 10,000 hours on the haul trucks, graders, dozers and excavators at the open pit mine. This year, he became the first Inuk ever to command the giant RH120 shovel, the world's top heavy excavator with a 34-tonne capacity bucket that can hold two pick-up trucks and fill a 150-tonne haul truck with just four scoops.
Olayok is also the top candidate in Meadowbank's Mine Career Path program, an innovative system designed to support career advancement for each employee. Gabriel Côté, the training coordinator for the Meadowbank Division, says that for each different machine, operators take a five-day, 84-hour training program. About four hours a day are spent in the classroom, and the rest is one-on-one with the trainer, on the equipment. "What makes it so special here is that we train in production. They learn it as they will operate it in the future. That's one of the keys of our success," says Coté.
Coté says Agnico Eagle's target is to have Inuit filling half of its Nunavut workforce. Since Meadowbank's start in 2010, that number is now fairly stable at about one-third. "Our numbers are slowly growing, and not going down," Coté says. "We want to do it right. It's not only about the number — it's the quality of the training that is the main focus."
Meadowbank's ore is expected to run out in 2018 and Agnico Eagle is developing two other rich deposits: Amaruq, about 70 km north of Meadowbank, which will utilize Meadowbank's mine production facilities, and Meliadine, now under construction just outside of Rankin Inlet.
Olayok has two other career goals — to become an equipment operator supervisor, and stay with Agnico Eagle for the long haul. "I want to try and finish on this side [Meadowbank] and close out Amaruq too!"