Being Herd
The Bathurst caribou herd is in trouble. A proposed range management plan is just part of the solution.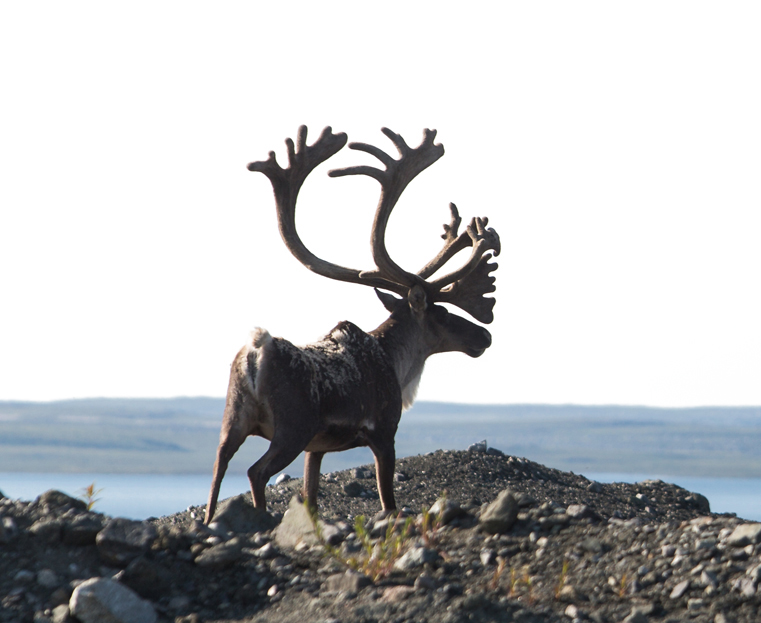 Each summer in the 1980s, almost half a million caribou began their annual migration from calving grounds just west of Bathurst Inlet, in what was then northern NWT, and headed south. The Bathurst herd travelled hundreds of kilometres across the tundra to their winter range, which could, depending on instinctual decisions and dynamics that humans don't fully understand, be anywhere from northwest of Great Slave Lake to Saskatchewan far to the southeast. After feeding themselves as best they could through the winter, they would head north again, with bulls mounting cows that they might deliver calves as spring arrived. By July, calves born, they would begin the epic trek south again, following the sun and the seasons.
By 2015 — the Bathurst herd's calving grounds now in Nunavut as a result of its creation in 1999 — the number of caribou making the journey had dwindled to about 20,000, a catastrophic 96 percent decline. The reasons are numerous, complex and frequently interconnected. They include natural cyclical trends in numbers, but also include climate change, forest fires, predation, hunting, industrial development and other human activities. Drastic steps have been taken, including stopping the non-Aboriginal hunt and severely curtailing the Aboriginal hunt, but there are few levers that humans control, and the herd's population has continued to drop.
Now, all the interested parties, including territorial, federal and Indigenous governments and councils, non-profit organizations and industry, are hammering out a plan to protect the Bathurst herd's range as one step to stopping the decline. A draft range management plan has been released and a final plan is expected in March. The intentions are good and the dialogue open, but the facts are frequently contested, nobody knows if it will work, and protecting the caribou's range is only one of many issues in play to protect their numbers.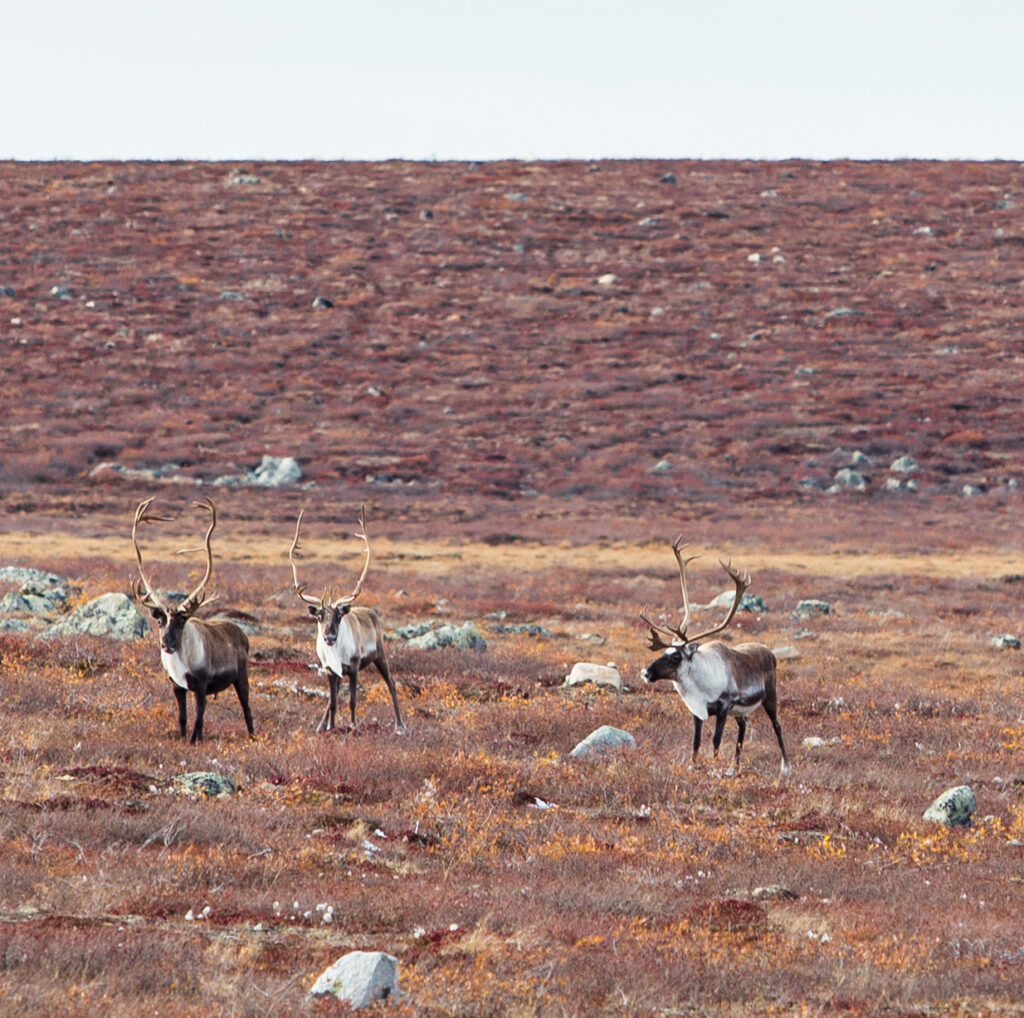 The Bathurst herd's range sits like a giant triangle over much of the NWT and the southwestern edge of Nunavut, with the calving grounds concentrated just south of the Arctic coast and the winter range stretching wide over northern portions of the NWT. Their historical range includes the most populated and the busiest areas of the NWT, including the capital of Yellowknife, many of the other communities and the biggest mines, such as the Ekati and Diavik diamond mines. That said, the size of the territories and its small population mean there are a limited number of forces at play on caribou habitat.
"Unlike the south, our barren ground caribou are not threatened by such activities as ranching, or logging and urban sprawl," says Tom Hoefer, the executive director of the NWT & Nunavut Chamber of Mines and a member of the working group for the Bathurst range management plan. "The forces that can affect habitat are limited in the north, and include small community growth, road construction, mining and forest fires. That's really all the factors affecting habitat." Forest fires, he notes, are tied to the warming climate, which may be the biggest factor of all, and the most resistant to controls. And then there are the factors beyond the quality of the range, things like hunting and predation.
Hoefer is glad to see the work done to protect the caribou range, but questions whether the focus is too narrow. He says the range is just one piece of the puzzle surrounding caribou populations. A holistic, encompassing approach is required, says Hoefer, where all potential stressors and contributors to caribou population numbers are assessed and weighted appropriately. "Habitat change and industrial development only create indirect effects on caribou, while other factors like harvest, disease, insects and predation directly affect caribou mortality," Hoefer says. "Without their consideration in the range plan discussion, habitat takes on an arguably larger weighting than it should. And then, with the range plan's focus on mineral development rather than fire, our geographically-scattered and small-footprint resource development is given an even larger role than it deserves in its possible effects on caribou."
The impact of industrial development on the Bathurst herd is further complicated when you look at the status of other herds across the North, from Alaska to Nunavik. Some have flourished even where there is development, like the Porcupine herd near the oil and gas operations of Alaska's Prudhoe Bay, but others have declined where there is no industry.
"There's a real diversity of views about how important the mines have been in terms of the Bathurst herd's decline," says Jan Adamczewski, a wildlife biologist with the Government of the Northwest Territories' Department of Environment and Natural Resources. "Our understanding, based on the science, is that mines can contribute to disturbance of caribou, they can contribute to reduced pregnancy rates, but we don't think the mines have been a main driver in the herd's decline. Part of that is, we've seen other herds go through huge declines with no mines on their range."
But that hasn't stopped some people from pointing the finger of blame at industrial development, which industry veteran Gary Vivian, the president of Yellowknife-based Aurora Geosciences and also a member of the working group for the Bathurst range management plan, says isn't a reasonable conclusion. "Science will show you that, if you look at the road from Ekati that goes to the Misery pit, which is almost 21 kilometres long, dust effects off that road is one kilometre, so if a caribou was to eat some moss within that kilometre, it might eat some dust. Put that into perspective on how many predators and how many hunters take caribou in a year — I would say the effect a mine has on caribou is minimal at best."
But he says the scientific argument comes up against an emotional argument — an understandably emotional point — about the importance of caribou to Indigenous cultures. "We're trying to get the discussion away from the emotional argument," Vivian says. "Industry is seriously concerned about caribou and the mitigation measures that most industry operations have in place are effective at not scaring caribou away. Communities are beginning to see what industry is doing to try and make a positive effect on caribou."
Perhaps the greatest concern stemming from industrial development is not the mines themselves but the all-seaon roads built to service the minesites. They are long, narrow corridors that can divide ranges. Dust from travel on the mine site roads can migrate on the wind and settle on the caribou food sources. The scope of that impact is still being debated. Some, like Vivian, have suggested the "zone of influence" is as little as one kilometre on either side of a road or mine; some have said none, while others have said as much as 14 kilometres.
"Habitat change and industrial development only create indirect effects on caribou… other factors like harvest, disease, insects and predation directly affect caribou mortality." Tom Hoefer, executive director, NWT & Nunavut Chamber of Mines
The big problem with the winter roads is that they give access to remote areas to people other than mine personnel, in particular to hunters. "If the caribou are abundant near the roads, that can lead to substantial harvest rates," Adamczewski says. It was a bigger problem prior to 2009, when hunting was largely unregulated. "We knew there was a lot of harvest in the winter from winter roads, not so much the ones to the diamond mines, but the ones to Wekweti and Gameti," Adamczewski says. "It was the worst possible situation: the natural trend of the herd was downward but it was very accessible because of the roads and the harvest was in the thousands."
There is also the overarching concern about climate change, which not only increases the frequency of forest fires, but has also lead to more spring rains, which freeze over plants and lichen and make them inaccessible to caribou. "Some of the effects could potentially be positive, say, an earlier start to the growing season, when the cows give birth and are nursing calves their nutritional demands are highest," says Adamczewski. "Having nice green stuff on the ground is a good thing." But permafrost melt, changes in vegetation and forest fires may overwhelm any benefits. "Climate change is going to mean many things to our caribou and where the balance of that will land we don't know, but it is a little bit scary," he says.
The most rapid decline in the Bathurst herd happened between 2006 and 2009, when it dropped from 100,000 to 32,000, causing a meaningful restriction of the harvest. The outfitter harvest was closed, as was the resident harvest. Even the Indigenous harvest, generally considered a fundamental right, was cut back by 90 percent or more. "It didn't happen without a lot of difficult meetings, hearings and discussion," Adamczewski says. "It's been an important herd for a number of Indigenous cultures, and that relationship goes back hundreds of years."
Vivian says that close, symbiotic relationship between Indigenous people and caribou has been broken in recent decades. "One of the most important things I heard during the range planning meetings was the recognition from at least one of the elders that the biggest effect on caribou is that the young people in the communities have no respect for caribou anymore, so they go out and shoot more than they need, more than they can eat, and even though there's supposed to be a moratorium on caribou in the NWT, there are still thousands slaughtered every year."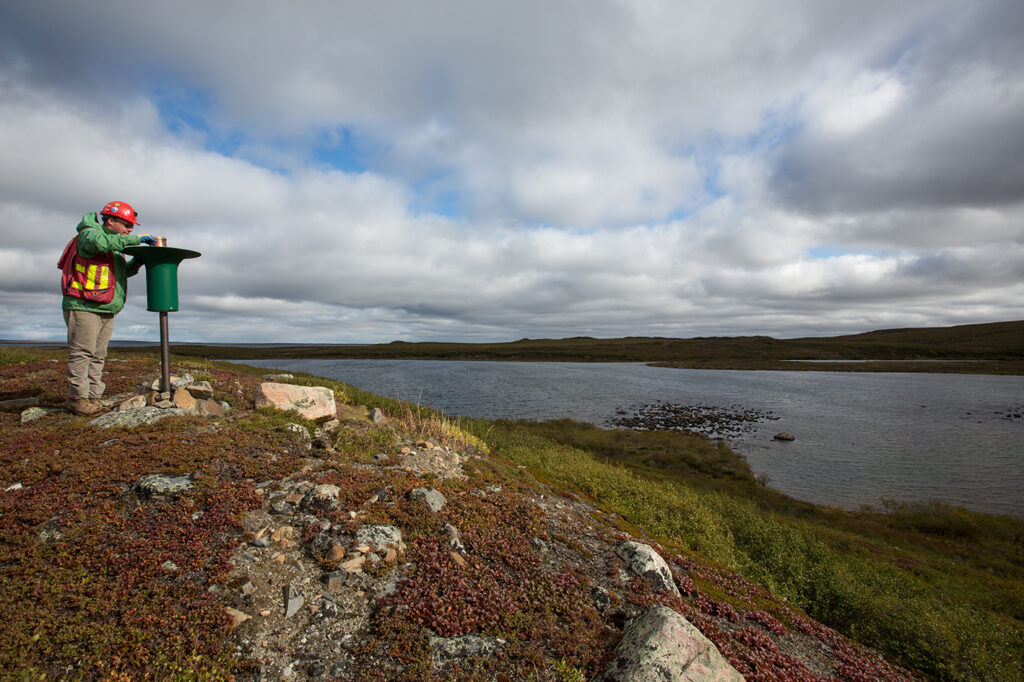 In one example, between 2,000 and 3,000 caribou were killed last winter near Mackay Lake, northeast of Yellowknife. Adamczewski says information from GPS-collared caribou suggests they were not from the Bathurst herd, but it's impossible to be sure that's the case for all of them. The Nunavut government has also continued to allow hunting of Bathurst caribou, including commercial hunting.
Increased scrutiny on mines' impact on caribou is putting a chill on the Northern industry, but despite that the North is still open to new mines. Vancouver-based Sabina Gold & Silver Corp. has recently been granted permission by the Nunavut Impact Review Board to continue development of its $415 million Back River gold mine. The mine proposal has a few natural advantages over other industrial proposals: it is not in the Bathurst caribou range, being just on its eastern edge. It is in the range of the Beverly Ahiak herd, which still numbers in the hundreds of thousands. And Sabina's proposed winter road runs north, to Bathurst Inlet, so will not be accessed by hunters or anyone else. Besides, at that time of the year, the caribou are well south.
Still, the company has gone to great lengths to mitigate impacts on caribou, crucial to receiving community approval and regulatory permits. Matt Pickard, Sabina's vice-president of environment and sustainability, says they focused on decreasing activities that may impact caribou within a certain distance of mine operations. "First, we will stop blasting and heavy haul trucks, and limit helicopters or fixed-wing aircraft, when caribou are close," he says. Secondly, Sabina has incorporated two potential shutdown procedures. "There is rapid operational shutdown and a planned operational shutdown," Pickard says. "Rapid will be, if (during) calving and post-calving, a group of caribou come by, we will quickly shut down as much of the mine as possible." Planned shutdowns could include changing operational activities, scheduling maintenance or planning staff holidays if there's a prediction that caribou will be close.
There is much to be done to protect caribou and their range that will involve continued discussions between science and traditional knowledge. It may also include the use of mobile protection zones around the Bathurst herd, based on GPS collars and community guardianship programs where Indigenous northerners can be employed as game wardens, playing a meaningful role in monitoring where the caribou are and what might be happening to them. MN