Up Close, Up High
One-on-one with NWT business icon Peter Arychuk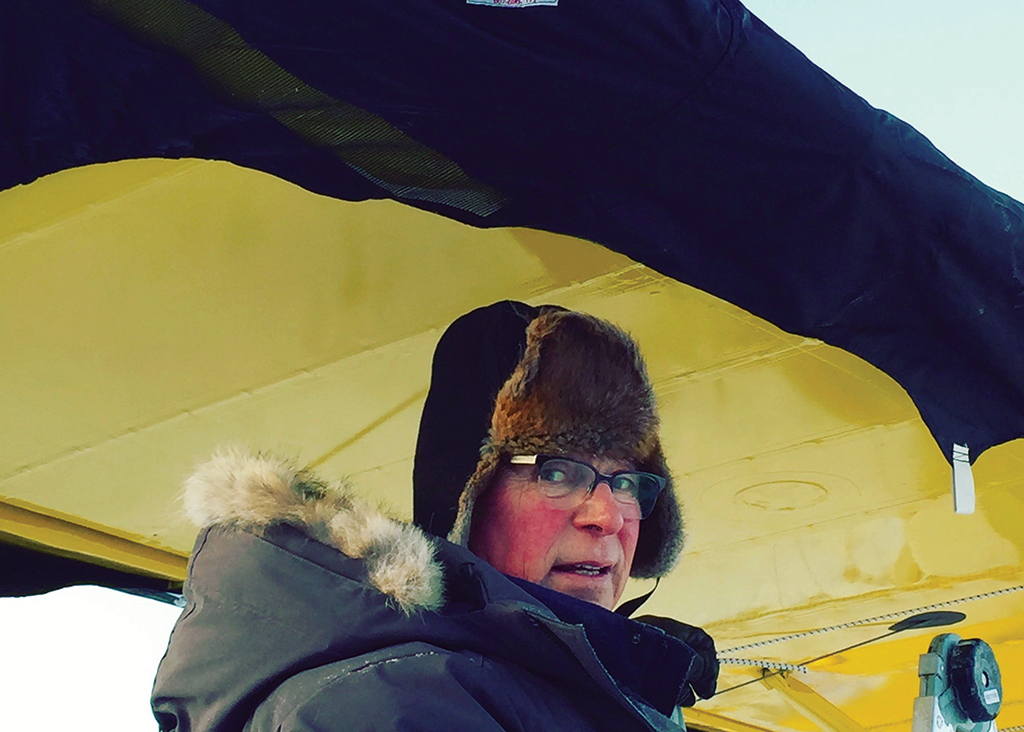 By John Curran
If you're making a list of the most successful Aboriginal entrepreneurs in the North, somewhere in that grouping you'll find Peter Arychuk.Best known for his 30-plus years as a co-founder, -owner and -worker, at Air Tindi, Peter has actually worn many hats over the years. Aboriginal Business Quarterly recently sat with Peter over a cup of coffee to learn more about his fascinating life.
ABQ: You were born in Hay River on Oct. 16, 1959, and grew up in Fort Providence where your dad owned the local service station. What was it like back in those days? Did you have much free time? What did young Peter like to do for fun?
Peter Arychuk: Yes Mom and dad had a cafe, motel, gas station, garage, construction heavy equipment, and six of us children. All of us kids worked in the family business as we got old enough, I would say we all had a job pumping gas and fixing tires as we got older, washing floors and dishes was part of the job list as well. In our spare time, we spent it on the Mackenzie River, fishing and hunting. Other opportunities to get away that I enjoyed was any chance to go with dad on a dozer, or with one of his employees in a gravel truck or any other piece of equipment I could get on. There were back roads where we got to practice our driving skills at a very young age. My after school days and weekends were spent in the garage, on a piece of equipment, or camping.
ABQ: You were sent away to Yellowknife's Akaitcho Hall to attend residential school. Not to diminish the experience of others, but what was your time there like? How old were you and how many years did you go to school there? What did it teach you?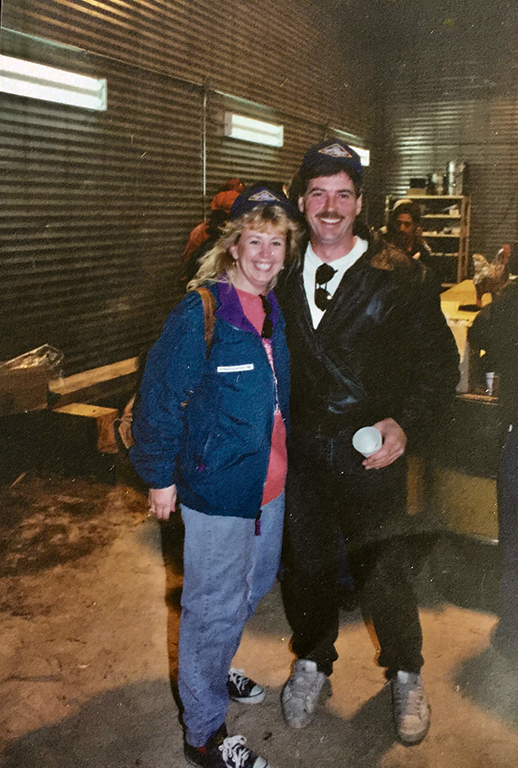 Peter Arychuk: The school in Fort Providence went to Grade 9 only, and after that, I went to Yellowknife, (as all of my siblings did) and our home was Akaitcho Hall. I was 14 years old and initially, it was not the ideal situation but after three months I understood, this is where I had to go to school. Once I got used to the system I had an opportunity to meet so many of the kids from other communities, we made great friendships that have lasted forever and we got to learn about the part of the territory where the other kids were from and met many of them later in my different careers. I attended two and a half years at Akaitcho Hall, and unlike my older siblings who attended schools in Fort Smith or Fort Simpson. I understood Akaitcho Hall was a preferred place rather than the other residential schools in the other communities. As a student there I learnt we were all the same, we were a team, in sports, in our rooms (where there were four of us to a room) and in town. We all kept an eye on each other as we had to be back to the hall at 9 p.m. Living with all the kids at Akaitcho, we learned friendship, courtesy, and respect. Not speaking for all who attended these hostiles, but for myself, it was an adventure.
ABQ: Most people know you as a pilot, but you actually got your start in the working world in the trucking industry. What sorts of projects were you involved with and where did it take you? Don't you still do a little trucking with one of your sons' companies?
Peter Arychuk: At about 16 or 17 years old, I got a job with Robinson's Trucking in late January driving a truck to Great Bear Lake for the winter, in the summer I hauled gravel and ran some equipment. The next fall I had the opportunity to work with people like Hughie Arden, his brother Jimmy Arden, Hugh's Wife Pheobe, Johnny Soldat, Alan Kimble, we would head out of Yellowknife on January 2, and open the road to Port Radium and Terra mine on Great Bear Lake. We would be gone for a month, in years later we did the same to Lupin and Contwoyto Lake, (we were the first ones to go there with 17 trucks with us). I worked in the industry for a few years, and never lost interest in the equipment and trucking business. Now, going full circle, my two boys Travis and Ryan have a couple of trucks, and I get the opportunity to drive them at my leisure, and still enjoy them.
ABQ: In 1981 you were in Gjoa Haven building a new runway. By 1982 it was Hall Beach for a very similar cause. The next three years you spent in Cambridge Bay. What was it like for you and Teri moving around so much for work? You must have made a lot of friendships in those years in the Eastern Arctic, are there any folks in particular that come to mind from those days?
Peter Arychuk: Yeah, Teri and I spent the summer of 1981 in Gjoa Haven, both working for Fred H. Ross and associates, we spent the short three month season there and build a new 3,000-foot airstrip for Transport Canada. I was reunited with a couple of guys from Akaitcho Hall there which was nice. In the spring of 1982, Teri and I were married in Yellowknife and our honeymoon was in Hall Beach, both employed for Fred H. Ross, there to service the airstrip. In the fall we moved to Cambridge Bay were I still worked for Fred H. Ross and was now in charge of the Airport and going to different communities in the construction season such as Hall Beach and Spence Bay (Taloyoak) working. Teri worked for the GNWT and our first son Travis was born in 1984.
ABQ: In 1985 you launched Bathurst Air Service with Teri, her parents, and their two small airplanes. What was it like running what was at the time the first new airline licensed in Yellowknife in about 17 years? Did you need to make many sacrifices during those early years to keep the business afloat?
Peter Arychuk: We moved back to Yellowknife when our oldest son Travis was three months old, by this time I was able to afford to follow a dream that I picked up at an early age from a family friend, Perry Linton, who wintered his packhorses in the hay fields at Providence. He would fly to Providence from Norman Wells in his Helio Courier to check on his horses. He would land on the road and park in our yard, and I would skip school to go for a ride in a bush plane. I loved the airplanes and got my private licence in 1981. I flew for Bathurst Inlet Lodge, which was owned by Teri's parents, and eventually got my commercial pilot's licence. The Lodge had two aircraft that only flew in the summer months, so Glenn suggested we apply for a licence for charter service out of Yellowknife. As there had not been any Charter licences issued in Yellowknife for the past 17 years, we applied and after a lengthy process, we were issued a charter licence in 1985. We only had the two aircraft, but we were on our way. Our youngest son Ryan was born in 1987, we lived and operated Bathurst Air from our base on McAvoy Road. It was busy times, running a new business, with a one- and three-year-old, but we did it together. There was never a boring moment, but Teri and I worked our married life together in business. Our boys were right by our sides.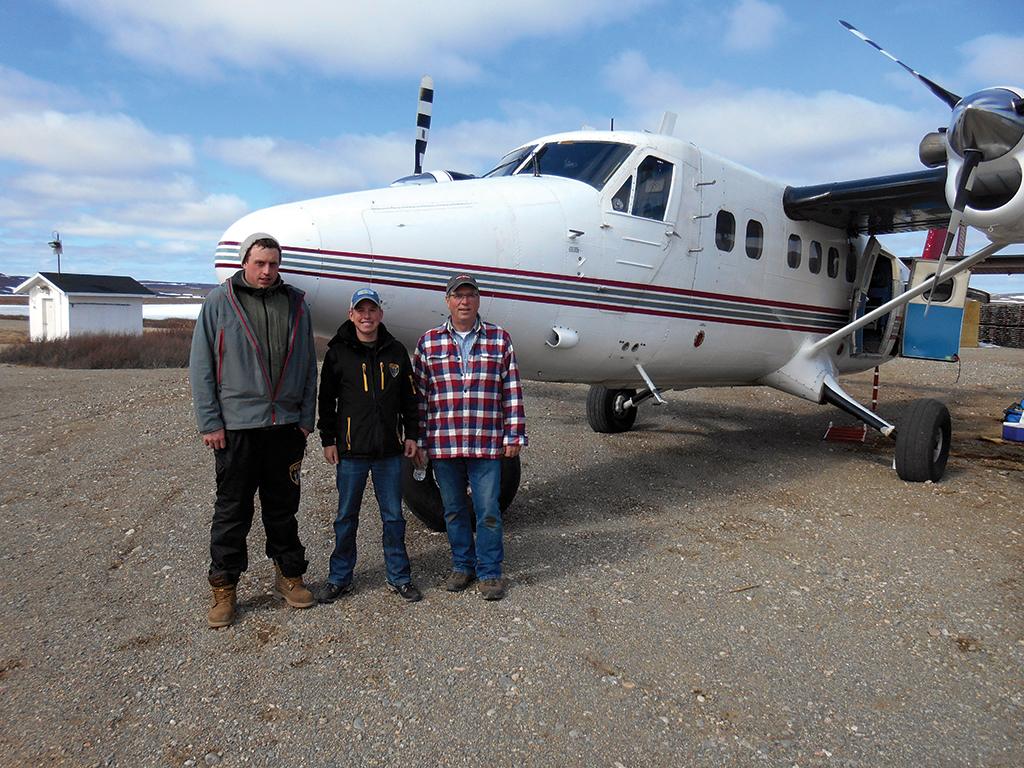 "I flew for Bathurst Inlet Lodge, which was owned by Teri's parents, and eventually got my commercial pilot's licence"
ABQ: In about 1988 or so, your brother Alex was wrenching for you, and you made the decision to expand, go into business together and launch Air Tindi. How nervous were you when you collectively decided to take that leap and buy Reacom's assets, which formed the backbone of Tindi's fleet in the beginning? How did things change once you were in business with your brother and his wife Sheila?
Peter Arychuk: At Bathurst Air, we had three Cessna 185s, one DHC2 Beaver, and a Piper Super Cub. It was eventually necessary to find our own Chief Engineer as we were using a great contractor, but we were getting too busy. My Brother Alex came to work with us. In 1988 we decided we needed a larger aircraft and Teri's parents decided they did not want to invest any more of their money in the aircraft charter business. It was decided Teri and I would take our two Cessna 185S and join with brother Alex and his wife we would buy the assets of Raecom air from Ray Beart and Eve Comrie, on Nov. 1, 1988. Air Tindi was born. We built a great company. With hard work, and dedicated employees – such as Murry McMan, Doug Turner, Tom Thomson, Mike Murphy (who is the longest term employee, and still there) – we grew. In our business, we all had our place, Boyd Warner (Teri's brother) flew for us part-time, Teri was the Operations Manager, Alex was the Director of Maintenance, Sheila was the comptroller, and I was VP, pilot and marketing manager, it worked very well for us. Teri, the boys and I lived on the base, times were very busy. Travis and Ryan grew up living with the business. We remember when cell phones came in, both Teri and I could go to watch the boys play hockey together, we could now call forward our Air Tindi phone, in case of a call for a medevac flight, and go to the rink. It was a taste of freedom. Our most challenging time was when Travis got sick, we stuck together, and got through it with the help of family and friends.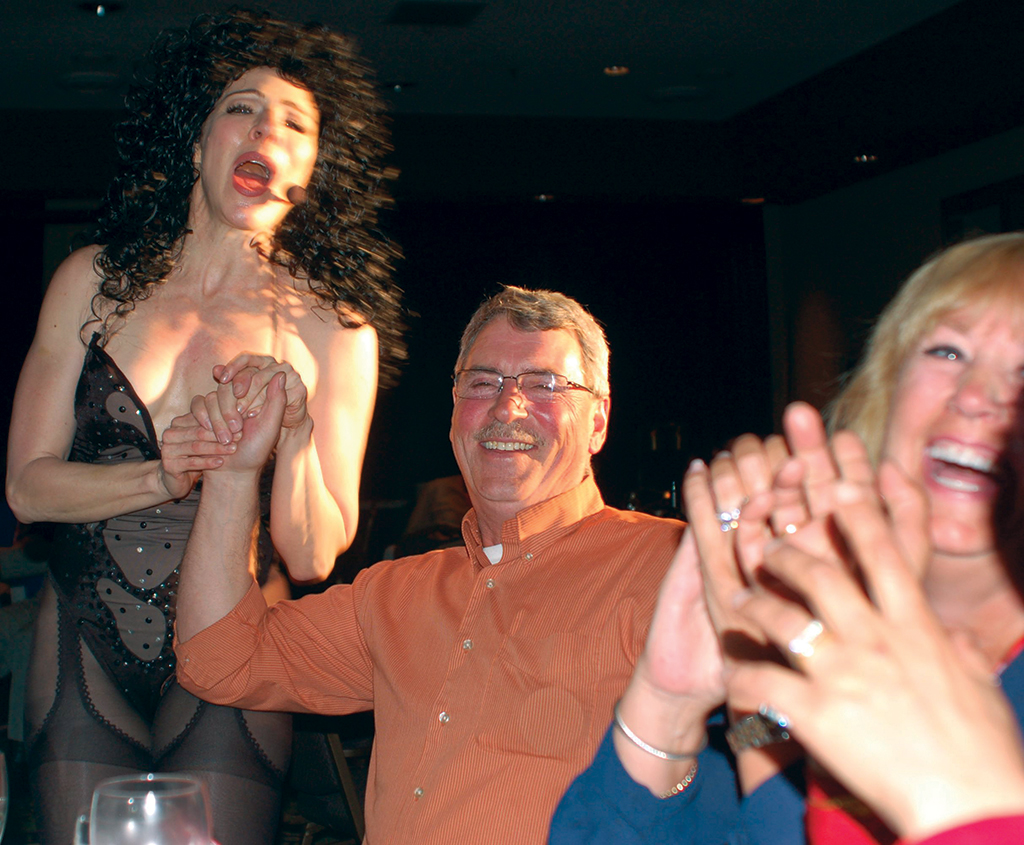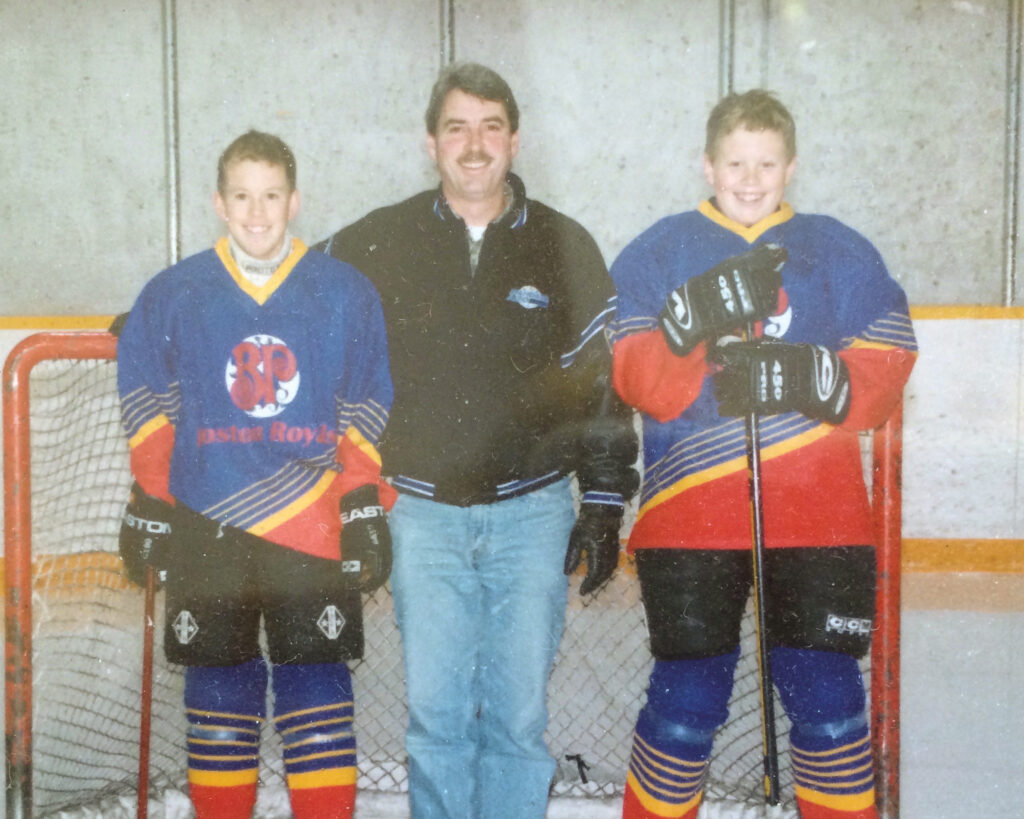 ABQ: Together the four of you rode the wave of diamond discovery and mining in the NWT and built Air Tindi into a diversified fleet handling everything from mine worker and resupply flights to medevac and schedule service flights. At what point did you know that you were a success? Was there a moment that stands out when everything seemed to change and company really took off?
Peter Arychuk: In the early years, there was lots of competition in Yellowknife, and almost any type of aircraft you could think of available for charter, from a one-passenger Super Cub to a Hercules. It was not without concerns at the start and there were a couple of lean years, but we concentrated on our business and not everyone else. We were growing in these lean times slowly, and eventually bought the assets of Laronge Aviation here in Yellowknife, and later Latham Island Airways, this was about the time the largest staking rush in 100 years took off. Then the expansion in the Twin Otter market really took off. We were very busy in the bush end of the market and we also perfected the medevac business and grew that arm into a sole-sourced contract, which Air Tindi still holds to this day. Everything was coming together nicely in the early 1990s we were all very dedicated to our business right until the last day. We worked hard to build and maintain the company, and with us doing so, our employees did the same.
ABQ: Eventually the four of you made the decision to sell Air Tindi to Discovery Air and it's now owned by Clairvest, what's it like seeing the business you started with your own sweat-equity and family being run by someone else? Did that take some getting used to initially?
Peter Arychuk: We did sell to Discovery Air after a lot of thought and consideration between the four of us, it took us a couple of months after we were approached to decide. The company went public, which was new ground for us, so there were changes which we had to adapt to. I feel the public company method had its challenges, and eventually reverted to a private company, and I am happy to see the company still an important part of the transportation sector in the North today.
ABQ: Your boys Travis and Ryan have a number of ventures together and others involving additional partners. How does it make you feel to see your sons following in their parents' entrepreneurial footsteps?
Peter Arychuk: Yes, Travis and Ryan are doing well. They own the Avier Group of Companies, offering transportation, logistics and supply; Private Sky Aviation; Fuel Flo Petroleum & Logistics; and Kingaunmuit Services. They both have the entrepreneurial passion, Teri and I are very proud of them. Like us they are balancing private industry and family, both boys are married with children. Travis, Bonnie, and Asher live in Kelowna while Ryan, Allyson, and Rory live in Yellowknife. We treasure spending time with all of them and love being grandparents.
ABQ: What advice would you have for any other young people who would like to build the same sort of experience as you have on your resume? Do you think there's room in the modern world for bush pilots and the vital jobs they perform?
Peter Arychuk: Follow your dreams, work hard, be honest, and understand that life is not always easy. If aviation is your goal, there is not a place in the world that you would enjoy any better than flying in the North. ABQ