A motorcycle & a mission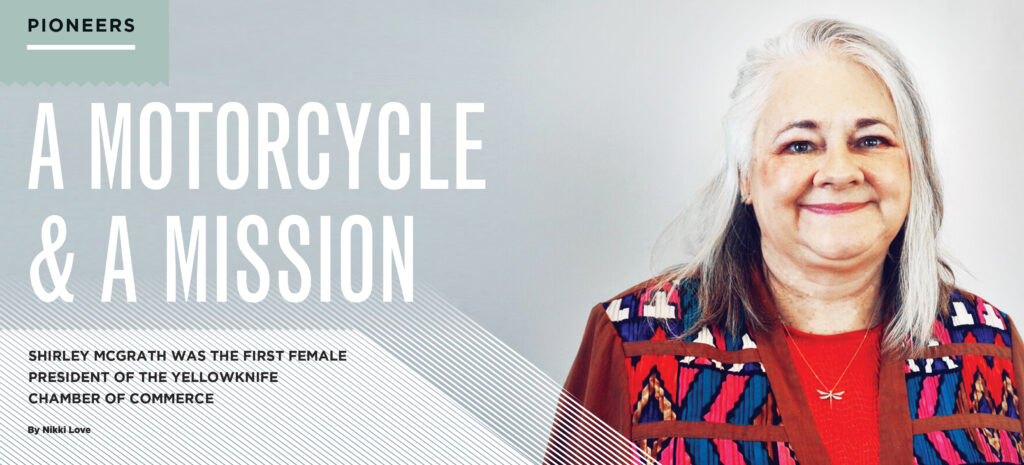 Motorcycles weren't just for men and neither was the Yellowknife Chamber of Commerce presidency, thought Shirley McGrath. To prove it, she became the first woman president of the Yellowknife Chamber, for a one-year term between 1992 and 1993.
She also rode a motorcycle.
McGrath came back to Yellowknife in 1987 with a freshly-minted business degree from the University New Brunswick. Wanting to meet people in the Yellowknife business community, she initially got involved with the Chamber by joining a committee that organized business events. She spent five years on this committee, got to know many business people in Yellowknife and eventually became the vice-president and then president.
While it was a smooth road to the presidency, once she was at the helm of the Chamber it became bumpy with landmark decisions amid political contention.
"At that time our core funding was from the City of Yellowknife, which caused controversy because the Chamber couldn't speak out against them," says McGrath. "The city brought it to a head when they cut their funding completely."
In what she calls her proudest achievement as president, McGrath worked out a formula with the city and successfully negotiated for renewed but reduced funding over a three to four-year period. This change forced the Chamber became more like a business, and gave it more incentive to grow. And grow it did, hosting more events, increasing membership, and expanding its flagship Spring Trade Show event exponentially.
It was a busy time, both in building the business of the Yellowknife Chamber, and for establishing the organization as a separate and independent entity. McGrath voted down a Canadian Chamber of Commerce tax proposal and put all three territories on the map by standing up and pointing out, amid the debate on Quebec separatism, that there was a huge part of Canada with tremendous resources that was being forgotten about.
McGrath also helped the Chamber get its own office space. "Our offices were in the basement of the library – where Northern Images is now. We were fundraising to find a new home," she says.
In a deal with the Northern Frontier Visitors Centre, which was also fundraising, McGrath exchanged the chamber's fundraising for a lease on offices – a move that helped to build the tourism centre that stands on the edge of Frame Lake today.
What began as a simple desire to meet people in the business community blossomed into a pioneering journey for one woman. While Shirley McGrath no longer rides a motorcycle, she still feels business is an equal-opportunity road to success.